The narrator of Isabel Kaplan's new novel, NSFW, has a choice to make. A recent college graduate coming back to Los Angeles to work in the entertainment industry, she fears she's divided between succumbing to the beauty-centered culture where she's valued for her looks, or speaking out against it all and renouncing it in the name of feminism. It's not so clear-cut, though, and as the book progresses, she realizes she enjoys benefitting from the benefits she receives as a good-looking woman in the workplace.
Attached too close to her mother, a figure who rose up the ranks herself and guides the narrator's thinking, her world is rocked when a sexual assault case breaks within her company. As she progresses within the environment, gaining more power and oversight into the television process, she grapples with the idea of succeeding in an environment where your work ethic comes second.
Our Culture sat down with Isabel Kaplan to discuss her new book, writing it in the #MeToo era, and complicated and messy feelings.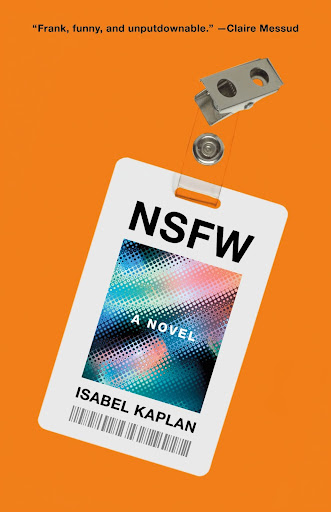 Your author bio says you used to work at a television company in Los Angeles, similar to our narrator. How much of the logistics of the book was taken from your life, but with a fictitious spin?
I think all the small details, all the specific operations at the network are very true to what it is like to work at a TV network. The small details, small absurdities, I drew heavily on my own experiences and those of friends. The story, narrative, and characters are fiction, but the environments are places that I spent a lot of time in. It's hard to avoid noticing the sort of tragic-comic absurdity of that kind of workplace, so I tried to keep that very accurate.
The narrator is so attached to her mother, she relies on her for advice with practically every turn of her career. She doesn't even know what her favorite color is, but knows what her mom would pick. They get stoned together and even share the same therapist. The mother, in turn, is also reliant, guilt-tripping her and saying things like "I know you don't really care about me." Why did you want her to act in this sort of way?
I think the relationship between the mother and the daughter is intimate, complicated, and codependent in really messy and interesting ways. I've always been more interested in the ways that we can both support each other and hurt each other and how love and pain intersect, and they often do. I think the intensity of the relationship between them was important to the narrative especially because I wanted to show two different approaches to being a woman in the world and the workplace and show how their perspectives overlap.
There was also the real challenge of trying to build an individual sense of self in an environment where that hasn't been required or encouraged. So the narrator comes late to the game of sense of self, and that combined with starting a job as an assistant, where definitionally, your individual self matters way less than who your boss is and who you work for. I wanted to show the tension between feeling like you are identified only with who you are at work or only by a parental figure and to chart the transitions she goes through over the course of growing up, getting this job, and having lots of disillusioning moments and needing to learn how to navigate all that.
Is that part of the reason as to why she's unnamed, because she's so supplemental to others in her job?
Yeah, she's unnamed because I think the question of individual identity is so crucial to the story. The fact that she doesn't know what her independent identity is and she feels that she exists in relation to the most important people in her life; to her mom and her boss. When you lack that sense of self and identity, it can be very hard to figure out who you are and what you stand for and what you're going to do about any number of situations in life without relying on the structural relationships that are the only way you know how to define yourself.
The part that stuck out most to me was when the narrator was talking to her mother, upset that she's doing well in her job because of the way she looks. Her mother quickly subdues her, saying that's just how it works and she might as well take the opportunity. Is this difference in attitudes because of their age gap, and how younger people are more attuned to how they're treated in the workplace? 
I think they definitely come from two different generations. The mother — she's been around this block, she's lived through this, she's seen a lot of things go wrong and has fought for women's rights for a long time and has seen that the path to progress can often feel like a circle. The narrator coming in in her early 20s, it's much easier to feel aflame with indignation and fury when you haven't had to make any compromises yet. When so far, you've been able to not do things that make you feel uncomfortable. It can be very upsetting and disillusioning to go through that experience. I think generationally, the way we talk about things has definitely changed. What was most interesting to me was that the mother and the daughter weren't as different as they or others think. It's two sides of the same coin and all really messy.
I didn't want it to be didactic or moralizing and say that there are good ways or bad ways to behave, but that you're forced into a certain kind of complicity and nothing is straightforward. In the scene you're referencing, the narrator is frustrated with herself because she actually likes that she looks good. And that is also a source of great distress, because you know, she's not supposed to care about that. She's supposed to be virtuous and pure. I think in that moment, her mother is trying to say that ideological purity is a pipe dream. It's not a real thing. And why shouldn't you enjoy what you have, because you won't have it for very long. She's coming at this from turning sixty and feeling like, if only she had appreciated things. Everyone comes at the advice they're giving throughout the book from their specific set of experiences and I wanted to show the friction between the subtle ways that would accumulate over time.
Eventually, the narrator succumbs to the pressure and starts injecting herself with chemicals in order to lose weight, and tries going to fitness classes to fit in more. Why do you think Los Angeles is known for this kind of dysmorphia and competition, and why was it important to put it in the book?
I think so much has been written about appearance in LA — it's not necessarily so different from other cities in America but it's all just… the dial is turned way up here. Especially if you're in an industry where how you seem matters just as much as what you're doing and what others think about you. There's a really slippery slope from that to hyperfixation on appearances. This is a city that so values youth and beauty and all of that is a commodity. That's how the entertainment industry works. It's invasive in an insidious way than you sometimes realize when you're living through it. I wanted to show the slippery slope of the narrator thinking she has control over this, she's aware of it. But knowledge is not the same thing as control. She starts doing these increasingly dramatic things because there's this desire to find perfection. If you can just clear a certain bar, you'll be free — and that's an illusion. The idea that if you're a certain size or look a certain way or fill in the blank with anything, you'll be empowered — it's a really easy trap to fall into because if you stop and realize that you just keep doing all of these things, then you're not free, you're just occupying your entire day with doing all these things and in fact, you're trapping yourself. 
For sure. You mentioned a lot has been said on it, but I liked how you handled it in a 'show, don't tell' way. It's not an essay on beauty standards — you just have to read about how she's injecting herself and figure it out yourself.  
Yeah, it was really important to me that it wasn't essayistic in any way. Because I think it's so easy when you're outside situations that there's a right or wrong way to behave, or that there's decisions you make that are healthy, or ones that are unhealthy, and I was less interested in highlighting that than the really messy gray space that most of us spend our lives in. Making decisions that are influenced by all sorts of factors, but are also out of our control because we are products of our society and the pressures we are surrounded by. Even if we think we're self-aware, and protecting ourselves, it can be hard not to be affected.
The central struggle of this book, for the narrator, is to decide whether to grin and bear it amidst sexual assault allegations, saying, this is just how the industry works, or to speak out and make a change. Did this idea grow out of the #MeToo movement and the cultural reckoning we just had?
So I started writing the book in early 2017 — pre-#MeToo, post-Trump's election. In that moment, I was starting, for the first time, to really examine in a critical way my own complicity in systems that I had grown up believing I was fighting for change within. I was starting to interrogate that in a pretty deep way. While I was writing the first draft, the #MeToo movement began, and while I was revising it and watching everything play out, I got more and more interested in watching the ways that we and society so badly wanted to be able to classify people as good or bad, or these people were complicit and these were not. How desperately we want to categorize people but also, how limited the number of situations where that is doable. I wanted to examine the idea that there is a thing you can do that would be empowering or liberating. I wish it were as simple as, 'If you speak out about what happened to you, you will be free,' but that's a very naïve way of thinking about it. There's all these different factors that go into the decision of whether to speak out or not, and I think there was a period in the movement where there was so much encouragement for women to speak out, as if that's a virtue in and of itself. Sometimes that is the thing that is the most powerful or meaningful, but there's no prescriptive right thing to do.
I also wanted to think about the legacy of living with certain choices you make. Also, some women may not want to have their lives defined by this one moment that victimized them. There are so many complicated reasons that go into deciding what to say or do, and there're so many situations where you're in the middle of it where it's much murkier than the eventual article that's written about it just to make it seem horrifying and incredibly clear-cut.
I don't know if you've read Ronan Farrow's Catch and Kill, but NSFW reminded me of it a lot — both about workplace harassment, but also about the turmoil people face. It's not that easy to 'just speak out' — they fear harassment, death threats and such. You just have to do the best you can in that situation — it's up to you.
I also think it's a question of speak out, to whom? Like, in Catch and Kill and also in [Jodi Kantor and Megan Twohey's] She Said, one of the things that's most upsetting and real is that so many of these situations weren't secrets — it was well known. So it's like, tell who? Who are you supposed to report it to? In both of those books, you see just how many people were pushing back and making it hard.
I remember it even from when I was an assistant, there were people known to be problematic. If everyone knows someone is a bad person, it doesn't seem like there's anyone to tell. That has changed some, in the past several years. For really offensive and egregious situations in the workplace, we have come up with a way to discuss them but we have yet to figure out what to do about that vast gray space in between. What do you do if your boss hasn't grabbed your ass, but just makes you feel a little bit uncomfortable all the time in a way that you can't quite point to? Does that mean it's happening or not?
I loved the more lighthearted parts of this book as well — the shows the narrator wants to greenlight, like Unsung, about an undocumented Guatemalan immigrant or Olympus, about Greek gods in human form pose as restauranteurs. What was it like to dream up these fake shows?
That part was a lot of fun. There are so many successful shows on air that when you hear the logline, you might do a double take and think, That? Really? I spent time in broadcast television where we heard a whole range of pitches, some more plausible, some outlandish, but I wanted to be sure that most if not all of the pitches in the book weren't satirical — they could be real shows in development. There's absurdity to it, but it's not that off base from something that might be pitched.
How did the writing of this novel differ from your previous work, Hancock Park? Why did you want to make the switch from young adult to adult novels?
The most obvious difference was that I was shifting as a writer and a person. When I wrote Hancock Park, I was 16 years old and it was about being 16.
Oh, wow!
Yeah. At that point, I didn't think about genre or whatever — I was just writing a book. The question of identifying a genre and marketing it was outside of what I was involved in. From then, it was a natural evolution — I went to college, got a job, spent a lot of time trying to hone my writing voice. I'm very grateful I had writing professors early on who encouraged me to take a beat, slow down, spend time reading and thinking about what I wanted to write next. I came into college in a panic, thinking, 'If I don't write another book by 21 I'll be washed up, irrelevant, no longer precocious. I'll lose my window.' And I feel grateful I pushed back against that, because the intervening years were really important for me in terms of growing and learning and changing my perspective and developing a literary voice, as opposed to writing by instinct. By the time I started writing the book that became NSFW, I had lived a lot more, and that was really helpful for broadening my perspective. I say that knowing I still have so much living to do, but in terms of genre and content and tone, it was all a pretty natural progression.
Same. I get hard on myself too, but then I have to remember not everyone's Lorde. Not everyone's gonna write a masterpiece at 19.
I also think you're never gonna do it if you think about it like that. You can trip yourself up by putting an immense amount of pressure on yourself. I think I've only ever found success if I am just trying to get a feeling writer or nail down an expression or get a story right. You have to divorce yourself from the question of how it will be received or if it will be good enough. When you start writing something, it's almost always never good enough. The first attempt is never as good as you want it to be, but you have to be just deluded enough to think that someday, it will be better than what it is right now.
I loved the ending cliffhanger. I think of the narrator as such a complicated person, I could see her making either decision. Without spoiling too much, why did you want the book to end on this note?
It was really important to me to end a book in a moment where the narrator has a choice to make, and there are multiple things she can do, but neither is ideal. It's not a situation where one choice leads to empowerment and one leads to complicity. I wanted it to be clear to the reader that there are reasons she might make either choice, and force the reader to think about what they might do in that situation, and turn it around on them and force the seeds of a story that would show why either path might be the one she chooses to go down. I wanted to leave it there because I didn't want it to feel moralizing or like there's a solution to this, because I don't have one. I think we're in a really intractable situation and I didn't want it to feel like there's an easy way out.
Are there any future projects on the horizon? Or another 10 years of growth?
No, it will not be another 10 years [laughs]. I'm working on another novel now. I'm almost done with the first half of it — it's in the early days. But I'm hopeful I will make it through sooner rather than later.
NSFW is on sale now.