Vienna-based singer-songwriter Sofie Royer has announced her new album Harlequin, which lands on September 23 via Stones Throw. Today's announcement comes with the release of the new single 'Feeling Bad Forsyth Street', alongside an accompanying video created by Royer and filmmaker Eugene Kotlyarenko (Spree, Wobble Palace). Check it out and find the album's cover art and tracklist below.
Commenting on the album's visual aesthetic, Royer said in a statement: "When I was alone a lot, I started painting my face like a clown, inspired by Pierrot. Then, when I FaceTimed my friends, they would laugh; and we'd have a really good time. So, I decided to take that to the stage. When I did my first live concert, I dressed myself and my band as clowns. It felt like a protective armor from my regular self. I didn't feel as vulnerable onstage."
Harlequin will follow Royer's 2020 debut, Cult Survivor. It includes the previously shared singles 'Baker Miller Pink' and 'Schweden Espresso'.
Harlequin Cover Artwork: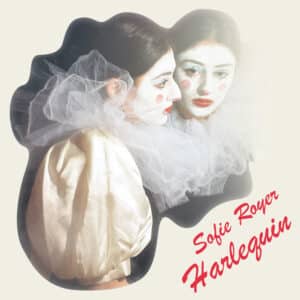 Harlequin Tracklist:
1. Schweden Espresso
2. Court Jester
3. Love Park
4. Baker Miller Pink
5. Klein-Marx
6. Feeling Bad Forsyth Street
7. Ballad of Bobby Beausoleil
8. Sick Boy
9. Someone is smoking