Colombian electronic artist Ela Minus and New York-based producer DJ Python have announced a new collaborative EP, ♡,  which will drop on September 16 via Smugglers Way. Along with the announcement, they've shared a video for the EP's first single, 'Pájaros en Verano'. Check it out below.
"I made a list of things I was grateful for," Minus said in a statement about the track. "Clouds (and the time to look at them), quietness, sleep, books, food. I wanted to celebrate that 'after all the days that never happened and the nights that didn't exist,' we are here, alive, and together."
"We literally didn't talk about how the tracks should sound," Python added. "I sent her instrumentals and she sent them back with perfect vocals. It was this unspoken communication, a process to know the self and the other endlessly."
Ela Minus issued her debut album, acts of rebellion, in 2020 via Domino. DJ Python's last full-length was 2020's Mas Amable, which was recently followed by the Club Sentimientos Vol. 2 EP.
♡ (Corazón) EP Cover Artwork: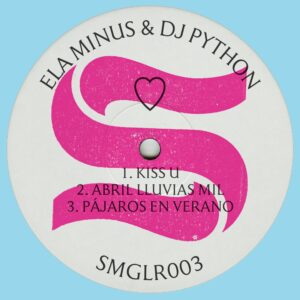 ♡ (Corazón) EP Tracklist:
1. Kiss U
2. Abril Lluvias Mil
3. Pájaros en Verano