Babehoven, the Hudson, New York duo led by singer-songwriter Maya Bon, have announced their debut full-length: Light Moving Time arrives October 28 via Double Double Whammy. Ryan Albert, the group's other half, co-produced the LP, which follows their March 2022 EP Sunk and 2021's Nastavi, Calliope EP. Check out the Evan Daves-directed video for its lead single, 'I'm on Your Team', below, along with the record's cover art and tracklist.
"'I'm On Your Team' is about finding a way through the thickest of life's hard moments," Bon explained in a statement. "It encapsulates a feeling that someone is out there thinking of you and holding your wellbeing in their heart, a feeling of innate kindness, care, and community support. From a production stance, we were inspired by the strange and melodramatic 1989 Roy Orbison song 'You May Feel Me Crying.' We wanted to make a somewhat ridiculous 80's anthemic song and felt that 'I'm On Your Team' was just the right match."
Read our Artist Spotlight interview with Babehoven.
Light Moving Time Cover Artwork: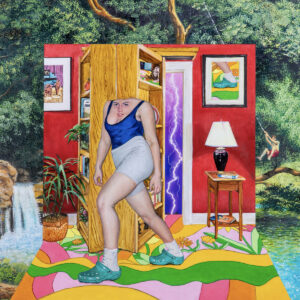 Light Moving Time Tracklist:
1. Break The Ice
2. Marion
3. I'm On Your Team
4. Stand It
5. Circles
6. Philadelphia
7. Do It Fast
8. Pockets
9. June Phoenix
10. Often