Lowertown, the Atlanta-based duo of Olivia Osby and Avsha Weinberg, have announced their debut studio album: I Love to Lie arrives on October 21 via Dirty Hit. To mark the announcement, they've shared the record's lead single, 'Bucktooth', alongside a Zev Magasis-directed music video. Check it out below.
"I was really into Johnny Cash's At Folsom Prison album and wanted to write a cheeky, narrative song similar to 'Cocaine Blues'," Osby said of the inspiration behind 'Bucktooth'. "A bucktooth cowboy with his crew of troublemaker bandits kept popping into my head. The song started as a silly story but ended up being thematically tied with some of the far-right extremism that was happening in America."
I Love to Lie will follow Lowertown's The Gaping Mouth EP, which came out last year. Check out our Artist Spotlight interview with Lowertown.
I Love to Lie Cover Artwork: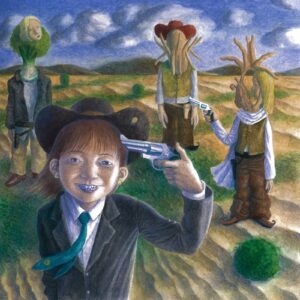 I Love to Lie Tracklist:
1. My Friends
2. Antibiotics
3. Bucktooth
4. I'm Not
5. It's It's It's
6. No Way
7. Scum
8. At the End
9. Goon
10. Waltz in Ab Minor
11. It's Easy for Me