Swedish psych-funk outfit Goat have announced their next album, Oh Death, which will be released on October 21. They're accompanying the news with a new single called 'Under No Nation', which you can check out below.
"This year Goat were invited to the Gods annual feast at the 'Round Table of Funk'," the band said of the track in a statemet. "After a very wet evening, and after Goat was pretty funked up, we were handed the manuscript to 'Under No Nation', and ordered to play this divine 'funk' to the humans – as the gods felt the human spirit is in deep need to get grooving properly again!"
Last year, Goat put out a rarities collection called Headsoup. Their last studio album was 2016's Requiem.
Oh Death Cover Artwork: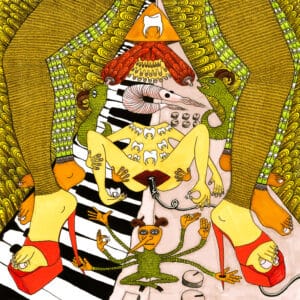 Oh Death Tracklist:
1. Soon You Die
2. Chukua Pesa
3. Under No Nation
4. Do The Dance
5. Apegoat
6. Goatmilk
7. Blow The Horns
8. Remind Yourself
9. Blessings
10. Passes Like Clouds