No one is more qualified than Jiazheng Zhang to talk about the fact that the subscribers of Secret Base have risen from 100k to 1 million. As the Senior Video Editor/Director at SB Nation, Zhang sees delivering the attractive content that matches the appetite of the target audience as the priority. And that's how Beef History has come to be such a huge success.
Q: Why did you choose to join SB Nation in the first place?
A: I studied video production at NYU and I've always been passionate about it. Before I joined SB Nation, everything that I did was pretty much about politics and economics at Newsweek. But that's not what I'm interested in. I am personally a big fan of sports and SB Nation is a platform that I've been following for years. It would be great if I can produce sports-related video content one day. And then in 2017, I had this amazing opportunity to apply to join SB Nation as a video editor. It's been more than five years till now and I'm really enjoying it.
Q: The documentary Beef History that you and your team developed is pretty successful. Can you give a brief summary about it as well as your role in it?
A: Beef History is a series that talks about the beef among NBA players following a story-telling routine. It is part of our re-strategization after I joined SB Nation. The series covers a wide range of topics and each episode has different main characters. For example, we had one that tells the beef between Shaquille O'neal and David Robinson back in the 1990s and Shaquille himself forwarded our video, which was something that I'm really proud of. Beef History has also won a couple of awards such as Webby Award and Viddy Award. My responsibility is to edit and put together all the video clips to complete the video including all the visual effects after our producer finishes writing the script. It feels great every time someone told me that they actually watched and liked the videos that I made.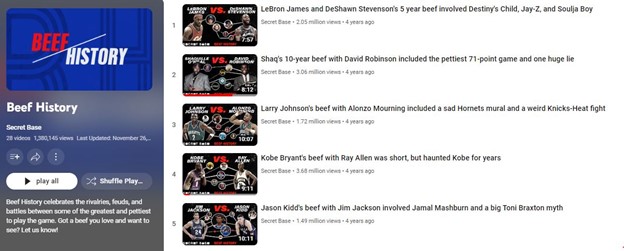 Q: Can you give us more details about the Webby Award and Viddy Award?
A: The Webby Awards is authorized and prestigious for online media. We decided to take part in the selection of the awards in 2021, one year after our channel achieved a stable audience group. There were three processes involved for the Webby Awards, including the initial selection, judge selection and audience selection. And eventually Beef History was selected as People's Voice Winner under Sports Category for the Webby Award. There were about five or six finalists, but I was really glad that our entry was selected by both the audience and judges, which really validated the time and energy I've dedicated to these videos throughout the years. The Viddy, which was also previously known as the Videographer Award, has a different criterion. The winners were divided into different levels under different categories. We were ecstatic to find that we are the platinum winner under the Sports Category, which is the highest and most prestigious of all. And I was so thrilled that our videos were accepted and beloved by others.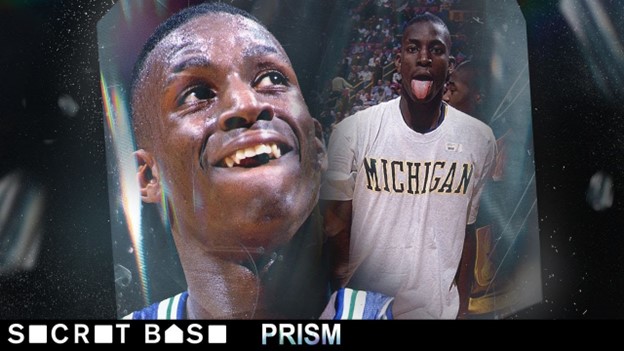 Q: The Youtube Channel of SB Nation has now over 1 million followers. What do you think is the main reason that the number of followers grew so fast?
A: When I first joined SB Nation in 2017, we had only less than 100K followers. Most of the content was about live shows and breaking news. But after me and my team made some adjustments to our strategy in 2020, we decided to focus on the story-telling routine in the form of documentaries instead of breaking news only. The episodes could last 10 to 20 minutes or sometimes even longer like 1 or 2 hours, but we did get positive feedback from the viewers and it turned out that it is something the fans would like to see. I think that could be considered as a huge leap since there were already plenty of live news resources out there. And we weren't really focusing on the number of our subscribers. It just came naturally as we dug deeper and simply wanted to share a good story thoroughly and informatively. I think that's the key factor to the growth of subscribers.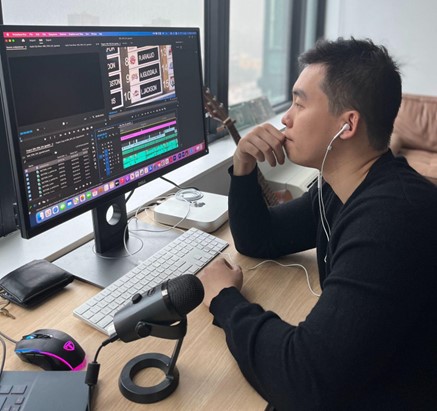 Q: Have you ever come across any obstacles at SB Nation?
A: One thing that I found challenging is that I have to figure out new content or a creative way to present the content. Even though Beef History is pretty successful, we're still hoping to introduce more different series to our audience. In order to do that, we need new ideas both visually and ideologically. This is a big challenge for me but also is the reason why I enjoy doing my job. I get to explore and experiment with different visual presentations. I want our fans and subscribers to always be freshened up whenever they watch a series that just came out. Beef History is admittedly a success, but we were not that satisfied. That's why we've always been creating new shows every once in a while, such as Chosen and Untitled, which were also vastly renowned and were even showcased in an exhibition for the world cup.