Shana Cleveland of La Luz has announced her second solo album. Manzanita, the follow-up to 2019's Night of the Worm Moon, arrives on March 10 via Hardly Art. The album's first single, 'Faces in the Firelight', is addressed to Cleveland's son as well as her life partner, Will Sprott (Shannon and the Clams). Check out a video for it below.
"The song is about watching Will tend to a huge burn pile that was still going long after dark and realising that out there in the dark field he looked like the ultrasound image we had on our fridge," Cleveland explained in a statement. "I was thinking that the greatest act of love might be to wait for someone. To say, 'I'll be here whenever you're done, whenever you're ready.'"
"We created a fantasy realm in my backyard to visualise the sweet strangeness of the time and place when I wrote these songs: pregnant and often alone in the wilderness," Cleveland said of the video, which was made by Two Seraphim.
She added of Manzanita: "This is a supernatural love album set in the California wilderness. The songs were all written while I was pregnant (side A) or shortly after my son's birth in that weird everything-has-quietly-but-monumentally-shifted state (side B)."
Manzanita Cover Artwork: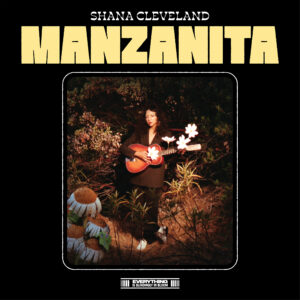 Manzanita Tracklist:
1. A Ghost
2. Faces in the Firelight
3. Mystic Mine
4. Quick Winter Sun
5. Gold Tower
6. Babe
7. Ten Hour Drive Through West Coast Disaster
8. Evil Eye
9. Mayonnaise
10. Walking Through Morning Dew