Screaming Females have announced a new album: Desire Pathway is due out February 17 on Don Giovanni Records. Today's announcement is accompanied by the release of the new single 'Brass Bell', which you can check out below.
"'Brass Bell' is a song about surrendering your autonomy to something so overwhelmingly powerful you willingly relinquish your ambitions and self-worth," the band's Marissa Paternoster explained in a statement. "My intention was to draw an interesting dichotomy between the muscular nature of the song and the rather bleak, worried lyrics."
Desire Pathway was recorded at Minnesota's Pachyderm Studios and produced by Matt Bayles. It marks the follow-up to Screaming Females' 2018 record All at Once. In late 2021, Paternoster released her debut solo LP, Peace Meter.
Desire Pathway Cover Artwork: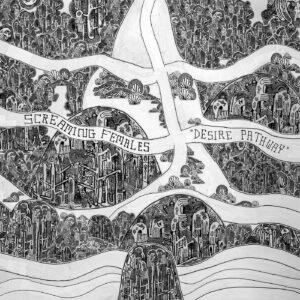 Desire Pathway Tracklist:
1. Brass Bell
2. Desert Train
3. Let You Go
4. Beyond The Void
5. Mourning Dove
6. It's All Said And Done
7. Ornament
8. So Low
9. Let Me Into Your Heart
10. Titan