Nickel Creek — the trio of Chris Thile, Sara Watkins, and Sean Watkins — have announced their first album since 2014's A Dotted Line. It's called Celebrants, and it's out March 24 via Thirty Tigers. Today's announcement comes with the release of the new single 'Strangers', which you can check out along with a music video below.
"This song is an exploration of the ostensibly rewarding but often awkward, even excruciating act of catching up with an old friend," Chris Thile said of 'Strangers' in a statement. "Can the connection be reforged? Should it be?"
Speaking about the album, the band explained: "This is a record about embracing the friction inherent in real human connection. We begin the record yearning for and pursuing harmonious connection. We end the record having realized that truly harmonious connection can only be achieved through the dissonance that we've spent our entire adult lives trying to avoid."
Nickel Creek have also announced they will be performing a headline show at the Barbican in support of the album on Friday, September 1. Find their list of tour dates below.
Celebrants Cover Artwork: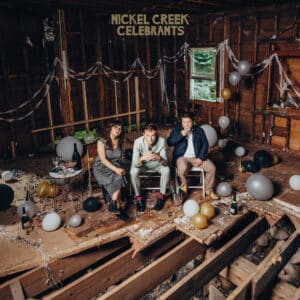 Celebrants Tracklist:
1. Celebrants
2. Strangers
3. Water Under the Bridge, Part 1
4. The Meadow
5. Thinnest Wall
6. Going Out…
7. Holding Pattern
8. Where the Long Line Leads
9. Goddamned Saint
10. Stone's Throw
11. Goddamned Saint, Reprise
12. From the Beach
13. To The Airport
14. …Despite the Weather
15. Hollywood Ending
16. New Blood
17. Water Under the Bridge, Part 2
18. Failure Isn't Forever
Nickel Creek 2023 Tour Dates:
Jan 27—London, U.K.—Union Chapel* (SOLD OUT)
Jan 28—London, U.K.—Union Chapel* (SOLD OUT)
Jan 29—Glasgow, U.K.—City Halls, Celtic Connections* (SOLD OUT)
Apr 27—Nashville, TN—Ryman Auditorium (SOLD OUT)
Apr 28— Nashville, TN—Ryman Auditorium (SOLD OUT)
Apr 29— Nashville, TN—Ryman Auditorium (SOLD OUT)
Jun 4—Lexington, KY—Railbird Festival (SOLD OUT)
Jun 15-18—Telluride, CO—Telluride Bluegrass Festival (SOLD OUT)
Sep 1— London, U.K.—Barbican Centre
*with Lau Noah