Death Cab for Cutie have shared a cover of Low's 'The Plan', from 1996's The Curtain Hits the Cast, as a tribute to the late Mimi Parker. It appears on a just-announced acoustic reworking of their 2022 album Asphalt Meadows, which includes a new version of 'Pepper'. Listen to both tracks blow.
"I first saw Low in 1994 opening for Sunny Day Real Estate at the OK Hotel in Seattle," Death Cab for Cutie frontman Ben Gibbard said in a statement. "Since then, they've been one of the most influential and important bands of my life. It was the fulfillment of my teenage self's indie rock dream when our bands became friends while on tour together in 2012. We were incredibly saddened by Mimi's passing this past November. She was an incredible artist and an even better human being. We believe the best way to remember the musicians we lose is to play their songs. 'The Plan' has always been one of our favorite Low songs and is presented here in tribute to Mimi."
Asphalt Meadows (Acoustic) is set for release on March 10. Death Cab for Cutie are currently touring in support of Asphalt Meadows, and later this year they'll be co-headlining with Gibbard's other band, the Postal Service.
Asphalt Meadows (Acoustic) Cover Artwork: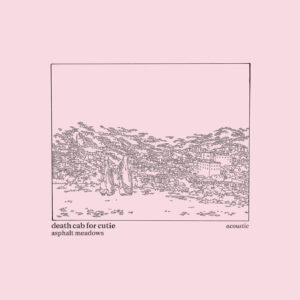 Asphalt Meadows (Acoustic) Tracklist:
1. I Don't Know How I Survive (Acoustic)
2. Roman Candles (Acoustic)
3. Asphalt Meadows (Acoustic)
4. Rand McNally (Acoustic)
5. Here to Forever (Acoustic)
6. Foxglove Through The Clearcut (Acoustic)
7. Pepper (Acoustic)
8. I Miss Strangers (Acoustic)
9. Wheat Like Waves (Acoustic)
10. Fragments From the Decade (Acoustic)
11. I'll Never Give Up On You (Acoustic)
12. The Plan