Bruiser and Bicycle have announced a new LP, Holy Red Wagon, which will be released through Topshelf Records on April 5. Today, they're sharing the single '1000 Engines' to accompany the news. Check it out and find the album artwork (by Hannah Alsdorf) and tracklist below.
"'1000 Engines' was musically inspired by the cacophony of early Mercury Rev, and the texture of the Caribbean band, Exuma," the band's Nick Whittemore explained in a statement, adding: "Clockwork has been the accepted symbol for the deterministic happenings of the world, but '1000 Engines' is a song that likens these forces to something else. We imagine an engine occupied by a conscious force. While clockwork appears to move innocuously, an engine moves violently. This world is inhabited by '1000 engines,' and we're at the mercy of accelerating mechanics."
Holy Red Wagon, the follow-up to 2019's Woods Come Find Me and Bruiser and Bicycle's debut for Topshelf, was produced, engineered, and mixed by Scoops Dadaris.
Holy Red Wagon Cover Artwork: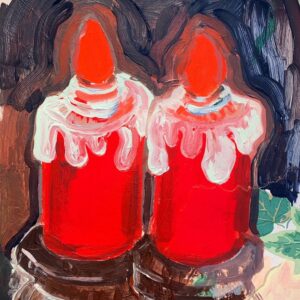 Holy Red Wagon Tracklist:
1. Aerial Shipyards
2. Unknown Orchard
3. Lunette Fields Speak
4. Superdealer
5. Cinnabar Altar
6. Rats Come to Play
7. Forks of the Jailhouse
8. 1000 Engines
9. We Thought the Sky