Foyer Red have announced their debut LP, Yarn Away the Hours, which will arrive on May 19 via Carpark. Today, the Brooklyn outfit has shared the single 'Plumbers Unite!'. Check it out and find the album's cover artwork and tracklist below.
"My first few lines in this song reference a predetermined goal and the act of running in place; it places the character in a side-scroller video game," the band's Elana Riordan explained in a statement about 'Plumbers Unite!'. "It's the everyday grind taken literally but augmented in the context of a game with objectives, points, a finite amount of lives, etc. When the day is done however, the protagonist exits the simulation and ponders the sentience of the console, feeling strange about the possibility after several hours of manipulation. When I was little I was obsessed with my gamecube, but after entering cheat codes on my Harvest Moon game, I felt sooooooo guilty. I impulsively deleted my game data and later had recurring nightmares about my gamecube's anger towards me, something I knew was unrealistic but felt so creepy and real."
Yarn Away the Hours was recorded with producer Jonathan Schenke at Figure8 Studios in Brooklyn. It will include the previously released single 'Etc'.
Yarn Away The Hours Cover Artwork: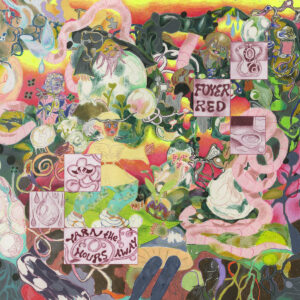 Yarn Away The Hours Tracklist:
1. Plumbers Unite!
2. Unwaxed Flavored Floss
3. Wetland Walk
4. A Barnyard Bop
5. Etc
6. Gorgeous
7. Blue Jazz
8. Pocket
9. Oh, David
10. Time Slips
11. Big Paws
12. Toy Wagon