Christian artist Jie Han is pleased to introduce her latest collection of picture albums regarding The Book of Revelation. As a devout believer, Jie sees applying surrealism to the Bible as her unique approach to reinterpreting a classical story with a modern presentation.
After being baptized, Jie started exploring different themes in her art creations. Expressing biblical verses with artistic creativity is something she immensely enjoys, as it helps her to connect better with God. The themes of salvation and grace through Jesus deeply touched Jie, becoming her main source of inspiration for her artwork.
According to Jie, "In the Christian worldview, both man and nature are made by God," she adds, "When I observe the physical structure of humans and the diverse elements in nature, I'm always amazed by how beautiful and stunning these creations are."
Jie also states that many surrealist artists sought to explore the hidden depths of the human mind and to reveal human nature. This process is usually personal and subjective and is revealed through the artist's own subconscious and imagination. But Jie focuses on the exploration of God's will in the Bible instead of discussing the overall human subconscious. The Book of Revelation, for example, refers to the process by which God reveals himself and his will to mankind.
Jie has selected a few sections from each of the 22 chapters of The Book of Revelation as the inspiration source of her collection. The 22 images are presented as digital paintings and will be published in picture albums on Amazon as well as in the form of NFT.
Inspired by Revelation 2:26 ESV, Jie brought to life God's view of "The one who conquers and who keeps my works until the end, to him I will give authority over the nations." She depicted a modern cityscape to convey the message that God wants to impart to his followers.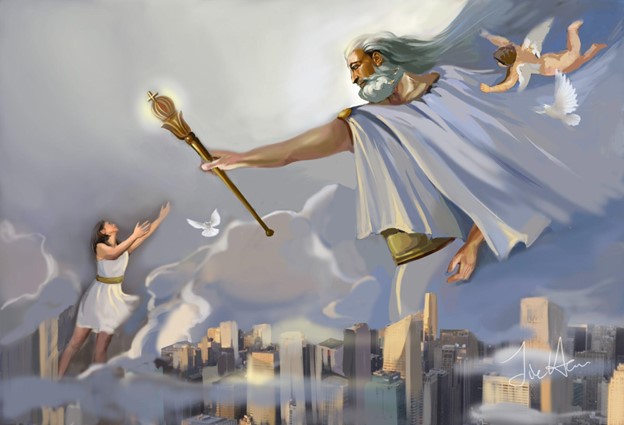 (Revelation 2:26 ESV, by Jie Han)
This unexpected combination of modern world and biblical scenes takes the audience into an extraordinary space, creating a contemporary but classical level of art that allows viewers to better relate to her artworks without feeling too dogmatic.
"As a Christian, the fundamental concept of my art is to interpret and express the praise of the Creator by the Created," Jie shares, "In the Book of Revelation, John the Apostle describes a vision of heaven full of strange and wonderful creatures, which generates infinite imagination for creation. The story it tells is unbelievably incredible."
Individuals have different perspectives and approaches to understanding God and the original saints, which brings peace to Jie and fills her with spiritual power. The classic paintings and sculptures of the Middle Ages and Renaissance still offer an intimate approach to the Bible even today. That's why Jie sees them as classics that never end.