SQÜRL, the duo of filmmaker Jim Jarmusch and Carter Logan, have announced their debut album. Silver Haze, which features collaborations with Charlotte Gainsbourg, Anika, and Marc Ribot, comes out May 5 via Sacred Bones. Along with the announcement, they've shared a video for the LP's opening track, 'Berlin '87'. Check out the Jem Cohen-directed clip and find the album cover and tracklist below.
"Jim created the basic guitar tracks first in his home studio, with memories of living in Berlin in 1987 floating around him," the band stated in a press release. "The tracks were then SQÜRLized by Carter & Randall at Circular Ruin."
Of the video, Cohen said: "Roaming Central and Eastern Europe soon after the fall of the Berlin Wall, backpack crammed with Super 8 cameras, I was deeply moved by the landscape. I couldn't have guessed some of the footage would surface over a quarter-century later in a film for Jim and Carter's band. They work hard to forge their expansive sound, with its indomitable beat and secret harmonics. Glad I had that backpack, and to be of service."
The band added: "SQÜRL is so happy to have a film by Jem Cohen to accompany the first single. He's one of our favorite filmmakers, and with his magical hands and eyes, he somehow captures the most evocative details that most people don't even notice. The images he has chosen and shaped so perfectly evoke the feeling of our music, and then elevate it to another level. Our big thanks to you, Jem!"
SQÜRL was formed in 2009 to score Jarmusch's film The Limits of Control. They've since put out a series of EPs, and, in 2020, released Some Music for Robby Müller, which served as the score for Claire Pijman's documentary Living the Light.
Silver Haze Cover Artwork: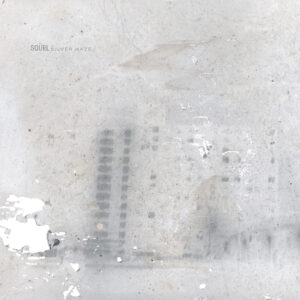 Silver Haze Tracklist:
1. Berlin '87
2. The End of The World
3. Garden Of Glass Flowers [feat. Marc Ribot]
4. She Don't Wanna Talk About It [feat. Anika]
5. Il Deserto Rosso [feat. Marc Ribot]
6. John Ashbery Takes A Walk [feat. Charlotte Gainsbourg]
7. Queen Elizabeth
8. Silver Haze