Red is widely recognized as a symbol of passion and vitality, representing the dynamic range of vibrant colors. Over the years, the bold and striking use of red in fashion design has captivated and inspired countless designers to push its creative boundaries. With her latest collection, Yuyao Wang sought to showcase the endless possibilities, the versatility and boundless possibility of this color.
   The inspiration for the newest collection and the choice of red stem from Yuyao Wang's personal experience. In 2019, she was diagnosed with mild arthritis in her knees, which initially left her feeling daunted. Wang's passion for fashion design dates back to her childhood, but her knee condition made standing for long periods a painful ordeal. This experience drove Wang to explore how she could create a line of clothing that was both stylish and comfortable, without compromising on design aesthetics.
  In addition, Yuyao Wang explains, "Red is the color of blood.' She goes on to emphasize the importance of prioritizing health and the significance of wearing appropriate clothing for different weather conditions. For Wang, it is crucial to raise awareness about this and encourage people to make informed choices about their wardrobe, rather than blindly following fashion trends that could potentially compromise their well-being."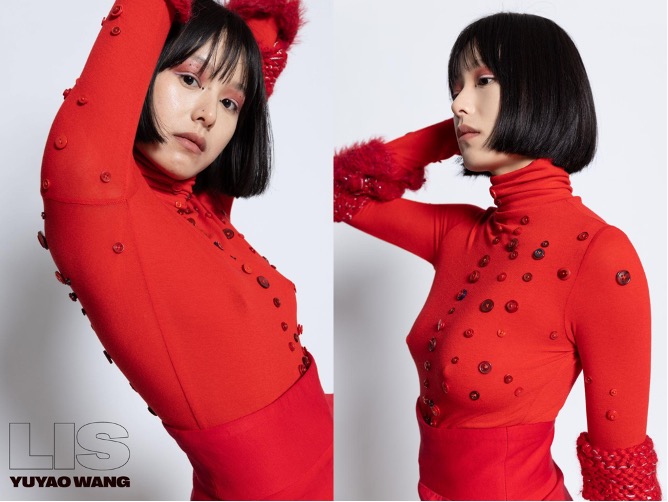 (Winter Collection 2022, by Lis Yuyao Wang)
   Rather than being discouraged by the prospect of her design career coming to a premature end, Yuyao Wang drives her energy into creating the inaugural collection of Lis Yuyao Wang. Her goal was to bring positivity to others grappling with health issues by showcasing that fashion and comfort can coexist. Wang's determination to overcome her physical limitations and create something meaningful demonstrates her resilience and commitment to her craft.
  Meanwhile, Yuyao Wang's hard work paid off. Her dedication and talent earned her an incredible opportunity to showcase her collection on the runway at the start of her career, thanks to Pratt Institute. However, the most exhilarating moment was yet to come. Wang's designs unexpectedly made it to Vogue after the show, further propelling her career in the fashion industry.
   Yuyao Wang recalls being told at a young age that she wasn't suited for her dream career. "Years ago, a designer informed me that I lacked the natural talent for fashion design since I didn't possess any foundational painting skills," Wang shares. However, she didn't let those negative comments discourage her. Today, she has proven those doubters wrong and achieved success through hard work, dedication, and perseverance.