Wicca Phase Springs Eternal – the moniker of Pennsylvania-based singer-songwriter Adam McIlwee – has announced a new self-titled album, which is due to arrive on June 2 via Run For Cover Records. Today's announcement comes with the release of the new single 'Moving Without Movement', along with an accompanying video. Check it out and find the LP's cover art and tracklist below.
"I probably say the word 'mystery' a hundred times on this record," McIlwee remarked in a statement. "That's what I'm trying to bottle up–this idea of something that's hard to know, but enticing."
Wicca Phase Springs Eternal's last album was 2022's Full Moon Mystery Garden. Back in 2021, he joined Ethel Cain on 'God's Country', which ranked among our favorite songs of the year.
Wicca Phase Springs Eternal Cover Artwork: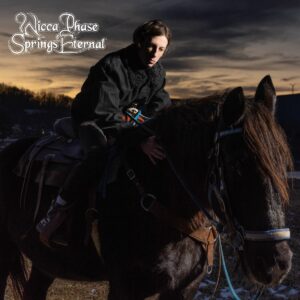 Wicca Phase Springs Eternal Tracklist:
1. Wicca Phase Springs Eternal
2. Moving Without Movement
3. Twilight Miracle
4. It's Getting Dark
5. Saturday Night
6. Open Portal
7. Farm
8. One Silhouette
9. Assembly
10. Now That It's Dark
11. Mystery I'm Tied To You
12. Who's Watching Me