Flasher have announced a new EP, In My Myth, which arrives May 5 via Domino. The four-track collection, which follows the duo's 2022 LP Love Is Yours, was produced by Owen Wuerker and mixed by Jorge Elbrecht. Today, they're previewing it with a new song called 'Eastern Ave', which you can check out via Mulitz's accompanying video below.
"In My Myth is a collection of songs written in between tours and between coasts," the band explained in a press release. "These songs are about reckoning with our own self-mythologizing, the sinister side of 'wellness,' watching relationships shift over time, and not being done yet."
They described  'Eastern Ave' as "a love song to your hometown and those that matter to you most," adding: "It's a nostalgic dive back to those seemingly mundane moments that become markers of falling in love, or finding your people. The video takes a diaristic approach, juxtaposing our two parallel lives in our respective home bases – Emma in DC, Taylor in the Bay Area. It was inspired by watching Swampy's Diary and countless other vlogs on YouTube."
Read our Artist Spotlight interview with Flasher.
In My Myth EP Cover Artwork: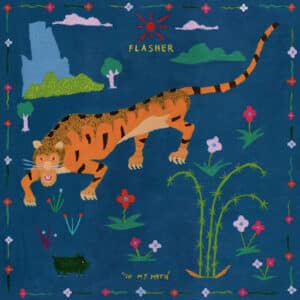 In My Myth EP Tracklist:
1. Eastern Ave
2. Adriene
3. Motive
4. Hands On