Militarie Gun have announced their debut LP: Life Under the Gun lands June 23 via Loma Vista Recordings. Following the Los Angeles band's All Roads Lead to the Gun EPs, the 12-track album will include the early single 'Do It Faster', as well as a new song called 'Very High'. Check out its Mason Mercer-directed music video below, and scroll down for the album cover and tracklist.
"'Very High' centers around the desire to escape the embarrassment of day to day life as much as possible," bandleader Ian Shelton explained in a press release. "From the lyrics, to the video to the cover art of the album, it's about struggling with something no one else sees, 'I've been feeling very down, so I get very high.'"
Check out our Artist Spotlight interview with Militarie Gun.
Life Under the Gun Cover Artwork: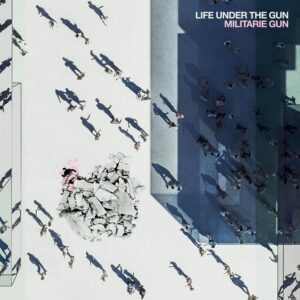 Life Under the Gun Tracklist:
1. Do It Faster
2. Very High
3. Will Logic
4. My Friends Are Having A Hard Time
5. Think Less
6. Return Policy
7. Seizure of Assets
8. Never Fucked Up Once
9. Big Disappointment
10. Sway Too
11. See You Around
12. Life Under The Gun