Have you ever tried sports betting? Would you like to turn this hobby into an additional income? Then you, for sure, will be interested to learn more about surebets.
Surebet – arbitrage situation, in the presence of which you always win. How is this possible? Quite simple! Let's consider the operation and effectiveness of surebets on a specific example.

For example, in the Minnesota United – Nashville match, one bookmaker sets odds of 2.23 for total goals under 2.5 (TU 2.5), and the second – 2.05 for total goals over 2.5 (TO 2.5). You have $420: $200 bet on Under 2.5 and $220 on Over 2.5. Let's count:
TU 2.5: $200 * 2.23 = $446
TO 2.5: $220 * 2.05 = $451
As you can see, your net income will be $26 or $31 at any result of the match. This became possible due to the existence of a surebet, which was formed due to the difference in the bookmakers odds.
How to calculate the surebet?
We showed an example of a simple surebet, which is very rare in practice. Often we need to use a surebet calculator to calculate arbitrage situations. Similar functionality is built into some arb services.
Moreover an independent search for arbitrage situations involves monitoring dozens of bookmakers, analyzing their odds and calculating of surebets. Thus, even the presence of a convenient calculator does not greatly reduce this time-consuming process.
For this reason, arbers from the USA and Canada are often use special services that analyse and collect information on existing surebets in dozens or even hundreds of bookmakers. As of today, the leader among such services is BetWasp.
This arb scanner analyzes information from 40+ familiar to US bettors bookmakers in 40 sports in 180 markets. In addition to the surebets, Betwasp provides information on middles and valuebets.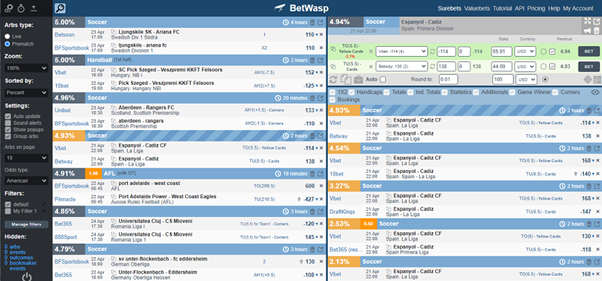 Another advantage of the service is its extensive functionality, which allows you to make working with arbitrage situations as comfortable and efficient as possible. Among the useful functions of BW are one-click redirect to betting sites, filters with extensive settings for surebet results, the ability to keep track of bets, etc.
How much do arbers earn?
As the experience of many professional players shows, it is quite realistic to earn 15-20% of the game bank monthly. This means, if your bank is $1000, then the income can be $150-200 per month.
Of course, the size of the initial bank and how well you manage it plays a huge role here. In other words, if your money simply lies on the accounts of bookmakers and you do not bet on them, then you will not receive any profit regardless of the size of the bank.
As for the time to work, many experts advise spending about 15 hours a week on working out the strategy. It's not much, considering how useful you are using this time to fill your wallet.
Let's summarize
As you can see, the surebet strategy really works and, as the experience of many players has shown, it also brings a very good income. However, to work with the strategy, you need a high-quality surebet scanner if you do not want to spend a lot of time searching for arbitrage situations on your own.