Angelo De Augustine has announced his fourth LP, Toil and Trouble, which will be out on June 30 via Asthmatic Kitty. Lead single 'Another Universe' arrives with a claymation video directed by De Augustine and animated by Owen Summers. Check it out below and scroll down for the album's cover art and tracklist.
"I grew tired of reality and so I decided to make a world of my own," De Augustine said of 'Another Universe'. "It is a safe world. The kind of place in which only good things happen."
Toil and Trouble will follow De Augustine's 2019 effort Tomb as well as his collaborative album with Sufjan Stevens, 2021's A Beginner's Mind. He wrote, arranged, recorded, produced, and mixed the record on his own, playing 27 different instruments. "This album came from thinking about the madness of the world right now and how overwhelming that can be," De Augustine explained. "I used a sort of counter-world as a guide to try to gain some understanding of what's actually going on here – I had to take myself out of reality in order to try to understand reality."
Last year, De Augustine shared the standalone songs '27' and 'Hologram'.
Toil and Trouble Cover Artwork: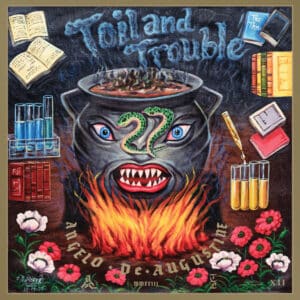 Toil and Trouble Tracklist:
1. Home Town
2. The Ballad Of Betty and Barney Hill
3. Memory Palace
4. Healing Waters
5. The Painter
6. I Don't Want To Live, I Don't Want To Die
7. Another Universe
8. Song Of The Siren
9. Blood Red Thorn
10. Naked Blade
11. D.W.O.M.M.
12. Toil and Trouble