The Pretenders have announced a new album called Relentless. The follow-up to 2020's Hate for Sale will be released on September 1, and its first single, 'Let The Sun Come In', is out now. Listen to it below.
"I enjoy seeing the various meanings and origins of a word," Chrissie Hynde said of the album's title in a press release. "And I liked the definition: 'showing no abatement of intensity.' So when it came to an album title, it seemed fitting. You know…to keep doing it. I think anyone in a band is constantly questioning if they should keep going. It starts as a youthful pursuit and eventually, it makes you wonder, why am I doing this? It's the life of the artist. You never retire. You become relentless."
Produced by David Wrench at the Battery Studios in Willesden, North West London, Relentless features a collaboration with Radiohead/The Smile's Jonny Greenwood, who provided the string arrangement and conducted the 12 Ensemble for the album's closer, 'I Think About You Daily'.
"I met Jonny a couple of times and we're obviously big fans of him because he's done some incredible music over the years," Hynde shared. "I saw him at the Phantom Thread premiere where the film was running on screen with a live orchestra playing. And we spoke afterward and he expressed an interest in doing something one day. I was thrilled and very surprised. So when we had the idea of getting strings on 'I Think About You Daily,' he was first choice. Legend!"
Relentless Cover Artwork: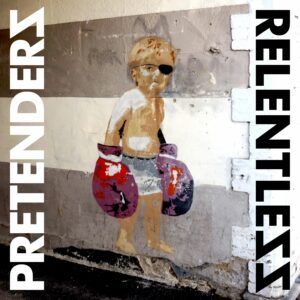 Relentless Tracklist:
1. Losing My Sense Of Taste
2. A Love
3. Domestic Silence
4. The Copa
5. Promise Of Love
6. Merry Widow
7. Let The Sun Come In
8. Look Away
9. Your House Is On Fire
10. Just Let It Go
11. Vainglorious
12. I Think About You Daily