ANOHNI has announced a new album, My Back Was a Bridge for You to Cross, under the moniker ANOHNI and the Johnsons. The follow-up to 2016's HOPELESSNESS is due out July 7 via Rough Trade and Secretly Canadian. Today's announcement comes with the release of the lead single 'It Must Change', which is accompanied by a music video directed by Iain Forsyth and Jane Pollard and starring activist Munroe Bergdorf. Check it out below, and scroll down for the LP's cover art (featuring a portrait of legendary activist Marsha P. Johnson taken by Alvin Baltrop in the 1970s) and tracklist.
"Munroe Bergdorf has done so much service for British society," ANOHNI commented in a statement. "She always impresses me with her articulate grace. Munroe's dignity and ethical courage are a guiding light."
Discussing My Back Was a Bridge for You to Cross, she said: "I've been thinking a lot about Marvin Gaye's What's Going On," she said of My Back Was a Bridge for You to Cross. That was a really important touchstone in my mind. Some of these songs respond from the present day to global and environmental concerns first voiced in popular music over 50 years ago."
"Many of the recordings on this record — like 'It Must Change' and 'Can't' — capture the first and only time I have sung those songs through," ANOHNI added. "There's a magic when you suddenly place words you have been thinking about for a long time into melody. A neural system awakens. It isn't personal and yet is so personal. Things connect and come alive."
To record My Back Was a Bridge for You to Cross, ANOHNI worked with producer Jimmy Hogarth (Amy Winehouse, Duffy, Tina Turner), who brought in a studio band that included Leo Abrahams, Chris Vatalaro, Sam Dixon, and string arranger Rob Moose.
"I want the record to be useful. I learned with HOPELESSNESS that I can provide a soundtrack that might fortify people in their work, in their activism, in their dreaming and decision-making," ANOHNI concluded. "I can sing of an awareness that makes others feel less alone, people for whom the frank articulation of these frightening times is not a source of discomfort but a cause for identification and relief. I want the work to be useful, to help others move with dignity and resilience through these conversations we are now facing."
My Back Was A Bridge for You to Cross Cover Artwork: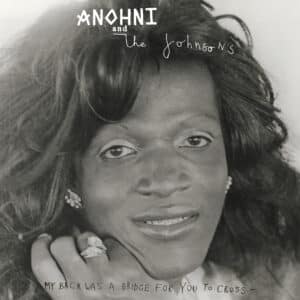 My Back Was A Bridge for You to Cross Tracklist:
1. It Must Change
2. Go Ahead
3. Sliver Of Ice
4. Can't
5. Scapegoat
6. It's My Fault
7. Rest
8. There Wasn't Enough
9. Why Am I Alive Now?
10. You Be Free