Neon Indian's Alan Palomo has announced his debut solo album under his given name. It's called World of Hassle, and it's due out September 15 via Mom+Pop. After giving us an early preview with the Mac DeMarco collaboration 'Nudista Mundial '89', Palomo has unveiled a new single, 'Stay-at-Home DJ'. It comes paired with a visual from the album's art director, Robert Beatty. Check it out below.
"This is the song that started the whole conversation," Palomo said of the new track in a statement. "My brother and I wrote it back in 2019 and performed it on the last Neon Indian tour. It signaled a change in direction I'd been looking for but had yet to really know what to do with. When things slowed down during the pandemic I dusted it off and from its uncontrollable outgrowth came World of Hassle."
World of Hassle was originally conceived as a new Neon Indian album before Palomo decided to drop a political album concept, followed by the Neon Indian name, during quarantine. "The album evokes the 80s golden age of rock stars like Bryan Ferry and Sting leaving their own breakthrough projects to strike out as jazzy solo musicians," according to press materials. "It's parody, sure – of rock star ego trips, the mall-ification of America, and our own self-obsession, even on the brink of apocalypse – but it's also dead serious, the sound of history repeating itself as the Doomsday Clock clicks past its Reagan-era maximum and nuclear anxiety comes back into style along with digital synthesizers and sax solos."
The most recent Neon Indian album, Vega Intl. Night School, came out in 2015.
World of Hassle Cover Artwork: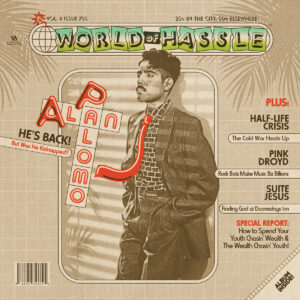 World of Hassle Tracklist:
1. The Wailing Mall
2. Meutrière [feat. Flore Benguigui]
3. La Madrileña
4. Nudista Mundial '89 [feat. Mac DeMarco]
5. The Return of Mickey Milan
6. Stay-at-Home DJ
7. Club People
8. Alibi for Petra
9. Nobody's Woman
10. Is There Nightlife After Death?
11. Big Night of Heartache
12. The Island Years
13. Trouble in Mind