Devendra Banhart has announced a new album and his first for Mexican Summer, Flying Wig, which is set for release on September 22. The follow-up to 2019's Ma was made in collaboration with Welsh singer-songwriter Cate Le Bon. Check out director Matt Muir's video for the lead single 'Twin' below, along with the album cover, tracklist, and Banhart's upcoming tour dates.
"When Devendra and I originally discussed the creative approach to the 'Twin' music video, I really responded to the idea of searching for connection," Murr explained in a statement. "We talked about the strange comfort of knowing that other people have experienced the pain or entrapment that we may be experiencing. I wanted to explore a framework where Devendra's character is trapped in a cycle, but still finds beauty in the execution. Stylistically, we were definitely inspired by neon-soaked 1980's neo-noir films, but we still wanted the video to feel somewhat timeless. We also left a lot of room for improvisation on the set, to make sure Devendra's unique sense of humour was evident in the storytelling. He was such a supportive and inventive collaborator during the entire process, and I think that really shines through in the final piece."
Banhart had this to say about the new record:
This entire record was inspired by Kobayashi Issa's poem
This dewdrop world-
Is a dewdrop world,
And yet,
And yet…
I've never read a more concise and clear illustration of hope… it just sweeps me away by the breadth of its scope…. as lonely as we might feel at our saddest, angriest, most desperate, most frustrated, most hopeless, most heartbroken moments, we have all felt that, everyone on earth, our ancestors before us, and those that will come after, have or will feel that…. The "and yet , and yet" is our ability to face despair with hope, to keep on failing and loving … It's about transmuting despair into gratitude, wounds into forgiveness, grief into praise.
Of working with Cate Le Bon, Banhart commented: "She's the only person I wanted to make this record with. We set out to make a record sonically unlike anything I have made before – with a new creative partner at the helm. We definitely wanted a new sound, electronic yet organic and warm…we wanted to draw out and emphasise the emotional aspect of a synthesiser."
Flying Wig Cover Artwork: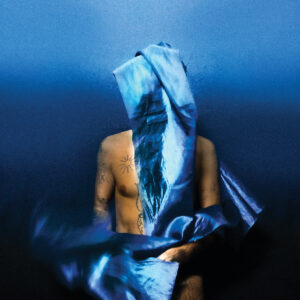 Flying Wig Tracklist:
1. Feeling
2. Fireflies
3. Nun
4. Sight Seer
5. Sirens
6. Charger
7. Flying Wig
8. Twin
9. May
10. The Party
Devendra Banhart 2023 Tour Dates:
Oct 3 – Iowa City, IA – The Englert Theatre
Oct 4 – Chicago, IL – Thalia Hall
Oct 6 – Toronto, ONT – The Phoenix Concert Theatre
Oct 7 – Montreal, QC – Corona Theatre
Oct 8 – Burlington, VT – Higher Ground
Oct 9 – Boston, MA – The Sinclair
Oct 11 – New York, NY – Webster Hall
Oct 12 – Philadelphia, PA – Union Transfer
Oct 13 – Asbury Park, NJ – Asbury Lanes
Oct 14 – Washington, DC – The Howard Theatre
Nov 7 – Lisbon, PT – Coliseu
Nov 8 – Braga, PT – Theatro Circo
Nov 10 – Madrid, ES – Palacio Municipal
Nov 11 – Valencia, ES – La Rambleta
Nov 12 – Barcelona, ES – Paral.lel 62
Nov 14 – Paris, FR – Le Grand Rex
Nov 15 – London, UK – Troxy
Nov 18 – Lyon, FR – Le Transbordeur
Nov 19 – Lausanne, CH – Theatre de l'Octogone
Nov 21 – Milan, IT – Auditorium Fondazione Cariplo
Nov 22 – Trieste, IT – Teatro Politeama Rossetti
Nov 23 – Vienna, AT – Globe
Nov 25 – Berlin, DE – Passionskirche
Nov 26 – Hamburg, DE – Kampnagel
Nov 28 – Amsterdam, NL – Paradiso
Nov 29 – Brussels, BE – Ancienne Belgique
Dec 6 – San Diego, CA – Observatory North Park
Dec 7 – Los Angeles, CA – The Belasco
Dec 9 – San Francisco, CA – The Fillmore
Dec 11 – Portland, OR – Revolution Hall
Dec 12 Seattle, Wa – Neptune Theatre
Dec 13 – Vancouver, BC – Commodore Ballroom