A new posthumous Sparklehorse album has been announced. Bird Machine is set to arrive on September 8 via -Anti. Today's announcement comes with the release of the new single 'Evening Star Supercharger', alongside a video featuring recovered handwritten lyrics by Mark Linkous. Check it out and find the album details below.
According to a press release, Mark Linkous began work on what he planned to be the fifth Sparklehorse LP in 2009. The album was recorded with Steve Albini in Chicago and finished several years later by Mark's brother Matt, sister-in-law Melissa, and Bryan Hoffa, an audio preservation specialist at the Library of Congress' National Audio-Visual Conservation Center. "It was as though the songs let you know," Melissa remarked. "Mark communicated these songs. We just did our best to transmit them."
"It's the hardest decision I've ever made," Matt said of completing the album. "It's difficult making a choice about someone else's art, even if you've known them all your life and worked with them, even if they were your brother and best friend. We had long conversations about not wanting to take this into a different direction. We wanted to bring out what was there."
Alan Weatherhead co-produced Bird Machine with Matt and Melissa. The record was mixed by Joel Hamilton and mastered by Greg Calbi. "It means so much to me, this last batch of beautiful stuff that my brother was putting together," Matt added. "When I sit down and put on a pair of headphones, I'll run it all the way through. Everything from 'It Will Never Stop' to 'Evening Star Supercharger' to 'Stay', that's Mark just letting it out."
Bird Machine will include the previously unveiled single 'It Will Never Stop'.
Bird Machine Cover Artwork: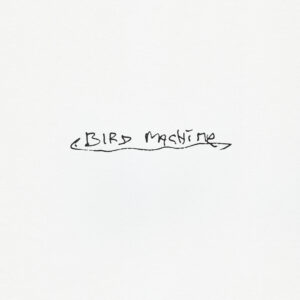 Bird Machine Tracklist:
1. It Will Never Stop
2. Kind Ghosts
3. Evening Star Supercharger
4. O Child
5.Falling Down
6. I Fucked It Up
7. Hello Lord
8. Daddy's Gone
9. Chaos of the Universe
10. Listening to the Higsons
11. Everybody's Gone to Sleep
12. Scull of Lucia
13. Blue
14. Stay