CHAI have announced a new self-titled album. The Japanese band's fourth LP, which follows 2021's WINK, is set to arrive September 22 via Sub Pop. Today's announcement comes with the release of the new single 'Para Para', which will appear on the record alongside the previously unveiled 'We the Female!'. Check it out below, and scroll down for CHAI's cover art, tracklist, and the band's upcoming tour dates.
"This is CHAI! With our self-titled album CHAI, CHAI declare that we live proudly as Japanese women♡ We hope this album gives everyone a little more confidence in living how they want to live," the band's Mana said in a press release. "That is our ideal. If this album becomes that existence for anyone, that is the right answer in our eyes⭐ Listen, feel. We give you our evolution, inside and out! Now come onnn, NEO-KAWAII BABIES. If you can't catch up with us, you'll never feel the NEO KAWAII♡"
"There's not a deep meaning to that song, it's really just about the dance," Mana added of 'Para Para'. "As long as you can feel the two-step, any dance is possible! Let your body just move to your dancing heart ♡ When your body moves to the beat of your heart, you'll realize that the world is smaller than you think, and all your problems are easier than they seem. 'Cause two-step and music is the best way to communicate in this world ♡ Let it START! CHAI's two-step dance music ☆☆" A video for the track, directed by Jennifer Juniper Stadford, will go live tonight at 9pm EST.
CHAI Cover Artwork: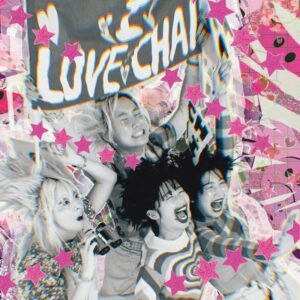 CHAI Tracklist:
1. MATCHA
2. From 1992
2. PARA PARA
4. GAME
5. We The Female!
6. Neo Kawaii,K?
7. I Can't Organize
8. Driving22
9. Like, I Need
10. KARAOKE
CHAI 2023 Tour Dates:
Sat Sep 23 – Boise, ID – Flipside Festival
Sun Sep 24 – Seattle, WA – Tractor Tavern
Mon Sep 25 – Portland, OR – Doug Fir Lounge
Wed Sep 27 – San Francisco, CA – The Independent
Fri Sept 29 – Los Angeles, CA – Teragram Ballroom
Mon Oct 2 – Chicago, IL – Thalia Hall
Wed Oct 4 – Toronto, ON – Horseshoe Tavern
Fri Oct 6 – Brooklyn, NY – Warsaw
Sun Oct 8 – Boston, MA – Crystal Ballroom
Tue Oct 10 – Washington, DC – Union Stage
Wed Oct 11 – Philadelphia, PA – Johnny Brenda's
Fri Oct 13 – Mexico City, MEX – Indie Rocks!
Nov 1 – Berlin, DE – Pitchfork Music Festival Berlin
Nov 3 – Paris, FR – Badaboum
Nov 5 –Amsterdam, NL – Tolhuis (Paradiso Noord)
Nov 6 – Brussels, BE – Botanique – The Rotonde
Nov 8 – Southampton, UK – Heartbreakers
Nov 9 – Brighton, UK – Patterns
Nov 10 – London, UK – Pitchfork Music Festival
Nov 12 – Manchester, UK – Yes (Pink Room)
Nov 13 – Glasgow, UK – Broadcast
Nov 15 – Leeds, UK – Headrow House
Nov 16 – Bristol, UK – Rough Trade