Maple Glider, the project of Naarm/Melbourne-based singer-songwriter Tori Zietsch, has announced her sophomore album, I Get Into Trouble. The follow-up to 2021's To Enjoy Is the Only Thing is due out October 13 2023 via Pieater in Australia and Partisan in the rest of world. Today's announcement comes with the release of the lead single 'Dinah', alongside a music video made with Zietsch's collaborator and live bandmate Bridgette Winten. Check it out and find the album cover and tracklist below.
"For me, 'Dinah' is the scariest thing I've ever put out. It's probably the most pop feeling song I've released, but it's really quite an angry song," Zietsch said in a statement. "I have felt incredibly disturbed and frustrated and sad in the process of writing and putting it together. I wanted the video to be fast paced, colourful, and full of energy, the same kind of riled up energy I had when I wrote the song. But it also had to be silly, because I can't help that."
"This album feels more like an opening up because there are things I wasn't feeling ready to publicly share through songs, but now I finally feel ready," she added. The record, which includes recent single 'Don't Kiss Me', finds Zietsch once again working with producer Tom Iansek and Jim Rindfleish on drums.
Earlie this year, Maple Glider shared a cover of Shania Twain's 'You're Still the One'. Revisit our Artist Spotlight interview with Maple Glider. 
I Get Into Trouble Cover Artwork: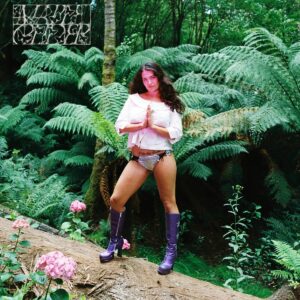 I Get Into Trouble Tracklist:
1. Do You
2. Dinah
3. Two Years
4. FOMO
5. Don't Kiss Me
6. You At The Top Of The Driveway
7. You're Gonna Be A Daddy
8. For You And All The Songs We Loved
9. Surprises
10. Scream