One of the major annual events for fans of genre cinema, Fantasia International Film Festival is soon to return to cinemas in Montreal, Canada. Running from Thursday 20 July to Wednesday 9 August 2023, this year's festival features a line-up of over 120 features and 200 short films – as well as tributes to cult hero Nicolas Cage and Canadian filmmaker Larry Kent.
With so many screenings and events taking place over the festival's three-week run, here are five films we've picked out of the line up to keep an eye on…
Words by Craig Ian Mann and Liam Hathaway.
Blackout (dir. Larry Fessenden, USA)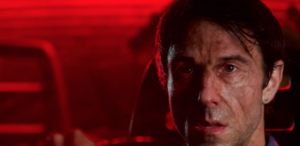 We've been waiting a very, very long time for Larry Fessenden's werewolf movie. Nearly thirty years ago, Fessenden made what remains one of the greatest independent vampire films ever made: Habit (1995), in which a down-and-out alcoholic (played by Fessenden himself) crosses paths with an enigmatic creature of the night. More recently, Fessenden put his stamp on Frankenstein's monster with Depraved (2019), a sombre and deeply personal take on Mary Shelley's novel (which also served as the inspiration for his 1991 film No Telling). It's no secret that the respected writer, director, actor and producer has wanted to make a werewolf movie for years, and Blackout – the result of those long-standing ambitions – will finally receive its world premiere at Fantasia in just a few days.
Blackout began life as an episode of Tales from Beyond the Pale, a series of "radio plays for the digital age" that Fessenden has been making with his frequent collaborator Glenn McQuaid since 2010. So far the only episode to make the leap from the airwaves to the screen (though we sincerely hope more of them are adapted to film in future), Blackout draws on Fessenden's love of classic werewolf movies; it stars Alex Hurt as struggling artist Charley Barrett, a recently infected werewolf struggling with his curse. But this is, of course, a Larry Fessenden movie – so expect a hefty dose of politics in a film with plenty to say about capitalism, racism, small-town conservatism and the lycanthropic nature of modern America.
Blackout screens at Fantasia on Thursday 20 July and Thursday 27 July.
The Sacrifice Game (dir. Jenn Wexler, Canada)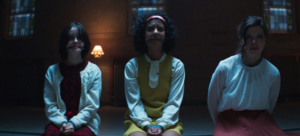 Those familiar with Jenn Wexler's 2018 feature debut, The Ranger – a pacey Glass Eye Pix-produced backwoods slasher that pits on-the-run punks against a violently deranged park ranger – will understand two things: 1) That binoculars are surprisingly effective weapons to combat assailants with, and 2) Wexler is a particularly talented filmmaker to keep an eye on. Mixing the deranged spirit of classic '80s slashers at their scuzziest, a helping of anti-authority attitude inspired by Psycho Cop (1989) and Psycho Cop 2 (1993) – check the posters for a direct lineage –  and an adoration for the individualism of punk culture as seen recently in Green Room (2015) and Uncle Peckerhead (2020), The Ranger is one of the finest independent calling cards of late.
Finally, after half a decade, Wexler, along with her co-writer Sean Redlitz, have produced what is bound to be another hit with The Sacrifice Game, a film shot entirely in Quebec. Set in a girl's Catholic school in the 1970s, it follows two outcast girls, Samantha (Madison Baines) and Clara (Georgia Acken), who are not able to return home for the Christmas holidays and so must remain in their almost-deserted school with a young teacher, Rose (Chloë Levine). However, as Christmas draws closer, a slew of murderous fanatics intent on unleashing evil supernatural forces invade the school grounds to inflict horror and torment on those who remain. So, ignore the odds and ditch the rule book – they need not apply to The Sacrifice Game.
The Sacrifice Game screens at Fantasia on Friday 28 July.
T Blockers (dir. Alice Maio Mackay, Australia)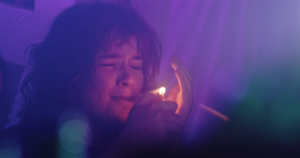 At just sixteen years old, Australian filmmaker Alice Maio Mackay made her first feature film: So Vam (2021), an unapologetically queer take on The Lost Boys (1987) in which a drag artist living in a small, conservative town falls in with a group of vampiric vigilantes. Two years later – now aged eighteen – Mackay has not one but two films on the festival circuit in 2023. The first, Bad Girl Boogey, has screened at Chattanooga Film Festival in the US and Soho Horror Film Festival here in the UK as part of its 2023 Pride edition; the filmmaker's take on the slasher sub-genre, it focuses on a cursed mask that turns anyone who wears it into a rampaging bigot. The second, which has its Canadian premiere at Fantasia later this month, is Mackay's spin on alien invasion horror: T Blockers.
Like both So Vam and Bad Girl Boogey, T Blockers is set in small-town (and small-minded) Australia. Lauren Last plays a trans filmmaker looking for a lost film, whose search is interrupted by an earthquake that lets loose subterranean parasites that begin to infect the town's population and turn them into a murderous, homogenous mob that wishes to destroy anyone who dares to display their difference. A queer twist on Invasion of the Body Snatchers (1956) made to launch an outright attack on those fuelling anti-LGBTQ sentiment as part of a twenty-first century moral panic, Mackay's third feature promises to be her most subversive and political yet (and, by all accounts, her grossest).
T Blockers screens at Fantasia on Sunday 30 July.
Suitable Flesh (dir. Joe Lynch, USA)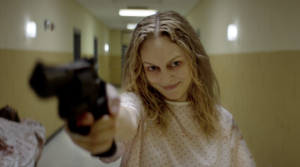 Joe Lynch has long been one of the most exciting voices in American independent horror. After making his directorial debut with 2007's Wrong Turn 2: Dead End (which remains one of the best films in the long-running franchise), he went on to work with Adam Green – director of Frozen (2010), Digging Up the Marrow (2014) and the Hatchet series (2006–2017) – on the outrageous anthology horror Chillerama (2011) and the cult favourite horror sitcom Holliston (2012–2013). He then took the festival circuit by storm in 2017 with his corporate horror movie Mayhem, starring genre stalwarts Steven Yeun and Samara Weaving, before going on to work on Shudder's Creepshow (2019– ). So, any new Joe Lynch project is cause for celebration, but this one is something really special…
For Suitable Flesh is not just a Joe Lynch film – it's also a tribute to the late, great Stuart Gordon, the celebrated director of horror classics Re-Animator (1985), From Beyond (1986), Castle Freak (1995) and Dagon (2001). Like all of the aforementioned films, Suitable Flesh is based on the work of H. P. Lovecraft (in this case his 1933 short story "The Thing on the Doorstep"), and that's not where the Gordon connections end; the film is produced by frequent Gordon collaborator Brian Yuzna and features Re-Animator and From Beyond star Barbara Crampton. Pitched somewhere between Lynch and Gordon, this psychosexual thriller might just be the perfect meeting of the 1980s and the twenty-first century.
Suitable Flesh screens at Fantasia on Saturday 5 August.
It Lives Inside (dir. Bishal Dutta, USA)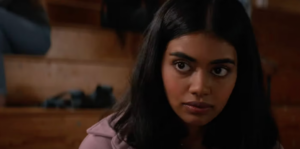 There's been no shortage of supernatural horror films in theatres since the triptych of Insidious (2010), Sinister (2012) and The Conjuring (2013) renewed an audience taste for haunted houses and demonic entities in the early 2010s. Those three films have spawned an untold number of sequels and imitators, with The Conjuring in particular generating one of the most successful horror franchises in history. For proof that supernatural horror still holds box-office sway, we need only look to the latest entry in the Insidious franchise, Insidious: The Red Door (2023), which has made just a little over $120 million since its release only a few weeks ago. But, of course, there's always been something a little troubling about the contemporary supernatural horror cycle: with rare exceptions, it puts its focus squarely on middle-class, white, Christian families.
Written and directed by Indian-American filmmaker Bishal Dutta (who has previously worked almost exclusively in short films), It Lives Inside promises to be a breath of fresh air in a sub-genre dominated by "all-American" families in peril. It stars Megan Suri as Samidha, an Indian-American teenager who feels out of place both at home and at her high school. Things get much worse when her childhood friend Tamira (Mohana Krishnan) unleashes an insatiable demon that threatens to tear her world apart. Drawing upon Indian folklore and putting its focus squarely on the immigrant experience, It Lives Inside could – much like Keith Thomas's The Vigil (2019) – offer a much-needed new spin on supernatural horror cinema.
It Lives Inside screens at Fantasia on Monday 7 August.
Stay tuned for more Fantasia coverage from Our Culture in the coming weeks.