London-based Austrian-Brazilian artist Viji has announced her debut album, So Vanilla, which arrives October 27 via Speedy Wunderground. To celebrate the news, she's unveiled the new single 'Sedative', along with a music video from director Gilbert Trejo. Check it out below.
"I wrote 'Sedative' about a girl," Viji said in a statement. "She's like a breath of fresh air, and there's a fine line between friendship and attraction that was hard to navigate. Usually when I meet someone like that I wanna 'be' that person, but this time I wanted to be with her." Of the video, she added, "The scenes unlock the dreamworld inside my head, while being restrained in a padded room. Expect a bit of 'sucker punch' with a set of twins in homage to The Shining."
So Vanilla was recorded primarily in London with producer and Speedy Wunderground label head Dan Carey. Viji previously released music on Dirty Hit, including 2022's Cali EP.
So Vanilla Cover Artwork: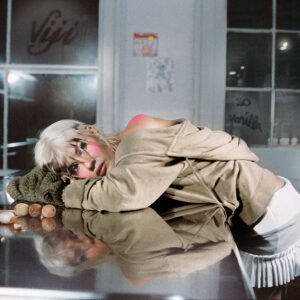 So Vanilla Tracklist:
1. Anything
2. Down
3. Sedative
4. Sundress In Pink
5. Karaoke
6. Blanket
7. Sharks
8. Slip Out Quiet
9. 1850
10. Say Hi
11. White Lighter
12. Ambien