Hinako Omori has announced her new LP stillness, softness…, sharing the new single 'cyanotype memories' in tandem with the news. The follow-up to 2022's a journey… is due for release October 27 through Houndstooth. Thomas Harrington Rawle and Cathal Mckeon directed the video for 'cyanotpe memories', which features contemporary dancer Chihiro Kawasaki. Check it out and find the album's cover art (created by Emi Takahashi) and tracklist below.
'cyanotype memories' is "about reconnecting and returning to our inner stillness, and surrendering to the unknown," according to Omori. "We ultimately don't have control over how anything external might pan out, but when we trust our inner compass things seem to be revealed to us in the most beautiful and unexpected way."
"I was also fascinated by the idea of cyanotype printing," she continued. "The act of placing an object on paper, and exposing it to UV light – the longer the object is focused under the light, a stronger or more detailed image can form on the paper. I thought there was a similarity in focusing and redirecting our thoughts to create new neural pathways in our brains, with the repetition of these thoughts creating stronger paths."
Of the accompanying visual, Harrington Rawle added: "I've worked with Hinako on her live visuals a few times and we wanted to further extend that world in collaboration with Chihiro Kawasaki. Hinako and I discussed the idea exploring silhouettes through dance and post processing FX, creating a void atmosphere that is revealed only through thin bolts of light – Chihiro improvised to the lights which were programmed live by Richard Brade."
stillness, softness… includes the previously unveiled singles 'foundation' and 'in full bloom'.
stillness, softness… Cover Artwork: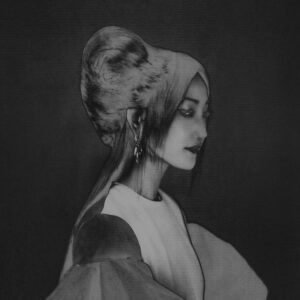 stillness, softness… Tracklist:
1. both directions ?
2. ember
3. stalactites
4. cyanotype memories
5. in limbo
6. epigraph…
7. foundation
8. in full bloom
9. a structure
10. astral
11. an ode to your heart
12. epilogue…
13. stillness, softness