IAN SWEET have announced the follow-up to 2021's Show Me How You Disappear. It's called SUCKER, and it's set to drop on November 3 via Polyvinyl. Lead Single 'Your Spit', which was co-produced by Alex Craig and Strange Ranger's Isaac Eiger, arrives with a music video directed by Brittany Reeber and featuring cameos from Saturday Night Live's Sarah Sherman and Martin Herlihy. Check it out below.
"'Your Spit' is about the joy and fear that surrounds new relationships," Jilian Medford, who helms the project, said in a statement. "The excitement that's also accompanied by doubt. But I'd be lying if I didn't say the song is just mostly about making out."
"Show Me How You Disappear was written during a really difficult period of my life after reckoning with a mental health crisis," Medford added. "I survived that very moment in my life through writing that record, and the extreme urgency to heal is reflected in the songwriting. With Sucker, I felt more capable to take my time and experiment without being totally afraid of the outcome. It wasn't life or death — it was just life, and I was lucky to be living it."
Last year, IAN SWEET released the Star Stuff EP.
SUCKER Cover Artwork: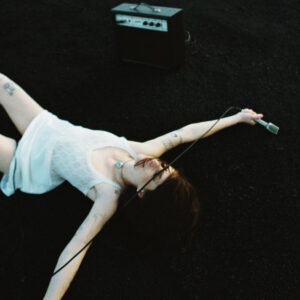 SUCKER Tracklist:
1. Bloody Knees
2. Smoking Again
3. Emergency Contact
4. Sucker
5. Comeback
6. Your Spit
7. Clean
8. FIGHT
9. Slowdance
10. Hard