Titanic – the new project from Mabe Fratti and Hector Tosta (aka i la Católica) – have announced their debut album. Vidrio is due for release on October 20 via Unheard of Hope. Today, they've previewed the LP with two new songs, 'Anónima' and 'Hotel Elizabeth'; the latter comes with a music video directed by José Ostos. Check it out below.
"This was pretty fun to record as my vocal register feels super relaxed in this tonality," Fratti said of 'Hotel Elizabeth' in a statement. "We were looking for a jazzy feeling and in this moment I couldn't help but think of Chet Baker and his pretty smooth singing. We made this song when were in Bratislava in a hotel called Hotel Elizabeth, and this is where we save the building that is on the cover of the album."
"In our collaboration with Mabe Fratti and i la Católica's Titanic, we wanted to dig into the realm of dental loss dreams," Ostos added of the video. "The film narrates a surreal dentist appointment that becomes a disorienting bad trip. We felt the song had an eerie, gloomy atmosphere to it, and we thought of exploring it through teeth, needles and blood."
Fratti and Tosta recorded Vidrio in their hometown of Mexico City, moving between Tinho Studios, Progreso Nacional, and Pedro y el Lobo Studios. It follows Fratti's third album Se Ve Desde Aquí, which came out last fall.
Revisit our Artist Spotlight interview with Mabe Fratti.
Vidrio Cover Artwork: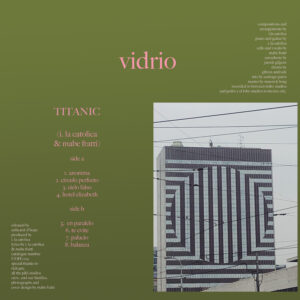 Vidrio Tracklist:
1. Anónima
2. Circulo Perfecto
3. Cielo Falso
4. Hotel Elizabeth
5. En Paralelo
6. Te evite
7. Palacio
8. Balanza