L'Rain, the project of Brooklyn-based multi-instrumentalist and composer Taja Cheek, has announced a new album, I Killed Your Dog. The follow-up to 2021's Fatigue arrives October 13 via Mexican Summer. It includes the previously released single 'New Year's UnResolution', as well as a new song, 'Pet Rock', which comes with a video directed by Studio Jojo's Josie Keefe and Jonny Campolo. Check it out and find the album's cover artwork and tracklist below.
"I'm envisioning a world of contradictions, as always," Cheek said in a statement about the new LP. "Sensual, maybe even sexy, but terrifying, and strange."
Revisit our Artist Spotlight interview with L'Rain.
I Killed Your Dog Cover Artwork: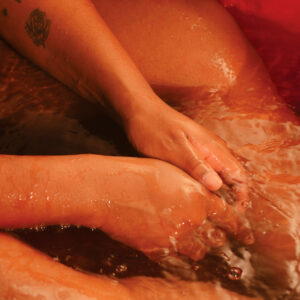 I Killed Your Dog Tracklist:
1. Sincerity Commercial
2. Our Funeral
3. Pet Rock
4.I Hate My Best Friends
5. I Killed Your Dog
6. All The Days You Remember
7. 5 to 8 Hours a Day (WWwaG)
8. Sometimes
9. r(EMOTE)
10. Uncertainty Principle
11. Oh Wow, a Bird!
12. Knead Bee
13. Monsoon of Regret
14. Clumsy
15. What's That Song?
16. New Year's UnResolution