Middle Kids have announced a new album, Faith Crisis Pt 1, which is out February 16 via Lucky Number. Today's announcement comes with the release of the new single 'Dramamine', alongside a video from director Nick McKinley. Check it out below.
Faith Crisis Pt 1 was recorded in Eastbourne in the UK and co-produced by Tim Fitz and Jonathan Gilmore. Vocalist Hannah Joy co-wrote 'Dramamine' with Fitz, who is not only her bandmate but also her husband. "It feels like a song about the connection between belief and love," she said in a statement.
Faith Crisis Pt 1 will include the previously released single 'Highlands'. Middle Kids' most recent album was 2021's Today We're the Greatest.
Faith Crisis Pt 1 Cover Artwork: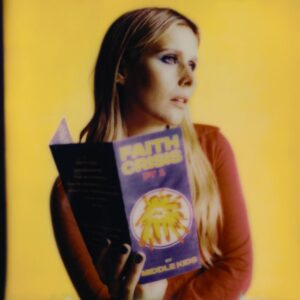 Faith Crisis Pt 1 Tracklist:
1. Petition
2. Dramamine
3. The Blessings
4. The Blessings (Interlude)
5. Bootleg Firecracker
6. Highlands
7. Bend
8. Go to Sleep on Me
9. Terrible news
10. Philosophy
11. Your Side, Forever
12. You Side (Interlude)
13. All In My Head [feat. Dave Le'aupepe]