Yard Act have announced their second album, Where's My Utopia?, which will be released on March 1 via Island. The band co-produced the follow-up to 2022's The Overload with Gorillaz's Remi Kabaka Jr., and it's led by the new single 'Dream Job', which comes with a music video directed by James Slater. Check it out and find the album cover and tracklist below.
"'Dream Job' feels like an apt introduction to the themes explored on Where's My Utopia? – though not all encompassing," the band's James Smith explained in a statement. "In part I was scrutinising and mocking myself for being a moaning ungrateful little brat, whilst also trying to address how the music industry is this rather uncontrollable beast that hurtles forward unthinkingly and every single person involved in it plays their part. Myself included, obviously. As with pretty much everything else going through my head last year, trying to find the right time to articulate the complexity of emotions I was feeling and the severity to which I was feeling them couldn't be found – or accommodated, so instead I tried to capture it in a pop song that lasts less than three minutes once the fog had cleared a bit. It's good and bad. I'm still glad that everything that happened to me happened."
Commenting on the album's lyrical content, Smith said: "You can commit to the idea that we're just animals who eat and fuck and then we die, and that's fine. But for me, creativity always seems to be the best way of articulating the absolute minefield of what human existence is."
Back in July, Yard Act shared the standalone single 'The Trench Coat Museum', one of our songs of the week.
Where's My Utopia? Cover Artwork: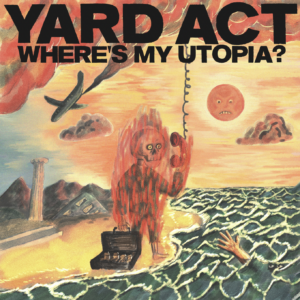 Where's My Utopia? Tracklist:
1. An Illusion
2. We Make Hits
3. Down By The Stream
4. The Undertow
5. Dream Job
6. Fizzy Fish
7. Petroleum
8. When The Laughter Stops [feat. Katy J Pearson]
9. Grifter's Grief
10. Blackpool Illuminations
11. A Vineyard for the North