André 3000 has announced his debut solo album, New Blue Sun, which will be released this Friday, November 17. The 87-minute record, though, features "no bars, no beats, no sub-bass," NPR reports. It instead sees André playing different kinds of flute: contrabass flute, maya flutes, bamboo flutes, as well as digital wind instruments. One track is called 'I Swear, I Really Wanted To Make a 'Rap' Album but This Is Literally the Way the Wind Blew Me This Time'. You can find the full tracklist below.
"There's this misconception that I just won't do it," André said of releasing a rap record in a statement. "I think people feel like I'm sitting around on rap albums, or sitting around and I'm just not putting them out in that way. And no it's not like that… In my mind, I really would like to make a rap album. So maybe that happens one day, but I got to find a way to say what I want to say in an interesting way that's appealing to me at this age."
New Blue Sun came about after André started jamming with multi-instrumentalist Carlos Niño, who introduced him to the group of musicians who appear on the album, including Nate Mercereau, Surya Botofasina, Deantoni Parks, Diego Gaeta, Matthewdavid, V.C.R, Diego Gaeta, Jesse Peterson, and Mia Doi Todd.
"It's not like I don't try or it's not like I have a lot of these songs just sitting – I have songs but it's not like rap things that I really feel happy about sharing," André told NPR. "And really, that's the most important part. I have to feel happy about sharing it. That's why New Blue Sun was something that I realized, whoa, I really want people to hear it. I really want to share it."
New Blue Sun Cover Artwork: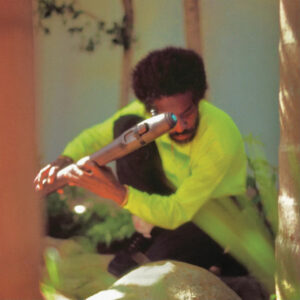 New Blue Sun Tracklist:
1. I Swear, I Really Wanted to Make a "Rap" Album But This Is Literally the Way the Wind Blew Me This Time
2. The Slang Word P(*)ssy Rolls Off the Tongue With Far Better Ease Than the Proper Word Vagina . Do You Agree?
3. That Night in Hawaii When I Turned Into a Panther and Started Making These Low Register Purring Tones That I Couldn't Control … Sh¥t Was Wild
4. BuyPoloDisorder's Daughter Wears A 3000™ Button Down Embroidered
5. Ninety Three 'Til Infinity And Beyoncé
6. Ghandi, Dalai Lama, Your Lord & Savior J.C. / Bundy, Jeffrey Dahmer, And John Wayne Gacy
7. Ants To You, Gods To Who ?
8. Dreams Once Buried Beneath the Dungeon Floor Slowly Sprout Into Undying Gardens