Chastity Belt have announced their new album, Live Laugh Love. Marking their debut on Suicide Squeeze, the follow-up to the band's 2019 self-titled record comes out March 29. Check out a video for the first single, 'Hollow', below, along with the cover artwork and tracklist.
In a press release, the band's Julia Shapiro described 'Hollow' as "a classic Chazzy-style tune about feeling lost and stuck, waiting for something to change without necessarily taking action. The older I get, the more I realize that I might just always feel this way, and it's more about sitting with the feeling and accepting it, rather than trying to fight it. I'm still here, doing my thing, whatever that is. I remember first jamming on this song together when we were all in Joshua Tree during the pandemic… maybe spring 2021?"
"Generally when we set about coming up with an idea for a music video as a band, we try to think of something ridiculous we'd like to do that we would never otherwise fund ourselves (ie. Segway adventure, medieval horseback riding)," Lydia Lund commented on the song's visual. "In each shot we were performing in order to make our friends in the room laugh, taking each bit to the next level, seeking joy in late capitalism."
Director Nick Shively added: "We had a TikTok mood board floating around and I went on some deep dives that did irreparable damage to my For You page. The shoot itself was so fun and light. We all just kinda goofed around in an extremely hot and sterile house this last summer. I was laughing the whole time and I wound up shooting something like 4 and half hours of "content." I also remember the neighbors having a lot of chickens roaming their yard, and we got a full refund on all the ring lights."
Back in 2021, Chastity Belt shared the standalone tracks 'Fake' and 'Fear'.
Live Laugh Love Cover Artwork: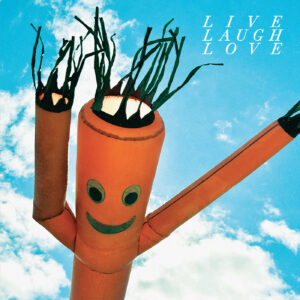 Live Laugh Love Tracklist:
1. Hollow
2. Funny
3. Clumsy
4. It's Cool
5. Kool-Aid
6. Chemtrails
7. Blue
8. Tethered
9. I-90 Bridge
10. Laugh
11. Like That