Arrow Video, the fine purveyors of quality cult cinema releases, now bring us the infamous sequel to Tobe Hooper's gut-churning chainsaw horror on Blu-Ray.
First of all, the film itself…
Ever since the grizzly events of The Texas Chainsaw Massacre (1974), mysterious deaths have plagued the state. Sixteen years on, Lieutenant 'Lefty' Enright (Dennis Hopper) is still searching for the maniacs who butchered his nephew, Franklin. Local radio DJ Stretch (Caroline Williams) gets a blood-curdling call to her show from two yuppies who are brutally murdered by a familiar chainsaw-wielding murderer. Initially reluctant to accept her help, Lefty asks Stretch to play the recording of the murder over the air to perhaps stir the killers back. The plan goes dangerously awry as Leatherface (Bill Johnson) and the sadistic 'Chop Top' Sawyer (Bill Moseley) show up at the radio station. As Lieutenant Enright prepares to do battle with the monsters who killed his nephew, Stretch falls into the labyrinth of the Sawyer lair. Will she end up as Leatherface's next victim? Or is there more behind the hideous skin mask to this monster?
Perhaps unsurprisingly, The Texas Chainsaw Massacre 2 is a mixed bag. Following up any beloved story is difficult, and the stakes are raised when you have to develop a title as iconic as Tobe Hooper's seminal 1974 horror. With some underdeveloped characters and elements that seem to run a little too closely to its predecessor (almost the entire 'dinner sequence' is lifted from the first film), this sequel feels more artificial than the first. There are standout aspects, like Tom Savini's marvelous makeup effects work, but overall the film, whilst entertaining, stands in the shadow of the first Texas Chainsaw Massacre.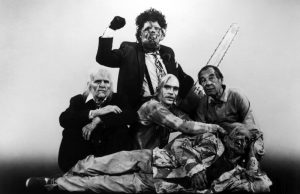 Dennis Hopper's Lieutenant Enright develops beyond little more than an eccentric man hell-bent on vengeance. He is, at times, afforded personal depth however. His discovery of the desiccated remains of his nephew allows for a genuine moment of loss and anger and is the highlight of Hopper's performance. It is a shame then that beyond this sequence, Enright is just a another angry man wielding a chainsaw but without the enigmatic intrigue of Leatherface. Of course, perhaps that was the point, that he becomes the thing he wishes to destroy, but Enright's madness becomes lost in how larger-than-life the entire film is.
Caroline Williams' Stretch is a charismatic and likeable hero, and is especially engaging whenever she tries to communicate or reason with Bill Johnson's monstrous Leatherface. Her character marks a narrative thread that builds on the Chainsaw mythos. Leatherface's sexual and romantic attraction to her works to give a glimpse of the humanity that lingers within him. The Leatherface of the sequel is a far cry from the beast of the 1974 original. The 'humanisation' of Leatherface is a point that both succeeds and fails depending on one's perspective. On one hand, sequels have to change and evolve to take these famous narratives to new territory. To that end, the exploration of Leatherface as an actual thinking, emotional, and even sympathetic character lends a certain nuance. On the other hand, the fear factor is immediately reduced. This is no longer the hulking mass that emerged from behind a metal frame to bash in the skull of a hapless teenager. This is not to suggest that Leatherface does not kill anyone – far from it – but even in such simple (and personable) aspects like seeing his eyes Leatherface becomes much less fearsome than he once was.
Tom Savini's makeup and gore effects are (as usual) second to none. In a particularly gory highlight, a yuppie has his head sliced in half by Leatherface's buzzing blade. The effect is deliciously gruesome and life-like. Moreover, the makeup for the metal plate that sits atop Chop-Top's head is disgustingly brilliant. Embellished by Bill Moseley's energetic performance, both Savini's makeup and Moseley's acting complement one another, exemplifying the talents of both actor and artist alike.
The Texas Chainsaw Massacre 2 is not perfect, but it certainly is entertaining. Despite some missed potential with its characters, the great performances from the cast and the bloody effects courtesy of Savini help make this odd sequel certainly worthwhile. Whether one loves the exploration of Leatherface or not, it certainly lends an edge to the film that further sequels would attempt but rarely do so interestingly. Tobe Hooper may not have struck gold twice with this sequel, but he did at least strike something fun.
And now for Arrow Video's Blu-Ray itself…
As with all their eclectic range of cult releases, the blu-ray picture is stunning. Looking crisp and clear, this 1080p quality is the result of a digital transfer supervised by the film's Director of Photography Richard Kooris. The colours are rich and vibrant, allowing for the film's surprisingly vivid colour palette to reach its full potential. The red hues of the Sawyer family's lair on Leatherface's mask look gorgeous.
No different to any other Arrow Video release, The Texas Chainsaw Massacre 2 is packed with extras to fascinate and satisfy the earnest Chainsaw aficionado. Included is It Runs In the Family, a six-part documentary chronicling the inception, production, writing, design, and more of the 1986 sequel. It is fascinating to hear L.M. Kit Carson (the film's screenwriter) explain how Cannon Films diminished the film's budget and how in turn the script was re-written several times as the production wore on. Equally interesting to note is how the film began to change upon Cannon Films' wishes after the response to the film at the Cannes Film Festival. Despite being intentionally comedic, Cannon took issue with the audience laughing along with the film. As such, as Carson explains, the film was further altered to 'show the monsters'
Also included is Still Feelin' the Buzz, a fabulous interview/documentary with author and horror expert Stephen Thrower. Thrower makes some excellent arguments regarding the film's commodification of its predecessor, as well as some brilliant commentary on the film's Vietnam references – especially those made through Bill Moseley's Chop-Top.
Cutting Moments with Bob Elmore sees an interview with the film's Leatherface stuntman. With a weary voice, Elmore tells of the many woes of the production, including the story of how he wound up as Leatherface for much of the film. Thinking his work was done after a crash-through-wall stunt, Elmore was called back to the set when it became apparent that Bill Johnson (Leatherface) couldn't physically lift the enormous chainsaw built for the film. Consequently, it is Elmore behind that horrific skin mask whenever Leatherface is wielding his fearsome weapon.
Elmore also explains his appreciation and enthusiasm for director Tobe Hooper's intensity but also his disdain for being shouted at on set. Indeed, Elmore notes the difficulties involved with being directed as an actor but being anything but.
Along with two audio commentaries (one with director Tobe Hooper and another with stars Caroline Williams, Bill Moseley, and makeup maestro Tom Savini), Arrow has gifted this release with plenty of deleted footage. Of particular note is the 'Die Yuppie Scum' sequence, wherein Leatherface dismembers several violent yuppies in an underground car park. Heads are sliced, arms are cut off, and Leatherface waves his chainsaw triumphantly. Although cut for pacing reasons, it is certainly appreciated to have such scenes available to see now thanks to Arrow.
With a stunning 1080p transfer and absolutely packed with extras, Arrow Video's release of The Texas Chainsaw Massacre 2 is certainly worth buying. The crisp picture quality allows for the best possible viewing experience, and the extras wonderfully embellish one's enjoyment. Any qualms one may have with the film itself are certainly compensated for with the great care Arrow has afforded this release. Highly recommended.