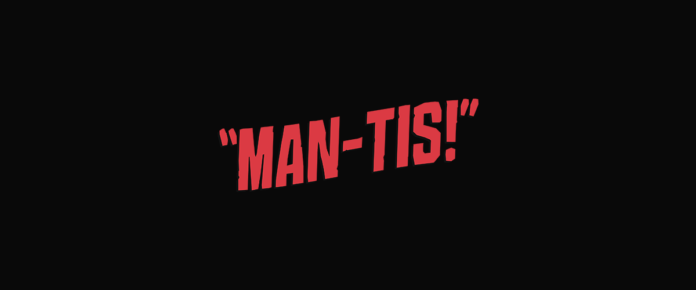 Upcoming Sci-fi comedy short Man-tis! is in the making.
The film will follow Tim, a nervous wreck who is about to have the interview of his life. However, on the morning of the interview, things start going south for Tim as his head and hands are transformed into those of a giant mantis.
'Man-tis!' will be directed by Christopher Stewardson, who most recently co-directed 'A Fine Picture' alongside James Carpenter. Christopher Stewardson gave us a few words about his influences and what we should expect from 'Man-tis!'.
"I've been obsessed with 1950s science-fiction and creature features since childhood. They're such wonderful films. The fantastic, wild stories of these films are so entertaining and, despite some often outdated social dynamics, there are so many relevant political readings that can be taken from these stories. I remember receiving Bert I. Gordon's 'Earth vs The Spider' on VHS for my seventh birthday. I loved it then and still do – and I still own and cherish that VHS. Making a film as a love letter to 50s creature features is something I've dreamed of for a few years. Watching films like Gordon Douglas' 'Them!' and Jack Arnold's 'Tarantula' always set my mind rolling as a child. I kept wondering, 'imagine how cool it'd be to make something like that!' I now have the opportunity to make a film like that – and I can't wait to make something that honours those films that I adored and idolised in my childhood. With Man-tis! I wanted to affectionately reference the fantasy of those films but be able to bring it into the 21st century with comedy. Comedy can be a really effective way of making absurd things seem believable within the context of a story whilst making it brilliantly entertaining at the same time."
The film is currently in pre-production and is due to be released in 2018.
The current crew working on 'Man-tis!':
Director: Christopher Stewardson
Writers: Christopher Stewardson and Col Norrish
Producer: Hannah Cook
Casting Director: Heather Williams
Production Design: Chantelle Wills
Director of Photography: Col Norrish
Editor: Modestas Mankus
Sound Recordist: Greg Chalmers
Sound Mixer: Jessica Watkins
To find out more about 'Man-tis!' you can visit their website here.