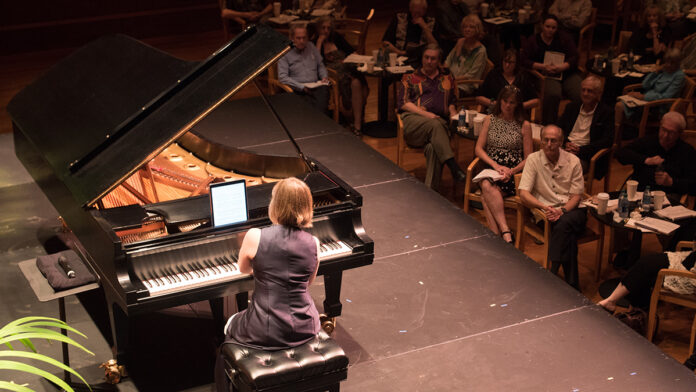 In a small theatre on the coast of California, four incomparable musicians sent me back in time. Back several hundred years, to the days of music salon afternoons and intime soirée nights. At Café Ludwig, classical music remains an entertainment standard.
Pacific Symphony, recently honored by Orange County as its Arts Ambassador to the World, has made historic tours of China and Europe, sold out Carnegie Hall, and debuted on PBS Great Performances. But they have not forgotten the little community of art-lovers from which they hail. That's why I was invited to attend the first "Café Ludwig" of the 2019-2020 season.
Café Ludwig is, quite simply, a Renaissance gathering in modern California. At the charming Samueli Theatre, principal artists from the Pacific Symphony gather to perform a Beethoven-and-Brahms-embossed program. Orli Shaham, a pianist with several major orchestras including the Los Angeles Philharmonic and the BBC symphony orchestra, plays piano and host.
Shaham introduces each of her fellow musicians – violinist Dennis Kim, violist Meredith Crawford, and clarinetist Joseph Morris – and prefaces each composition with sophistication and charm. The complexity of brilliant music, the dialogue between instruments… These are Shaham's topics of conversation and the stimulant of our journey through time.
An endangered species
One cannot deny that time traveling events, underscored by Beethoven and Brahms, are usually attended by patrons of distinguished ages… Where are the young men and women, eager for a festive afternoon? Most of them are not at Café Ludwig. There have been attempts at swaying the younger crowds through field trips to concert halls and episodes of Little Einstein. Still, there are few bodies under forty sitting in a classical audience.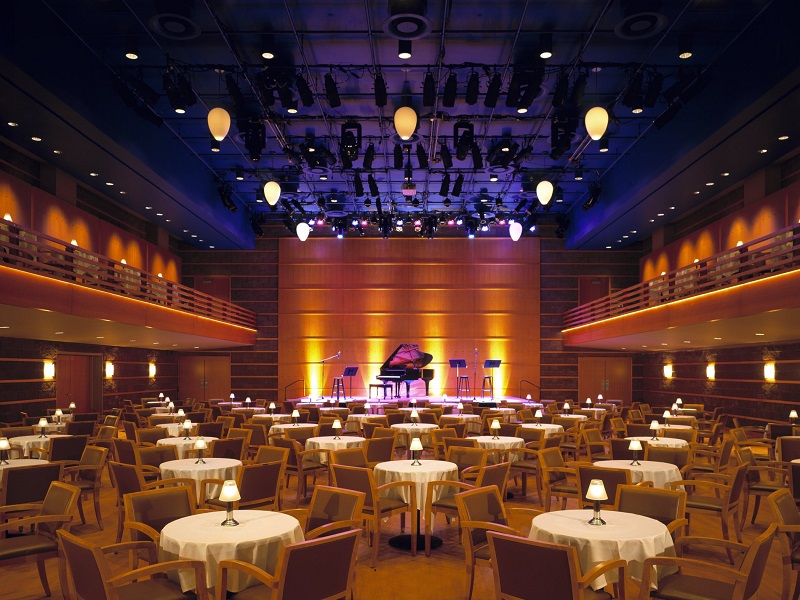 Children of the present era have been systematically drugged by the music business. Popular songs use the same five chords. This is deserved criticism, not to be taken lightly. Meanwhile the great works of the masters, Beethoven, Brahms and many others, are unknown or unappreciated by youthful audiences. Classical music is severely endangered. For the next generation, it may be extinct.
How do we prevent classical extinction? With events like Café Ludwig. Whether they be in the US or the UK, California or Cambridge, communities must make a concerted effort. (Or, shall we say, a concert-ed effort!) Small gatherings of music lovers serve to remind us all that classical music can be enjoyed with regularity. As an everyday enlightenment. A daily delight.
A powerful opportunity
A young man or woman watching Orli Shaham cannot help but be amazed. The pianist's nimbleness of hand and mind cannot be ignored; she plays as if to set the world on fire. Violinist Dennis Kim is both the violin and the violin's lover. Meredith Crawford is a violist whose passion swells from her bow. On clarinet, Joseph Morris has energy, potency, and the ability to move audiences of all ages.
These are the performers we need to continue seeing. Little doses of classical music, from the likes of Pacific Symphony, will physiologically and psychologically benefit us all. And young audiences will thereby be enlightened, mentally and spiritually.
I support the 'Café Ludwig' enterprise, and I do so with vengeance. You, reader, must likewise support your local symphony. Attend special events, provide whatever financial support you can and, most importantly, bring the kids along.