Before the start of her AW20 presentation at the Copenhagen Fashion Week, NYNNE, a beloved fashion designer, joined us for an interview to talk about her latest collection and what it means to be presenting it in Copenhagen.
Hi, how are you?
I'm great thank you, we are currently on our way to the venue for the presentation and there is lots to do today but I'm excited about it
So, how did you get into fashion and how did the label come alive?
I have been working on fashion for quite a while now, when I was younger I decided to move to London to study womenswear design at the Istituto Marangoni. I have always been fascinated by the way women dress and what this represents, therefore when I had the chance to move to London to preside my dream in womenswear, I couldn't have been more excited.
I was honoured to win the Istituto Marangoni X Luisa via Roma womenswear prize with my graduate collection, which saw me showcase the NYNNE SS20 collection at the Palazzo Serbelloni during Milan Fashion Week and this was really the start of the brand.
You are presenting your AW20 collection, can you tell us about the themes of the collection?
The underlying theme of NYNNE is celebrating female empowerment and champing women. The AW20 collection has been inspired by the abstract expressionist art movement within the 1940s and more importantly, the homage to works of art women created an era that was heavily male-dominated.
This season's silhouettes and finer details are inspired by the elegant life of art enthusiast Peg¬gy Guggenheim. The collections luxurious weighted leather pieces stand in contrast to soft jerseys and silk satins. Whilst the burnt orange, brown, black and a touch of blue, are taken out of Joan Mitchell's many paintings from this time, including 'Two Sunflowers' as part of her expression of freedom, she was one few female artists gaining critical acclaim. Rich textures with vibrant, lyrical colour enrich this NYNNE's collection with luxurious silk satins, buttery leathers, sheer chiffon alongside the return of shearling from her first collection, which completes this sophisticated edit.
You are presenting your latest collection in Denmark at the Copenhagen Fashion Week, how do you feel about it and do you feel there is more pressure as it is your home country?
I'm so excited to be coming home to Denmark, as I haven't really interactive with Danish fashion since moving to London in 2014. I'm intrigued to see how the Danish community react to my designs and the collection.
Of course, there is pressure as it's my home city but I'm lucky to have the support of my friends and family here. Copenhagen Fashion Week has a very relaxed atmosphere in comparison to other fashion weeks and this will be my first time doing a presentation at a beautiful Gallery Bo Bjerregaard in the Meat Packing District.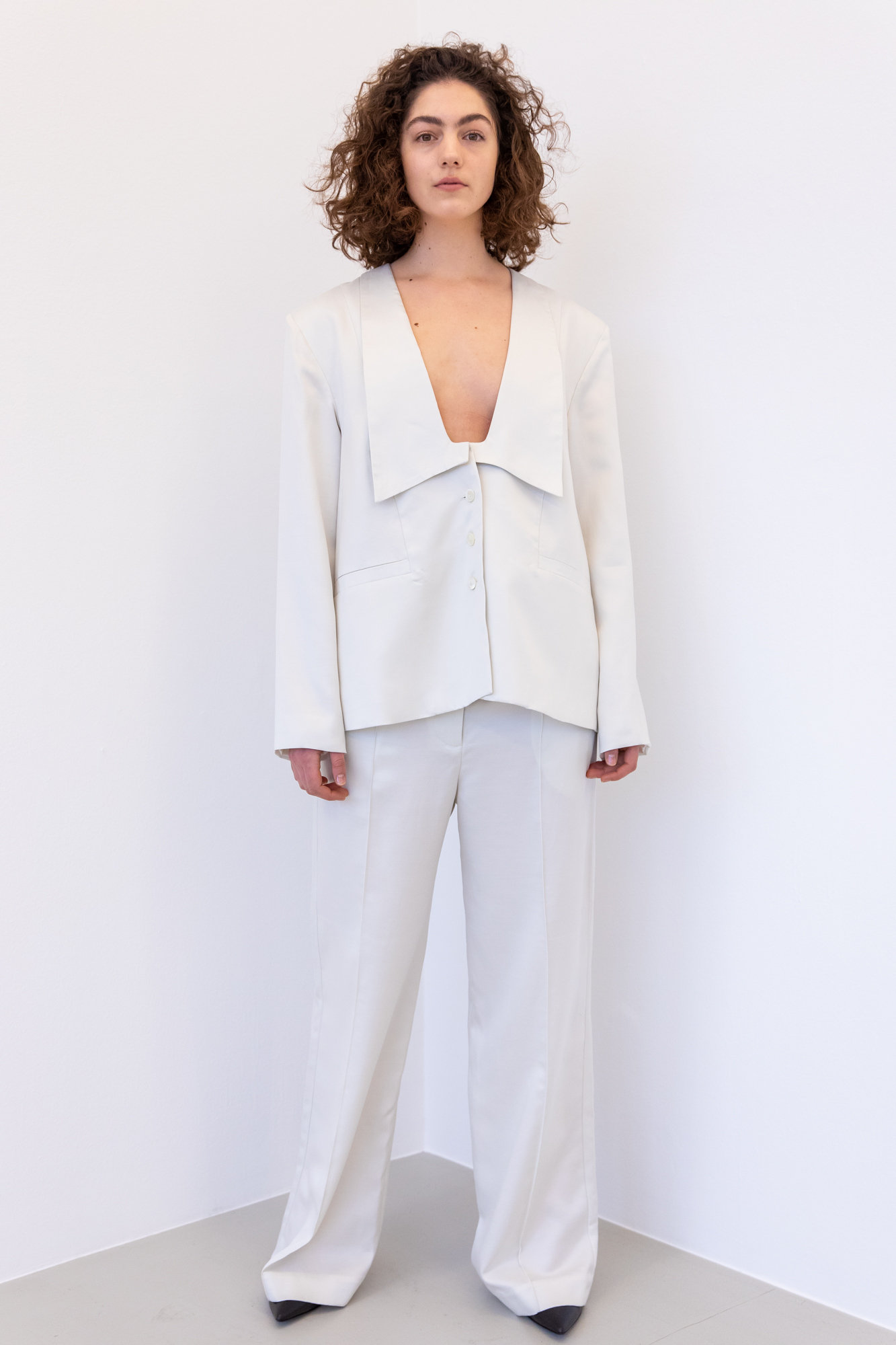 With a lot of ups, 2020 looks like an exciting year for NYNNES, what do you hope to achieve in the coming year that will make you stand out in the world of fashion?
My goal has always been to design clothing that women want to wear and feel glamorous and confident in, so I hope to see women wearing the clothes out and about as the brand grows.
Also, I would love to see NYNNE being stocked within certain stores throughout the world, so that people can access the clothes even if this means feeling the fabrics, trying on new styles for them etc. Finally, I'm looking forward for us to find our brand's pace, as we begin to grow and expand the collections, where NYNNE is available etc. I'm just looking forward to experiencing the journey of the brand, to be honest.
The topic of fast fashion is big talk in fashion at this moment of time, what is your opinion on fast fashion and its impact on society and the world?
Fast fashion has been accessible to a large market for so long because of the price tags, and by not educating the consumer on how these clothes were being made. Nowadays, the consumer wants to know more and demands transparency from the brands they are investing in, as well as caring more about their social impact on the environment. It's an important topic to talk about and figure out how to make that section of the industry more sustainable and aware of their actions.
I feel the future of fashion is that consumers want better quality, better finishes to their clothes and know that the looks they are wearing now will last them a lifetime instead of going into landfill. It's really about investing in yourself and your wardrobe, which we can see is currently creating a divide within the industry.
Our final question, what is your definition of culture?
I think it's hard to define culture since it plays a role in several aspects of my daily life. Culture for me is establishing a community where creative forces can flourish and shear ideas between peers. Creatives can sometime get lost in their own minds and therefore it's important to collaborate and embrace collective creativity.