Last week, Our Culture's contributors recommended a selection of films to watch in these uncertain times. We're back with more recommendations today, and it's another eclectic lineup! Let's begin!
What We Do in the Shadows (2014) – as selected by Elias Michael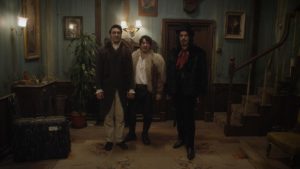 Taika Waititi is having one hell of a year; an Oscar, directing and acting in The Mandalorian, working on Thor 3, and he's just been announced to helm a new Star Wars film. Needless to say, the man is on top of the world. So, track it back to his beginnings with his worldwide hit, What We Do in the Shadows. This horror comedy follows several vampires sharing a flat in Australia as they try to navigate normal life. Shot in a 'mockumentary' style, this film will have you on the floor laughing. It's a smart and fresh take on the vampire film, and rides the vampire hype train incredibly well. If you're looking for something to cheer you up in these strange times, this is just the ticket. 

What We Do in the Shadows is currently available on Amazon Prime.
Call Me by Your Name (2017) – as selected by Eric Ng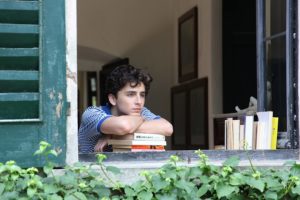 Adapted from the 2007 novel of the same name, Call Me by Your Name is a coming-of-age romance drama set in Italy during the summer of 1983. The film explores the romantic relationship between Elio (Timothée Chalamet), a 17-year-old boy, and Oliver (Armie Hammer), a 24-year-old graduate research assistant to Elio's father (Michael Stuhlbarg).
If you're missing the feeling of pure love at the moment, Call Me by Your Name will remind you of its brilliant excitement. From the first instance of falling in love to unfortunate heartbreak, director Luca Guadagnino crafts an emotional connection that calls to the audience in the extraordinary performances of his leads. If you wish to experience the summer of love even in quarantine, Call Me by Your Name is the film to watch.
Call Me by Your Name is currently available on Amazon Prime.
Them! (1954) – as selected by Christopher Stewardson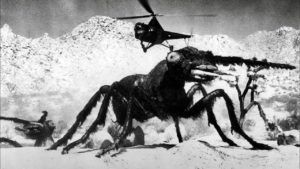 Gordan Douglas' Them! is a landmark piece of science-fiction cinema. Lingering radiation from the first atomic test in 1945 has spawned a colony of giant ants in the New Mexico desert. The film boasts a compelling script complemented by charismatic performances. It also features superb special effects, which were nominated for the Best Special Effects Oscar at the 27th Academy Awards.
One of the first in a long line of giant invertebrate films the decade would produce, Them! remains a masterwork of suspense and spectacle to this day. Of particular note is James Whitmore's performance as Sgt. Ben Peterson. Whitmore steals every scene he's in; his firm demeanour hiding a compassion that endears him to the audience. That the giant ants are so impressively monstrous raises the stakes, making you unsure of who – if anyone – will survive. No doubt the iconic screech of the giant ants will stay with you forever.
Them! is currently available on Blu-Ray and DVD.
The Conversation (1974) – as selected by Elias Michael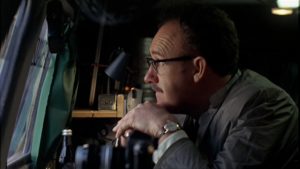 You've probably skipped through hundreds of films on multiple streaming sites but BBC iPlayer has some great films in its selection. One of them is Francis Ford Coppola's 1974 Palm D'or-winning thriller, The Conversation. This acclaimed film was made at the height of Coppola's time and follows a surveillance expert tracing the recordings of a potential murder. He soon finds himself thrown into a moral dilemma. An absolute powerhouse in sound (helped by the legendary Walter Murch) and visual storytelling, the first shot alone will drag you into this paranoid and tragic thriller. If you want some mystery in your life, this iconic classic is right up your street.    
The Conversation is currently available on BBC iPlayer.
Stay tuned for more recommendations from Our Culture in the coming weeks. Let us know your thoughts on our choices!