Our Culture is privileged to present an interview with Hamish Steele, creator of the DeadEndia comic series. 
DeadEndia "follows the adventures of Barney and Norma, two humans who stumble upon the supernatural secrets of Dead End, an amusement park haunted house! Joining their adventures are Pugsley, a pug possessed by a demon king, and Courtney, the guardian of the elevator to the 13 Planes of Existence!" 
Hamish's art is vivid and bright, immediately setting the tone for the comic's story. It is no wonder that the series has been picked up by Netflix to be turned into an animated series.  
We sat down with Hamish to talk about his work, DeadEndia, and what's next on the horizon. 
Hamish, it's a pleasure to talk with you. Please introduce yourself for our readers! 
Aw thank you! I'm Hamish Steele! I live in London and by day I'm an animation show runner / writer person and by night I'm a comics creator. I won a Most Promising Newcomer Eisner a couple of years ago and I reaaaally love gators.  
The announcement of the DeadEndia series from Netflix is terrific. How did that come about?  
I've been in the world of animation development for about eight years. In fact, my first proper job in the industry was a DeadEndia short for Cartoon Hangover. We developed that for a little bit at Nickelodeon but it didn't end up happening. But I did do a couple of pilots there and they got me in touch with Blink Industries and I've worked there ever since. Between the short and now, I developed DeadEndia into a webcomic on the side and the planets ended up aligning where Alexi Wheeler, the guy who originally wanted to make DeadEndia at Nickelodeon, moved over to Netflix. Sometimes it takes many years for the right time, right place to happen but it does happen. 
What are the challenges or advantages of translating the comic to an animated format? 
In most adaptations, you have to cut things out for time. But I've found we've had this amazing opportunity to expand on everything: the characters, the world, the humour, the horror. In fact, scares have been the best advantage of the animated form as in comics you don't have music, sound and timing to help you with the atmosphere. But obviously there've been huge challenges – setting an animated series in a bustling theme park is asking a LOT of the animation and design team. This is a BIG show. 
DeadEndia is openly and wonderfully LGBT-inclusive. How does it feel to be able to continue that into the animated adaptation? 
I feel amazingly grateful to Annie Liu, our main Netflix exec for not only letting us have the diversity I wanted but championing it and pushing me to tell the story I want to tell. GLAAD reviews all our scripts, we have cast the show responsibly and our writers room is a reflection of the characters. With so few trans storylines on tv, let alone as the lead character in a kid's show, we know we can't be everything for everyone. But this is Barney's story and I can't wait for people to get to know him. 
What do you want most out of this programme? 
If one lonely kid feels like someone out there has their back, that'll be my job done. With kids tv, the impact is never felt at the time of its release. We can look at reviews and ratings and get some idea, but the real impact will come 5, 10, 15 years later when the kids who watched it are making the next generation of tv. 
Are there any other projects on the horizon? 
We have just launched the kickstarter for Croc and Roll, a new comic book series written by me and with art by George Williams (@neatodon on twitter). It's kinda like a mix of TMNT and Jem and the Holograms but very gay. We've already funded Issue 1 but I hope we are aiming for a series of 6 issues!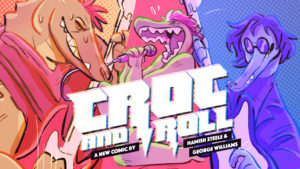 How can our readers support both DeadEndia and Croc and Roll? 
The DeadEndia graphic novels are available on the Nobrow Website and at all good local book and comic stores. The Croc and Roll kickstarter is here.
As for the DeadEndia show, look forward to it arriving in 2021. I promise it'll be worth the wait! 
We can't thank Hamish enough for sitting down with Our Culture. To see more of his work in the meantime, check out his eclectic work on his website.