Raveena has detailed her sophomore album, Asha's Awakening, which arrives February 11 via Warner. Along with the announcement, the singer-songwriter has shared a new single called 'Secret', which features Vince Staples and arrives with an accompanying video directed by Raveena herself. Check it out below.
According to a press release, Asha's Awakening is a concept album that tells the story of a space princess from ancient Punjab who learns about love, loss, healing, and destruction through a fantastical journey across centuries. In addition to Vince Staples, the LP includes contributions from Rostam, Indian singer-songwriter Asha Puthli, and Los Angeles IDM artist Tweaks. Raveena previously shared the album single 'Rush'.
"To me, 'Secret' is a song about love that traverses through different dimensions," Raveena said of the new single in a statement. "People on Earth are starting to have sensual dreams ignited in them by a space princess – someone they feel like their body knows, but whom they also do not know and cannot reach in this dimension. What if your lover was enticing you from space and you couldn't reach them in this realm? What if a spirit from an outer dimension ignited your sacral chakra? This is what 'Secret' explores."
Raveena's debut album, Lucid, dropped in 2019. The following year, she released the Moonstone EP.
Asha's Awakening Cover Artwork: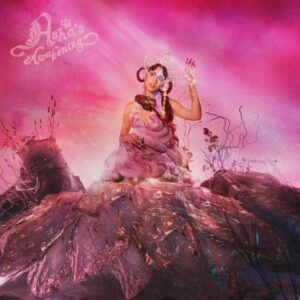 Asha's Awakening Tracklist:
1. Rush
2. Secret [feat. Vince Staples]
3. Magic
4. Kismet
5. Kathy Left 4 Kathmandu
6. Mystery
7. Circuit Board
8. The Internet Is Like Eating Plastic
9. Arrival to the Garden of Cosmic Speculation
10. Asha's Kiss [feat. Asha Puthli]
11. Time Flies
12. Love Overgrown
13. Endless Summer
14. New Drugs [feat. TWEAKS]
15. Let Your Breath Become a Flower (Guided Meditation)