After people were left disappointed by the lack of organization on the first day of Primavera Sound as well as the cancelation of the Strokes' headlining set on Friday, the mood was less than enthusiastic heading into the second night of the festival. Something about the overall atmosphere on Friday seemed to eerily reflect this – the sky was getting cloudier as not-so-cheerful acts like the National and Fontaines D.C. were set to hit the stage. Although I would have killed to see the National live, I thought it reasonable to try to find an alternative to some of the bigger names, which also included Beck and Caribou, given that overcrowding was still an issue. I also did my best to make time between performances rather than attempting to catch as many of them as possible, which made the experience less overwhelming and more enjoyable. Here, in chronological order, are six memorable moments from the night.
---
Weyes Blood Is Making a Comeback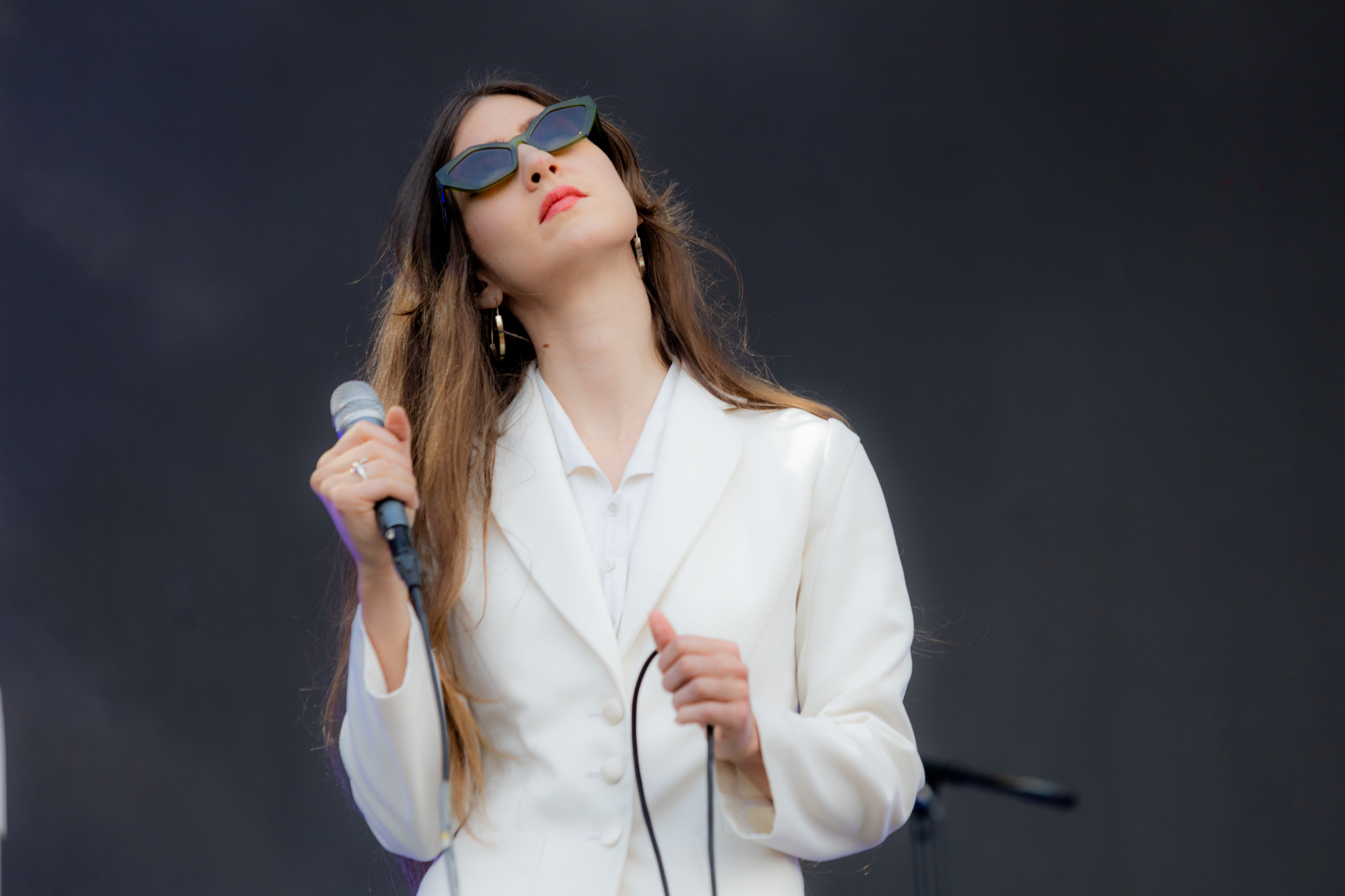 Weyes Blood hasn't released an album since 2019's mesmerizing Titanic Rising, which made her Friday evening set feel like a hazy dream coming back to haunt you. For the most part, the sun still shone bright, but the smoke machines were almost unnecessary as clouds began to loom over the Binance stage: a startling fit for Natalie Mering's measured yet mesmerizing performance. For as melancholy (or, in her words, "sadass") as her music is – as her set reminded us, it can also be otherworldly, wild, and breathtakingly cinematic – Mering seemed genuinely glad to be back, making jokes between songs. "This is our one upbeat song," she said before singing 'Everyday', "Feel free to mosh." Halfway through her performance, she also announced that her next record is done. Though it doesn't come out till the fall and she refrained from playing any unreleased songs – surprising the audience only with a stirring cover of the Hollies' 'The Air That I Breathe' – the way she brought her older songs to life was a good enough reason to be excited.
Fontaines D.C.'s Gloomy Post-Punk Riles Up the Crowd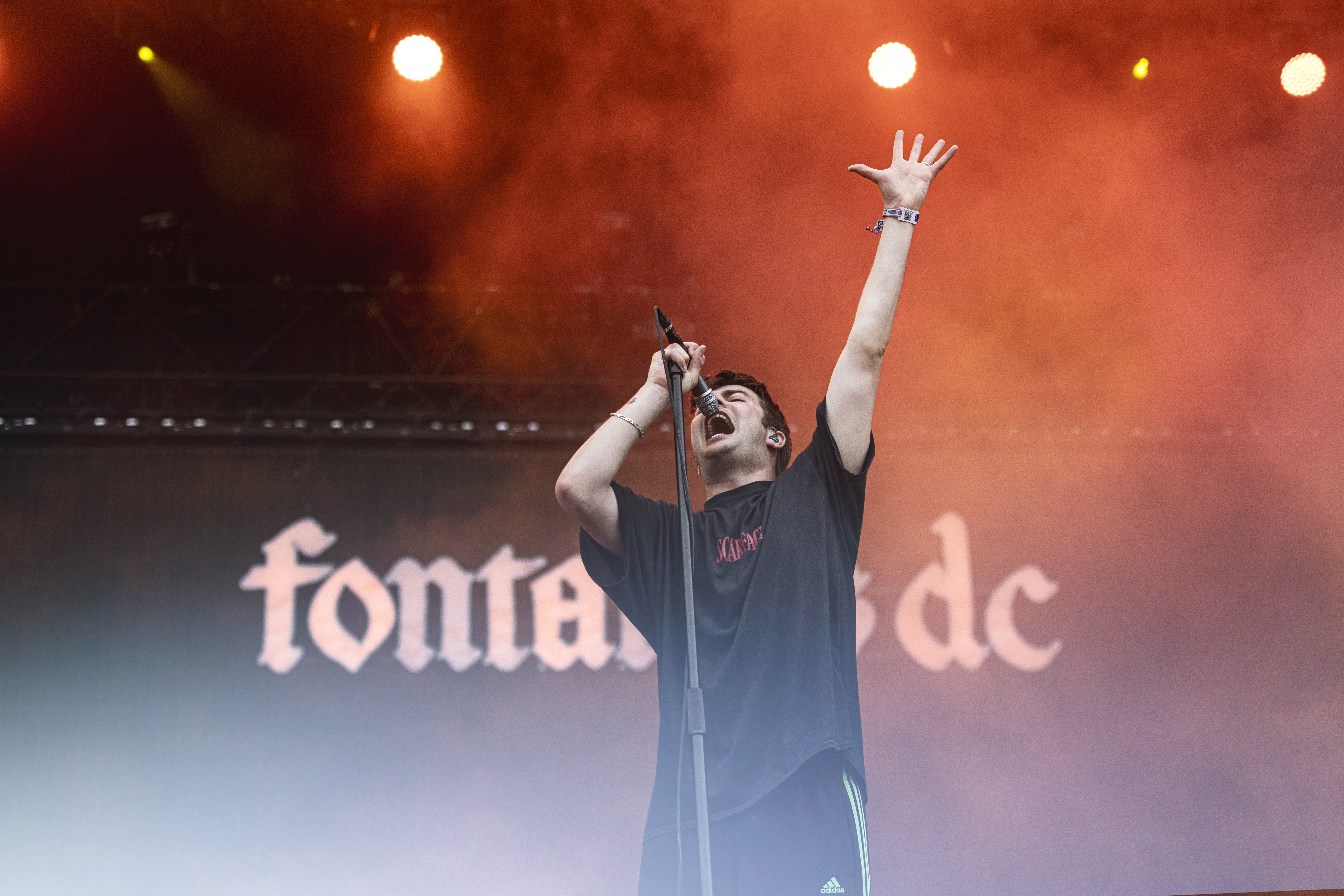 Just like yesterday's schedule made it impossible to see Charli XCX without missing out on Rina Sawayama's set, on Friday fans of the UK post-punk revival had to make a choice between Dublin's Fontaines D.C., who have established a reputation for making gloomy songs with a poetic bent, and the fast-rising Isle of Wight duo Wet Leg. I have no doubt Wet Leg's refreshingly lighthearted and playful approach made for a particularly fun festival set, but over at the Estrella Damm stage, Fontaines DC delivered what was easily one of the most exhilarating performances of the festival so far.
Even with the stylistic differences that characterize each of their three records – with this year's Skinty Fia being simultaneously their most haunted and tender to date – there wasn't a single dip in intensity for the entirety of their set. A moshpit kept swirling throughout, and, even in Barcelona, people were bellowing the words to every song. Like his lyrics, there was a hint of ambiguity in singer Grian Chatten's stage presence; you couldn't be sure if it was out of anguish that he was pacing around the stage, drilling the microphone stand into the floor, and staring intently at the crowd, or if he was simply trying to rile people up (either way, he succeeded at that). The rest of the group maintained a moody yet propulsive groove alongside him, with bassist Conor Deegan III counteracting Chatten's passion with a seemingly purposeful listlessness. But their sincerity was there, too. The final shot on the big screens wasn't of the band leaving the stage but that of a delighted fan who had somehow managed to get Chatten to pick up and sign a record on stage.
Having Claimed Her Throne, Little Simz Keeps Things Raw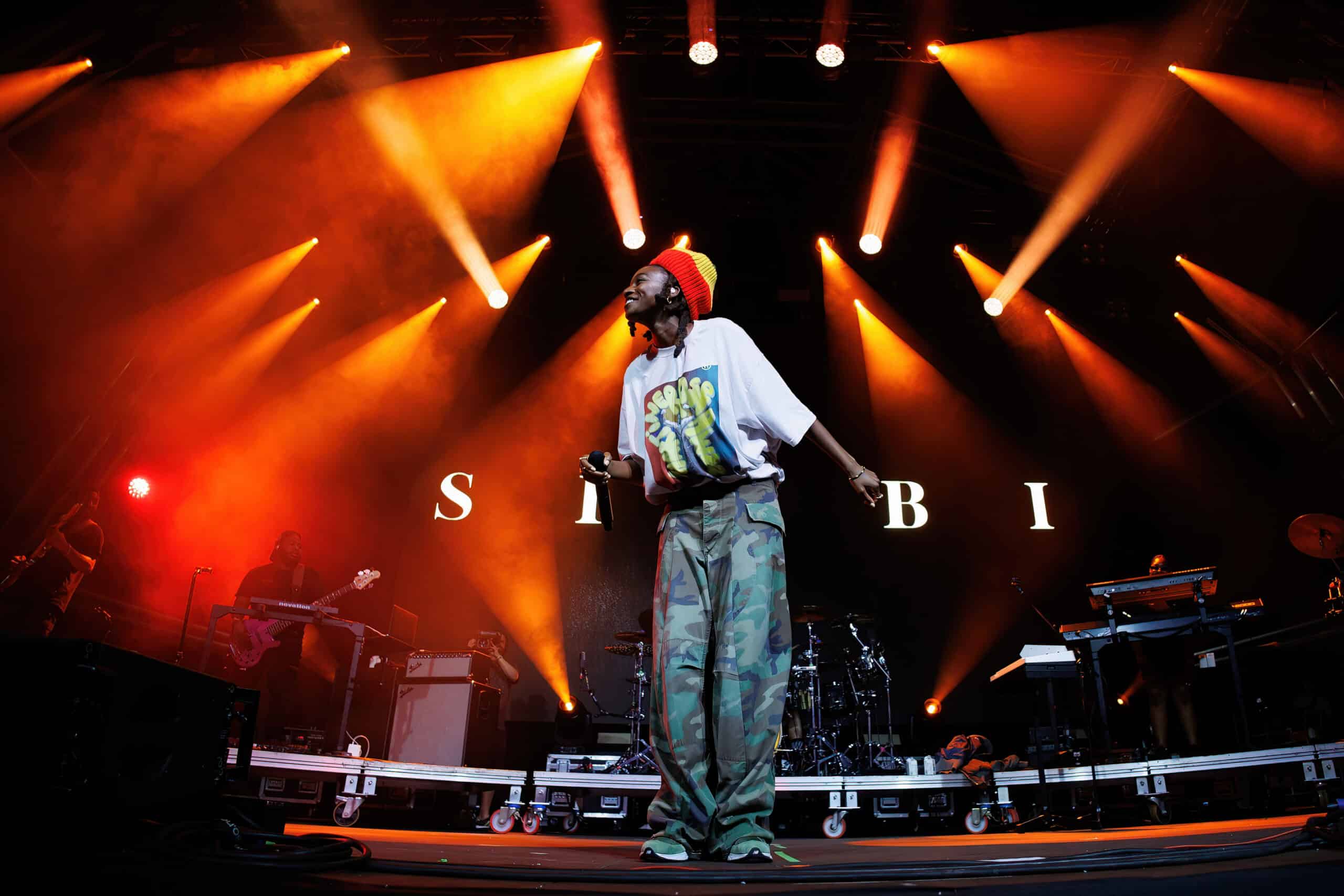 The last time Little Simz performed at Primavera was in 2019, when she had just released her album GREY Area. "There definitely weren't as many people that day as there is tonight," she said before launching into a string of tracks from that LP. But when she graced the Cupra stage on Friday night, those people chanted her name, cheered, grooved, and sang along to both the GREY Area cuts and highlights her 2021 introspective opus Sometimes I Might Be Introvert. A group of what I can only assume were North Londoners lost it when '101 FM' came on, while everyone started head banging when the beat dropped on 'Venom'. If the contrast between Simz's last two albums is evident on record, their juxtaposition here was less jarring; save for the horns that introduce 'Introvert', Simz cut back on SIMBI's luxurious, majestic presentation, which turned out to be a pertinent decision. (The spoken interludes from The Crown's Emma Corrin were nowhere to be heard.) Besides, keeping things raw and direct only made her songs hit that much harder. Simz might sometimes be introvert, but she sure knows how to connect with her audience.
Love Is to Dance (In the Rain With Warpaint)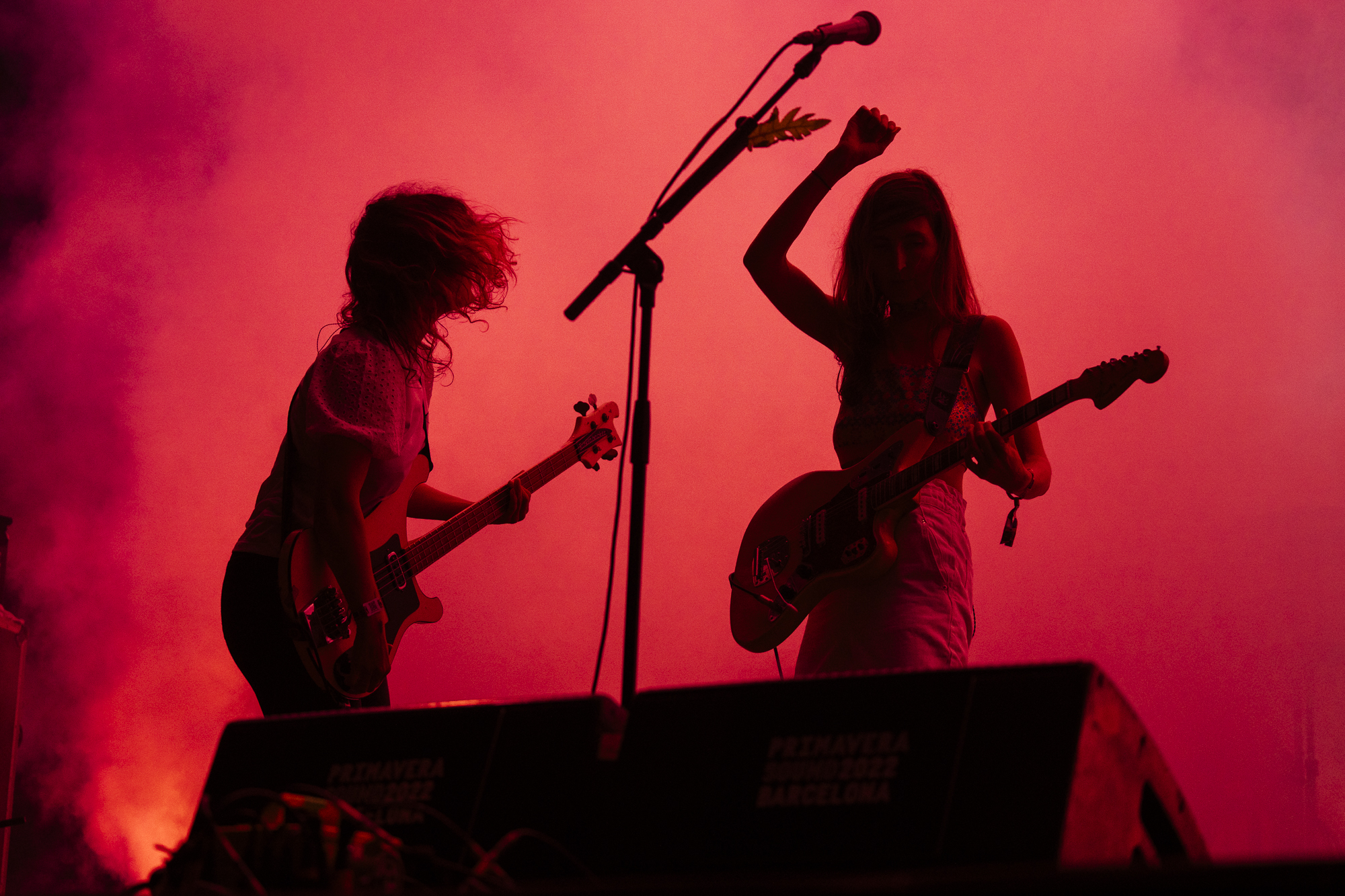 Given that Warpaint made most of their fourth LP, Radiate Like This, remotely during lockdown, it was a special joy seeing Emily Kokal, Theresa Wayman, Jenny Lee Lindberg, and Stella Mozgawa performing songs from it together live. Whether diving into groove-heavy tracks like 'Hips' and 'Hard to Tell You' or delivering an acapella rendition of 'Melting', their interplay was natural and fluid as you would expect, with each member getting their time to shine even as they all moved as one organism. Much like when Weyes Blood took the same stage earlier in the day, the band seemed to have conspired with the weather gods. I'll admit that heading is a bit misleading – there was only a light drizzle during 'Love Is to Die', but it came almost like a stroke of magic, lending the line "Love is to dance" a mystical, revelatory quality. From that point on, Warpaint's performance became increasingly more engaging and upbeat, and in the final stretch, their typically moody show had turned into a full-on dance party – and there was room for everyone.
Earl Sweatshirt Doing an Actual Cartwheel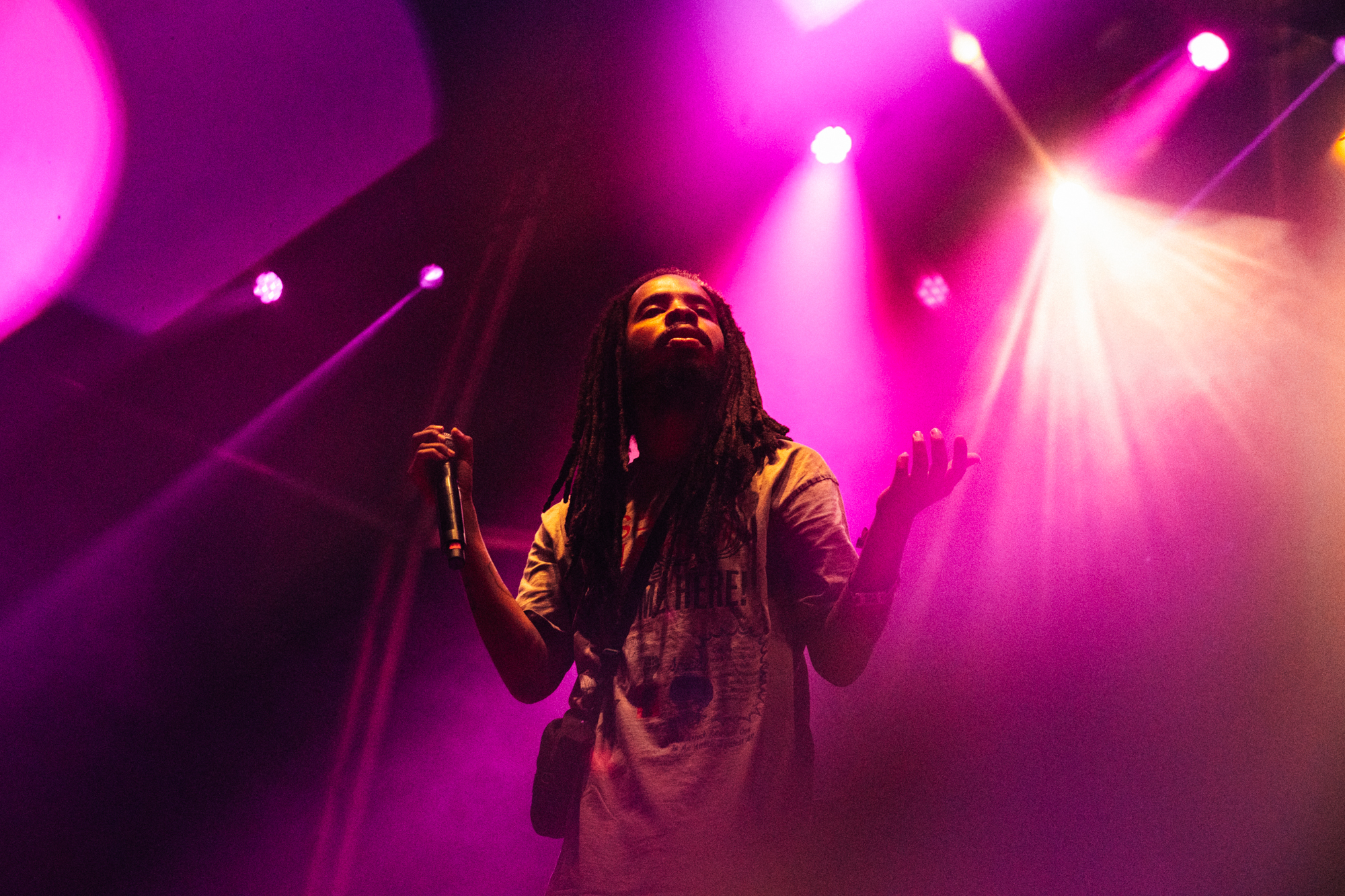 What else do you need to know?
Mogwai's Glorious Wall of Sound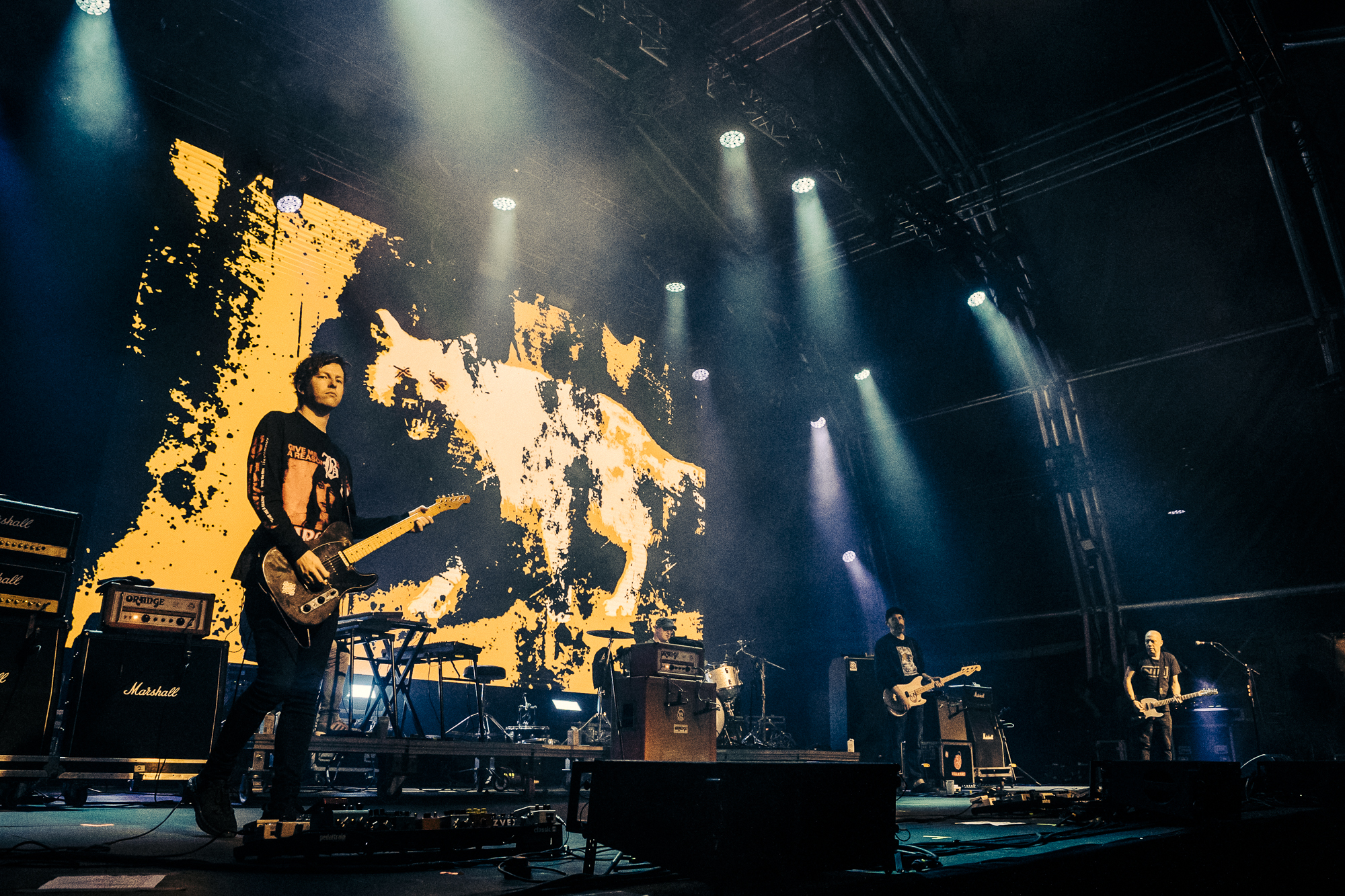 With Caribou taking over the Strokes' place, Mogwai had to fill in his set at the last minute, and given the circumstances, or rather in spite of them, the Scottish legends did a spectacular job. I've heard – from people like Dave Thomas, the designer who has created much of the band's album artwork, including the variation of the one for 2021's As the Love Continues that stood ominously behind them at the Cupra stage last night – that the experience of seeing Mogwai live can be life-changing. It didn't quite have that effect on me, but with their unmatchable grasp of dynamics and glorious wall of sound – loud enough to remind me to pull up my earbuds – it's hard to imagine a more crushingly beautiful way to close out the night. (Mogwai said few words in between their heavily instrumental songs, but Fontaines D.C. weren't the only UK band at Primavera that took a shot at the Queen's Jubilee celebrations). As the layers of noise kept building and building towards the end, Mogwai left us with no choice but to take it all in.