By the third and final day of Primavera Weekend 1, I expected the tiredness to have fully kicked in. Because the Barcelona event is different from other festivals in that it starts later in the day and goes on until super late into the night, depending on your mode of transportation, you might not get to where you're staying until 6:00 or 7:00 am. After a few hours of sleep, I'd only have a couple of hours to work on these recaps before heading to Parc del Fòrum again. Maybe it was due to the fact that the lineup was even more stacked than the previous days, or that some of the organizational issues seemed to have improved, or my body had simply adjusted to the physical requirements of a festival by that point – regardless, all I could sense was people's excitement on all different kinds of sets, and I didn't even get to hang around the main stage for Gorillaz (who are also set to perform next weekend). In chronological order, here were six of my favorite moments.
---
A Last-Minute Dive Into Dana Margolin's Solo Porridge Radio Set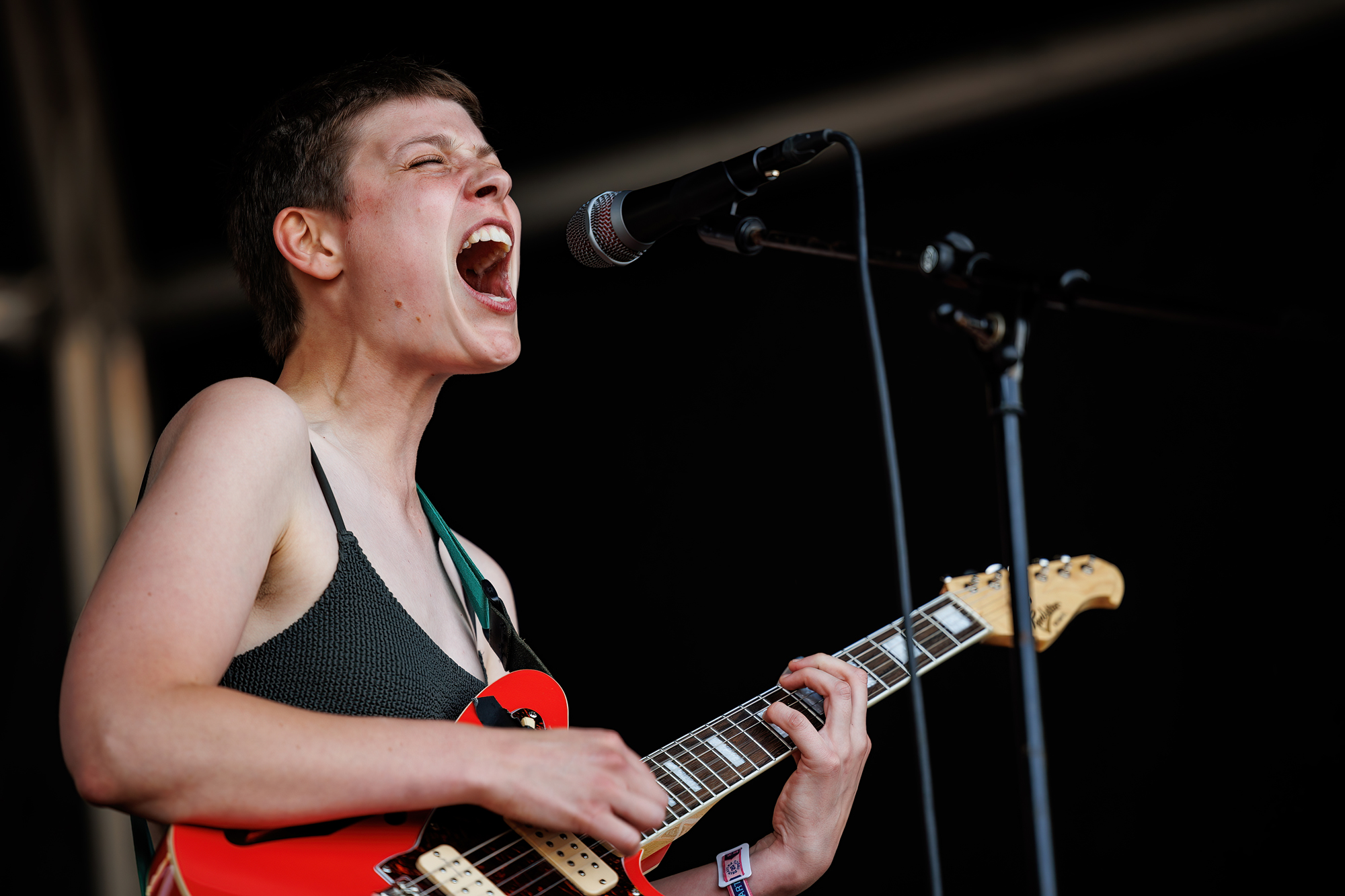 Though I unfortunately didn't catch most of Dana Margolin's solo performance at the Plenitude stage late on Saturday afternoon, I managed to make it to the front for the final three songs of her set. The festival's seaside location was an ideal fit for 'Waterslide, Diving Board, Ladder to the Sky' – the only track from Porridge Radio's excellent new album of the same name that I got to hear – a stripped-back cut that naturally lost none of its resonance. (In between songs, Margolin instinctively looked back at the empty stage to check on her band: "Sorry, I didn't mean to do that," she laughed. I'm sure there were other endearing moments like that.) But even when diving into Every Bad highlights 'Lilac' (which hasn't been part of their setlist for a while) and 'Sweet' (which drew the biggest reaction of the three), the power of Margolin's voice alone was undeniable. I tried not to be bitter about missing the rest of the show; singing along to those songs was cathartic enough.
Low Deliver a Cleaner, Still Mesmerizing HEY WHAT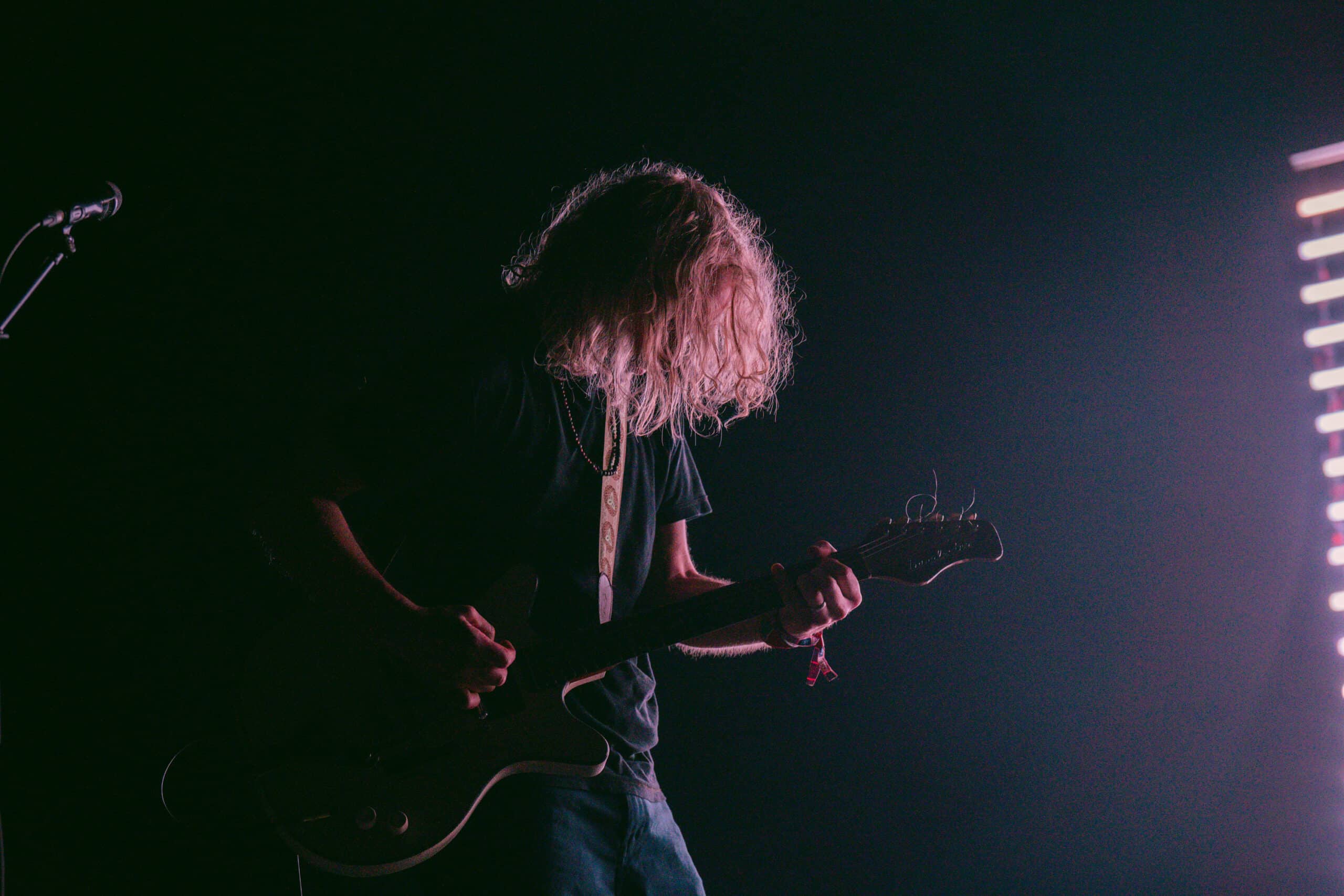 There was no chance that the songs off Low's HEY WHAT would sound exactly like they do on record – the band's new album is a disorienting wonder of production and sound design, and any attempt to recreate each subtle detail would surely prove futile. Still, I was curious to see what approach the slowcore duo would take. At the Binance stage on Saturday evening (they also played Auditori Rockdelux on June 3, where the above photo was taken), the album's highlights didn't exactly sound quiet, but they were significantly cleaner and more raw than I had expected – you could actually hear Alan Sparhawk strum his guitar on songs like 'White Horses', and there was a clear correlation between what he was playing and you ended up hearing. Not only did this help the new songs blend in with the rest of their catalog, but it also proved that HEY WHAT's greatest strength – and the real reason it stands among their best – lies in the songwriting, which was just as resonant in a live setting. If anything, limiting (but not eliminating) the layers of effects turned the focus to the actual performance aspect of the show: Sparhawk straining his voice to reach a higher octave, Mimi Parker providing delicately beautiful harmonies behind the kit. Sparhawk's interactions with the audience were also notable, like when he asked who was looking forward to the Napalm Death show later that night, then let out a brief growl. Who knows – maybe that will be the direction of the next Low album.
Black Country, New Road Meets Charli Meets Earl Sweatshirt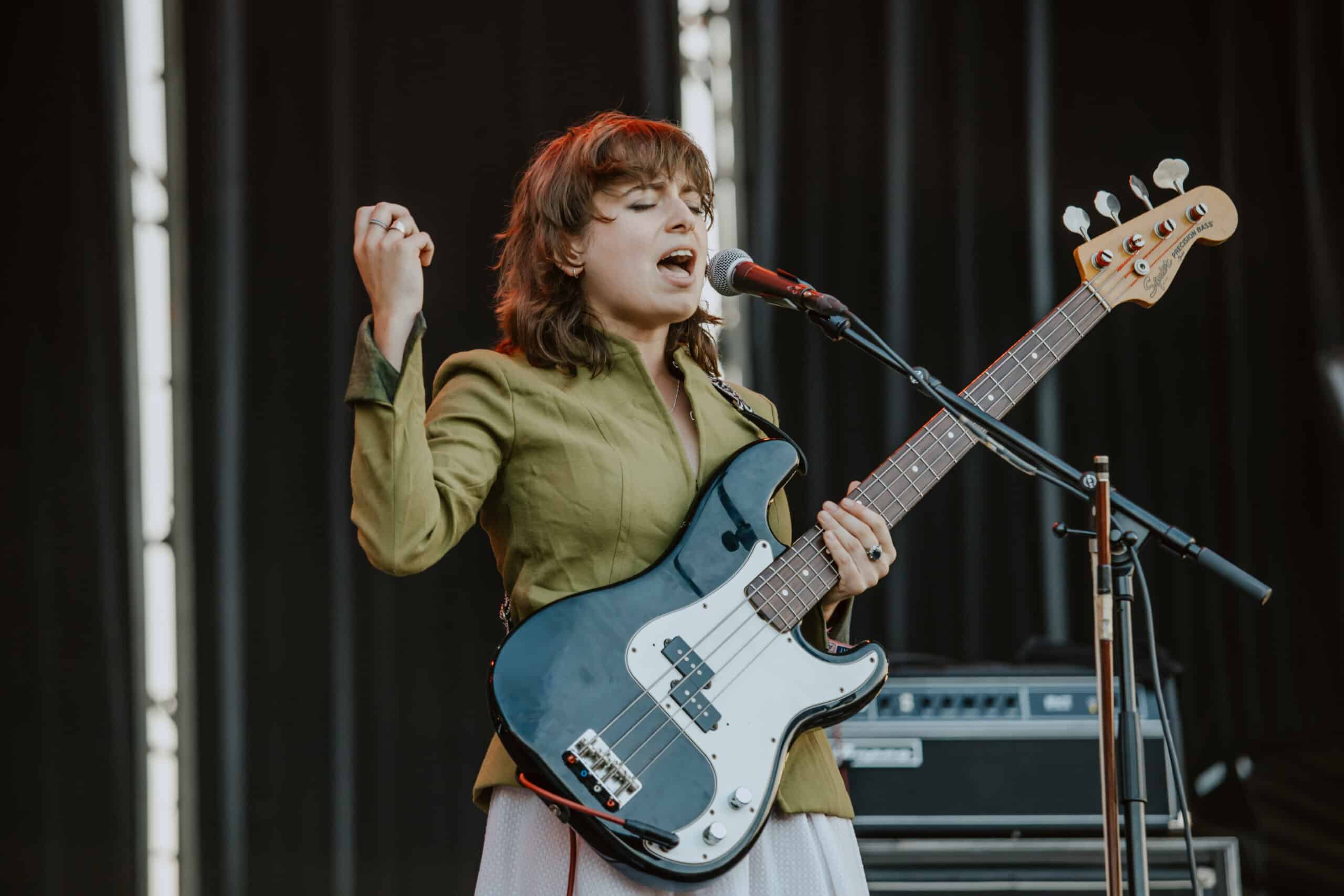 "Charli met Earl Sweatshirt in the elevator today," Lewis Evans said as Black Country, New Road started playing something new, and I wasn't immediately sure if it was a fictional lyric from an unreleased song or a real-life anecdote about their stay in Barcelona – or both. They definitely weren't going to play 'Basketball Shoes' – the standout from their new album Ants From Up There that started out as a song about Charli – and not because she had just played the same festival, but because they've promised not to play any old songs following the recent departure of singer Isaac Wood. What it ended up being was the introduction to a song they claimed to have written a couple of hours earlier, and though I didn't catch much of the lyrics – I think it's about being friends across the pond? – it at least bore some thematic resemblance to 'Basketball Shoes'.
At any rate, that wasn't the main draw of seeing BCNR at the Binance stage on Saturday evening. The band has been testing out new material on the road, and I was excited to hear what it would sound like. Rather than one of the six remaining members taking the role of the frontperson, there were songs led by bassist Tyler Hyde, saxophonist Lewis Evans, and keyboardist May Kershaw. Regardless of whether those songs could measure up to the group's prior work, what's certain is that they managed to captivate the crowd. Most alluring and eclectic were the songs by Kershaw, which took on a pastoral quality ("I'm only a pig," goes one refrain.) By contrast, Hyde's were most reminiscent of songs from their sophomore LP, their lyricism similarly sentimental but less steeped in metaphor (one culminates with the words "I will always love you" and ends with "I've accepted that no one else will love me like that ever again.") The one by Evans that struck me the most started as a ballad that leaned further into vocal jazz than anything they've done before, even if it wasn't as impactful. It will be interesting to see if and how these different paths will end up converging, but the most startling part of this performance was their ability to build any song into something new and distinctly BCNR, crescendoing into a striking, familiar place.
Nick Cave and the Bad Seeds' Timeless Show of Humanity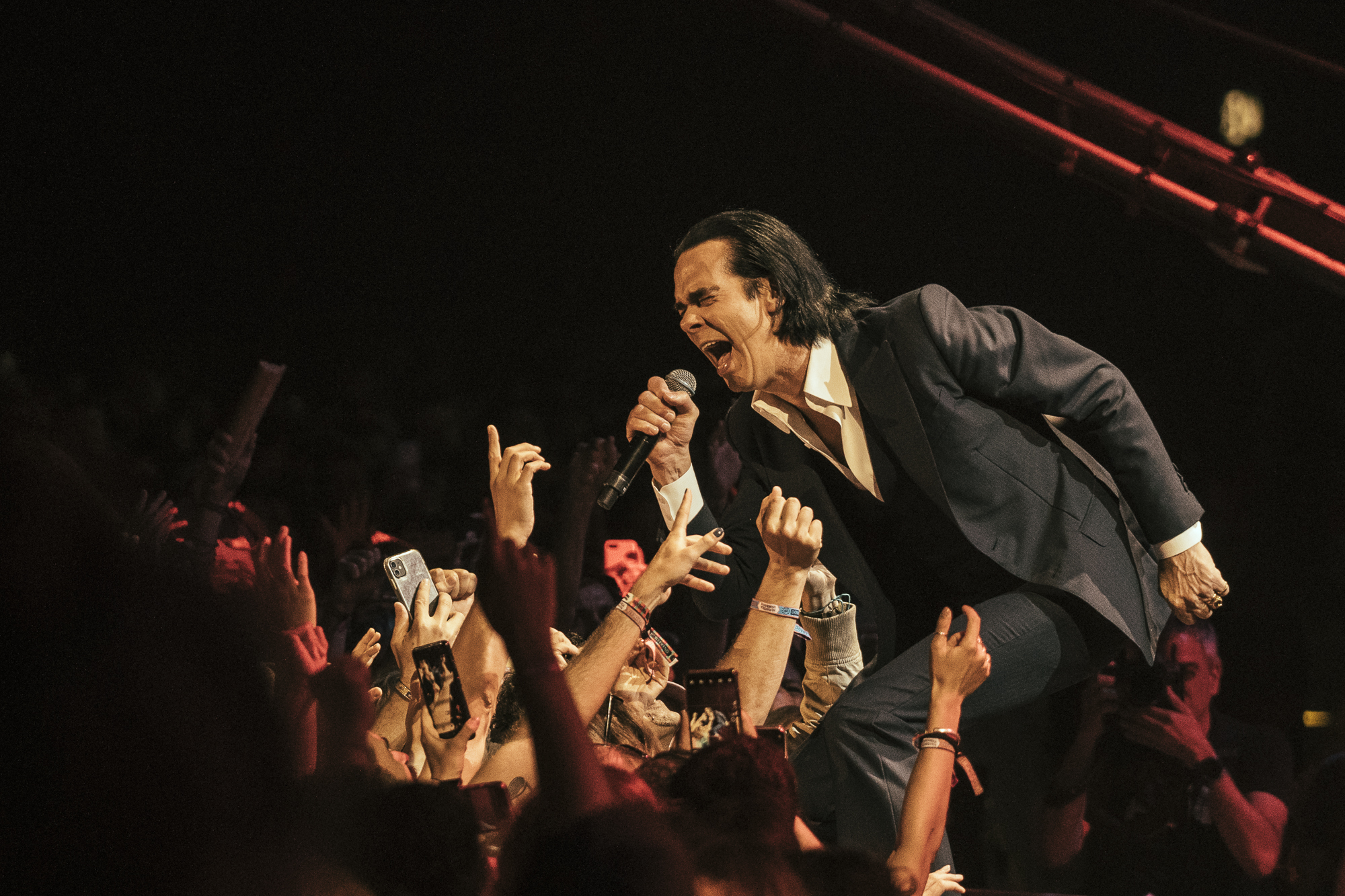 If you somehow could only remember three words from Nick Cave's two-hour set at Primavera, it would be: "Cry! Cry! Cry!" Throughout the second performance of his first tour in four years with the Bad Seeds (he toured with Warren Ellis last year), Cave howled the line from 'From Her to Eternity' over and over, directing it at specific members of the audience every time the words manically resurfaced. Yet few performers could embody an unhinged, eerie persona with such potent theatricality and then genuinely move you to tears, let alone stage an entire show about keeping your faith in love.
The set began with 'Ready for Love', which he hasn't been performing since 2009; during the encore, he played the recently unveiled B-side 'Vortex', a song about "strange, deformed people" that includes the line, "I just want to hold your hand." Throughout the performance, Cave did just that, reaching toward the audience as much as he paced around the stage. When he sang 'Can You Feel My Heartbeat?', it felt like an urgent request for someone to place a hand on his chest. And when he opened the encore with the classic 'Into My Arms', the line "I believe in love" became an affirmation of everything that had come before, carrying the hope that, if that hasn't changed in all those years, it probably never will.
As they delivered hits from throughout their discography, Nick Cave and the Bad Seeds' show was by turns raucous, darkly funny, and always stirring. But when he played 'I Need You' (the only track from Skeleton Tree), dedicating it to his sons, Luke and Earl, every person in the crowd fell silent. The feeling was almost too much to bear. As Cave transitioned to the equally heart-wrenching 'Waiting for You', I wondered what was going through each of their minds, or who.
Not long after, the mood had shifted yet again, most notably with a remarkable performance of Let Love In's 'Red Right Hand', which Cave himself described as the best version of the track they've ever done. ("I've never sung it in tune," he explained, "but tonight I did. More or less." Other highlights included an incredible rendition of 'White Elephant', which sounded as menacing as it does on CARNAGE, Ellis' angelic vocals on 'Bright Horses', and the hauntingly beautiful performance of 'Ghosteen Speaks' that closed out the set, a timeless, unforgettable show of humanity.
In the few quiet seconds before the final song, the screens showed Cave looking at a member of the audience – who I can only imagine had said or done something pitiable or embarrassing – and, without a shred of irony or humour, saying, "You take care yourself." Perhaps it was a small and insignificant moment, or maybe it was a strange glimpse into something serious and intensely personal – there's really no way to know. But I like to think that, for at least some members in the audience, those two hours were enough to make some kind of healing feel possible.
IDLES Have a Message for the Queen (And Oasis Haters)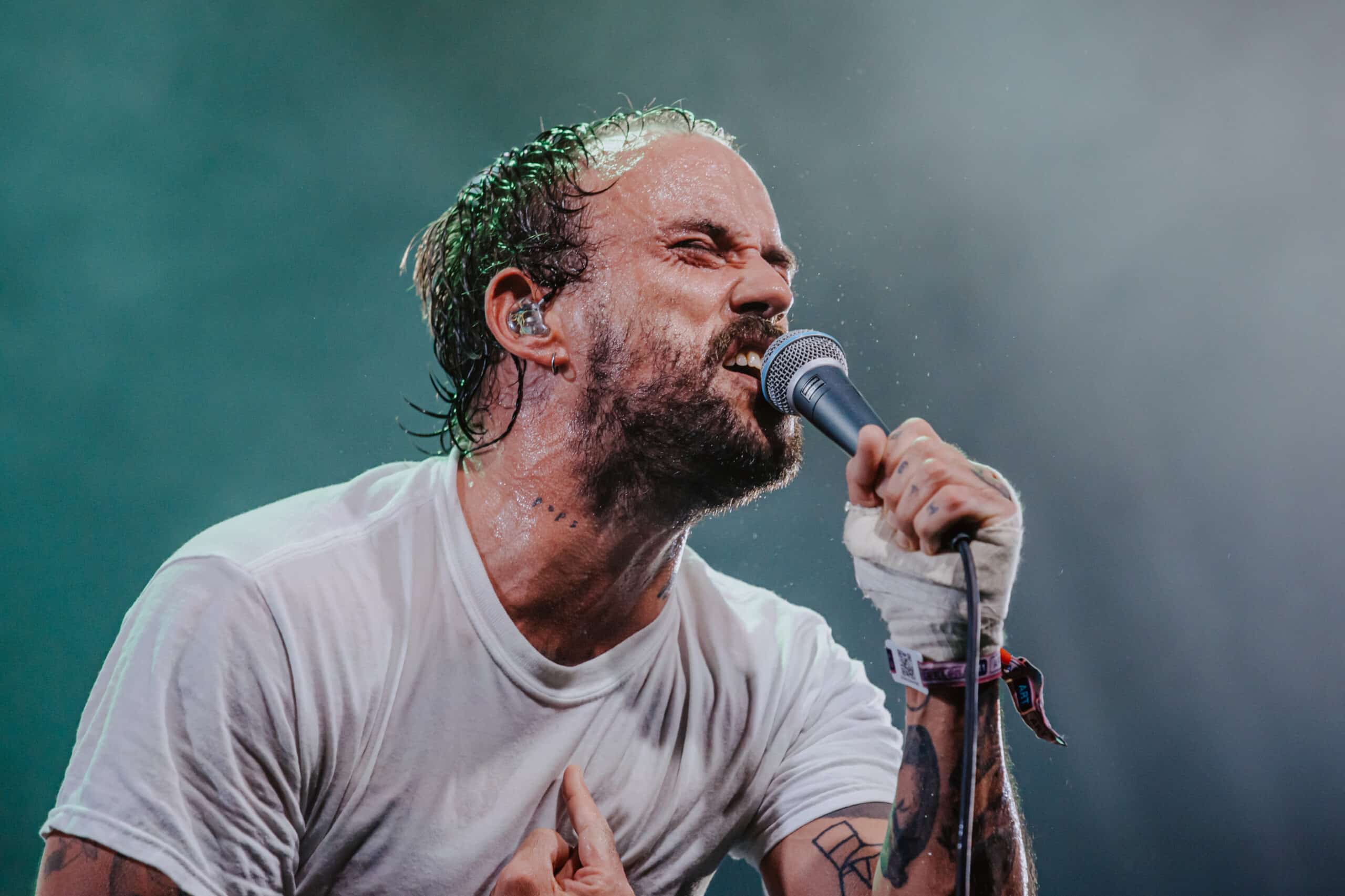 For IDLES, playing at Primavera was a dream come true. Frontman Joe Talbot got a little emotional as he recounted the many times he's attended the festival, standing on the very same steps where dozens upon dozens of fans were now shouting along to his own band's songs. But even if you're not the biggest admirer of IDLES' latest records (they only played a couple songs off this year's CRAWL, which I thought was a significant improvement from Ultra Mono), you probably wouldn't pass on the chance to see them live; they have the reputation of being an incendiary live band for a reason. "Are you ready to collide?" Talbot screamed after commanding the audience to split, and then, with equal fervour: "Are you ready to look after each other?"
But there was another reason why this was a significant moment for IDLES, who expressed gratitude for being out of the UK during this time. The anti-monarchist sentiment had already been echoed by other bands at Primavera, but IDLES being IDLES, Talbot really drove the point home. ("When I say, 'Fuck,'" he instructed, "You say, 'The Queen.'") This perhaps explains why the set was less of a showcase for CRAWLER, whose subject matter is more directly personal – or they simply wanted to deliver songs people would be more familiar with. Either way, it landed. Upon realizing that they still had loads of time left, IDLES charged into an extended version of 'Love Song' that featured interpolations of '19-2000′ (which Gorillaz might as well have been performing at the same time), 'Nothing Compares 2 U', 'All I Want for Christmas Is You' (I kid you not), and the one that obviously resonated the most with everyone who wasn't over at the main stage: 'Wonderwall'. "If you feel threatened by Oasis," Talbot argued, "You need a good old-fashioned hug." Replace "Oasis" with "strength-in-numbers," and you basically get the IDLES MO.
The Endless Wonder of Beach House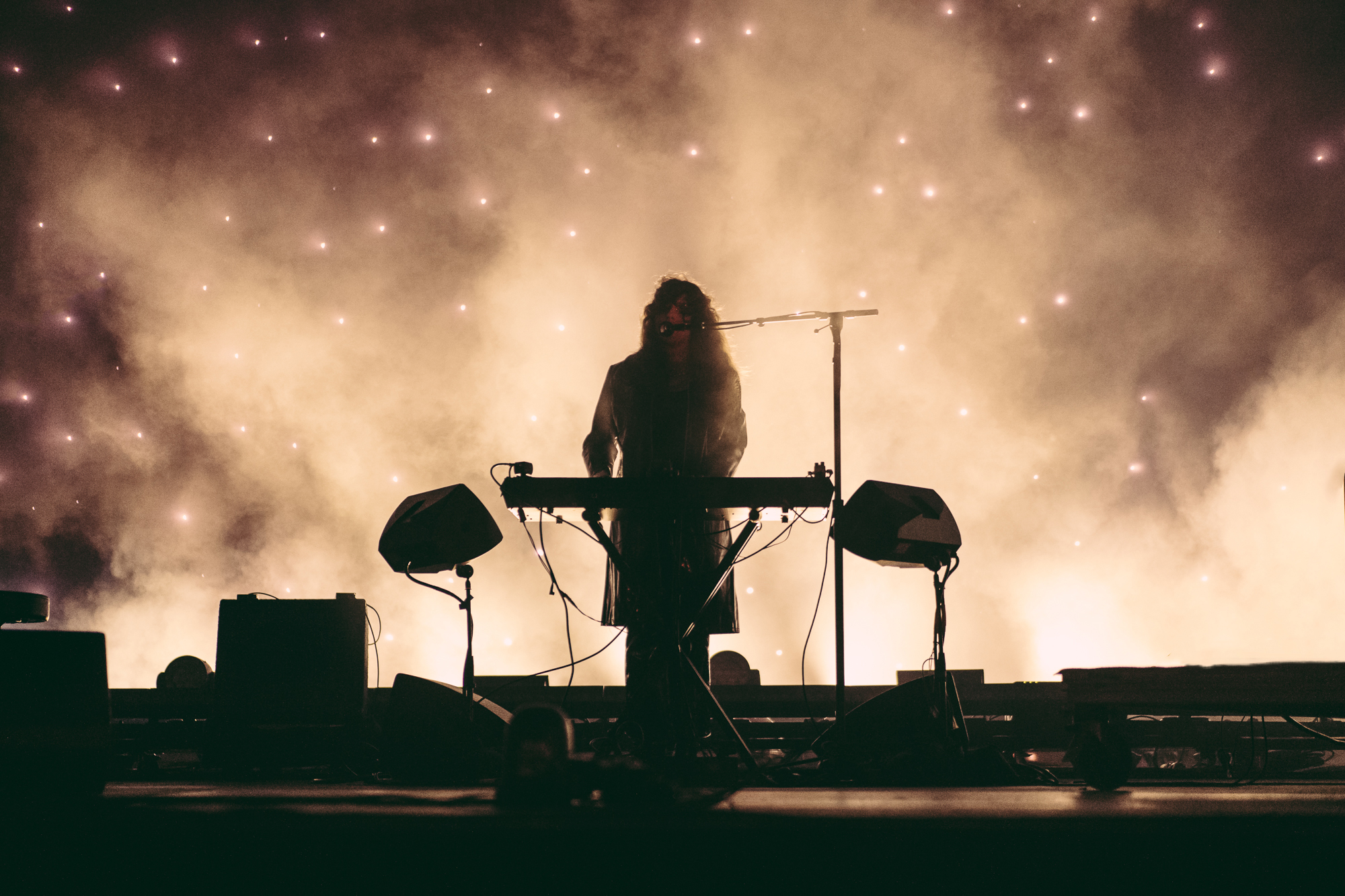 I had, obviously, no expectation that Beach House's set would be as political as IDLES' in any way shape or form, but it was still pretty amusing to walk over to the Binance stage and be greeted with a much more basic message from the Baltimore duo: Please remember to drink water. ("You tell them that," one festivalgoer responded, referring to the serious criticisms over the lack of water access at the festival.) Everything else, they said with their music, which sounded as spectacular as ever. Although their latest album features more lush orchestration, the duo had no issue making the songs work with a more direct presentation that blended seamlessly with the rest of their catalog. The Once Twice Melody standout 'Superstar' took on a new resonance as the band slowed it down; older songs carried an added punch. Hearing people sing along to their most popular songs only made the experience more transcendent.
Here's the thing: I like to call Beach House one of my favorite bands, and I've listened to all of their albums countless times. I know their songs. But I don't think I can recite the full lyrics to a single one of their songs by heart. I almost feel like it would lessen the impact they have on me, that I'd miss the thrill of hearing the vocals as just another layer of sound, or discovering some new feeling in the words that shine through. Beach House's live show reminded me that there is value in being totally immersed in something without having to break it down or give it meaning. It doesn't mean your connection with it isn't or one day won't be as strong. I still want to hear their songs again and again, like a recurring dream that's never quite the same. When they closed out with 'Over and Over', you wish it would stretch on for just a little longer. And in some weird, unquantifiable way, maybe it did.