Primavera a la Ciutat, the week-long series of events that takes place between the two weekends of Primavera Sound 2022 (plus the welcome day on June 1), might as well be its own festival. With around 200 performances hosted across multiple venues in Barcelona, it's a great chance to see bands you might have to miss during the main event, particularly given the schedule conflicts that often arise, or those that aren't scheduled to perform at Parc del Fòrum. It's not as easy as walking over from one stage to another, though. Even with priority tickets, and depending on how organized each venue is, finding the right queue (let alone getting in) proved complicated. I can't imagine what it would be like to try to go from venue to venue on the same night.
Although there were artists I wish I could have caught – Fenne Lily, Kero Kero Bonito, Jehnny Beth, Penelope Isles, Erika de Casier, Yasmin Williams, Philip Sherburne – I'm happy with the venues I picked for each day. For me, Primavera a la Ciutat was a one-of-a-kind opportunity to see artists I've interviewed live for the first time, in a setting that was often less chaotic and more intimate. The pairings of notable Artist Spotlight alumni seemed almost tailor-made to suit my tastes: Cassandra Jenkins and Sinead O'Brien! Pom Pom Squad and Magdalena Bay! King Hannah and Los Bitchos! (Okay, that last one makes sense – they're on the same label.) They all delivered very different kinds of performances, but none left me disappointed. Here were some memorable moments from this year's Primavera a la Ciutat.
---
Taking a Deep Breath With Cassandra Jenkins
Over the past month, I've started taking to meditation. A lot of what they say about it is true: it's a wonderful way of tuning in to your surroundings, becoming more aware of the rhythms of your body, and accepting reality as it is. I've learned that it's not about eliminating fear or stress, but rather steadying yourself in the present. Yet one aspect I don't often hear much about is that, more than a solitary form of contemplation, it can also be a unique kind of dialogue – be it with an instructor, who might just be a voice in an app, or a part of yourself you previously didn't have access to. Either way, it's a challenge to give yourself over, to quote Cassandra Jenkins' 'Crosshairs', to "someone entirely strange."
Ever since its release last year, the New York singer-songwriter's excellent album An Overview on Phenomenal Nature has had a deeply calming effect on me, but now the word "meditative" means something more. On the first stop of her European tour, Jenkins translated that quality effortlessly to the stage. Even if not every person was all that familiar with her music (likely) or didn't end up being swayed by it (unlikely), her rapport with the audience was immediate and warm. "Where are you from?" she asked after opening with 'American Spirits', and simply cheering felt awkward – just like that, the show had become a conversation. After playing 'New Bikini', a song about the healing power of water, she turned the subject to swimming in Barcelona. (A bit later, she uttered the word "water" after taking a sip from her bottle, and some brave person lept at the chance: "It cures everything!") She explained that 'Hailey' was inspired by a friend who posted a hot photo on Instagram, then asked if anyone in the audience was named 'Hailey'. "This song is for you if you're being shy about it," she said (also likely).
Though minimalist, her album utilizes a range of gorgeous instrumentation to create a dreamlike soundscape; I was curious to see how it would work with a three-piece band. The structure and presentation of the songs made up for part of that gap: short waves of ambiance seeped in between songs, while voice recordings filled out the space between others. She played her "first-ever guitar solo" during 'Michelangelo', sped up 'Hailey', and debuted a new track that sounded more raucous and driving than the rest. She stretched her vocals a bit more in subtly mesmerizing ways.
But if part of Jenkins' performance was about bringing herself and everyone else in the room on the same level, the two most breathtaking moments transcended that connection: a hauntingly beautiful rendition of 'Ambiguous Norway', for which she experimented with a half-moon tambourine, and the unifying closer 'Hard Drive'. Her saying "Get the tears out" felt less like an instruction than a friendly warning; after the final 1, 2, 3, I was one of the several people who did. Maybe she saw them too. But after she walked off the stage, I also saw one group of friends turn to each other, gushing about how moved they were. Pretty strange.
Sinead O'Brien Bends Time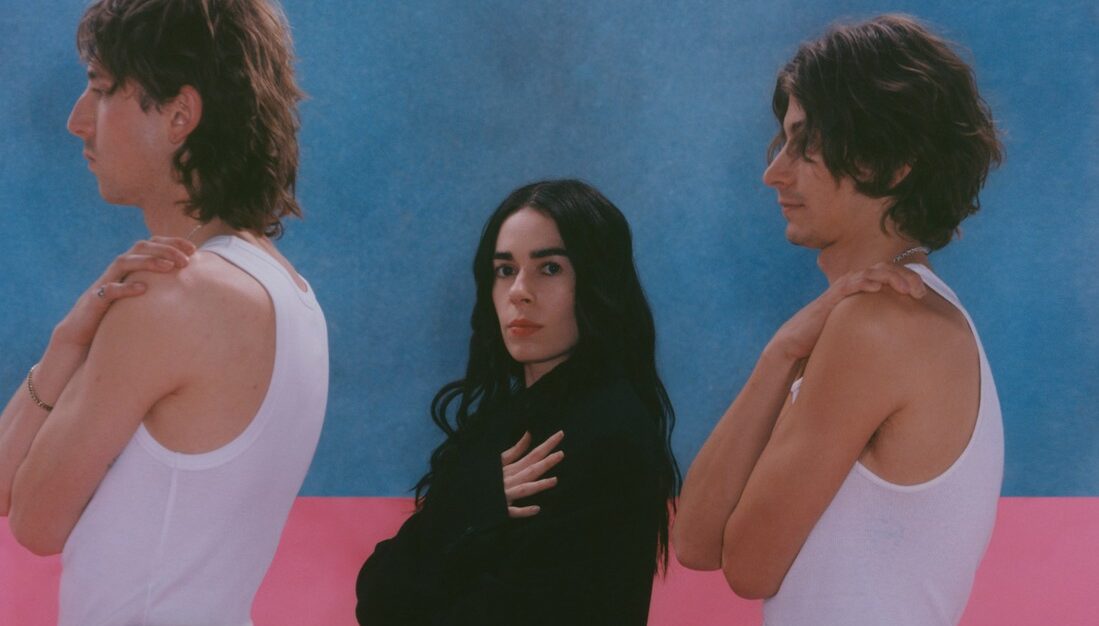 Cassandra Jenkins and Sinead O'Brien's approach to sound, poetry, and performance are vastly different, but they both attend to each of those elements in a way that made for a dynamic pairing at the Sidecar on Monday night. If the flow of Jenkins' set mirrored the rise and fall of a breath, O'Brien's was more like the tightening of the chest or the clenching of a fist: all tension. Her tangled words clung like wire to guitarist Julian Hanson and drummer Oscar Robertson's driving post-punk grooves, and even with her right there on the stage, it wasn't any easier to make meaning out of them, or to boil them down to a single feeling – fury? confidence? hope? – than hearing them through headphones.
If there was a wall between her and the audience, though, O'Brien wasn't afraid to break it. "It's nice to play songs from the album [Time Bend and Break the Bower, out Friday]," she said, before correcting herself: "Come on, it's not nice. It's amazing!" Despite her almost nonchalant stage present, she delivered her songs with a fierce intensity and focus that clearly captivated the audience, thanks in part to their strong, sticky hooks. "The future of Irish music!" one guy exclaimed, and O'Brien graciously allowed him to repeat it through the mic. Then, as if to prove his point, closed out with a performance with the most danceable, euphoric track on the LP, 'Like Culture'. As she walked off the stage, you were left wondering where the time went.
Hell Yeah for King Hannah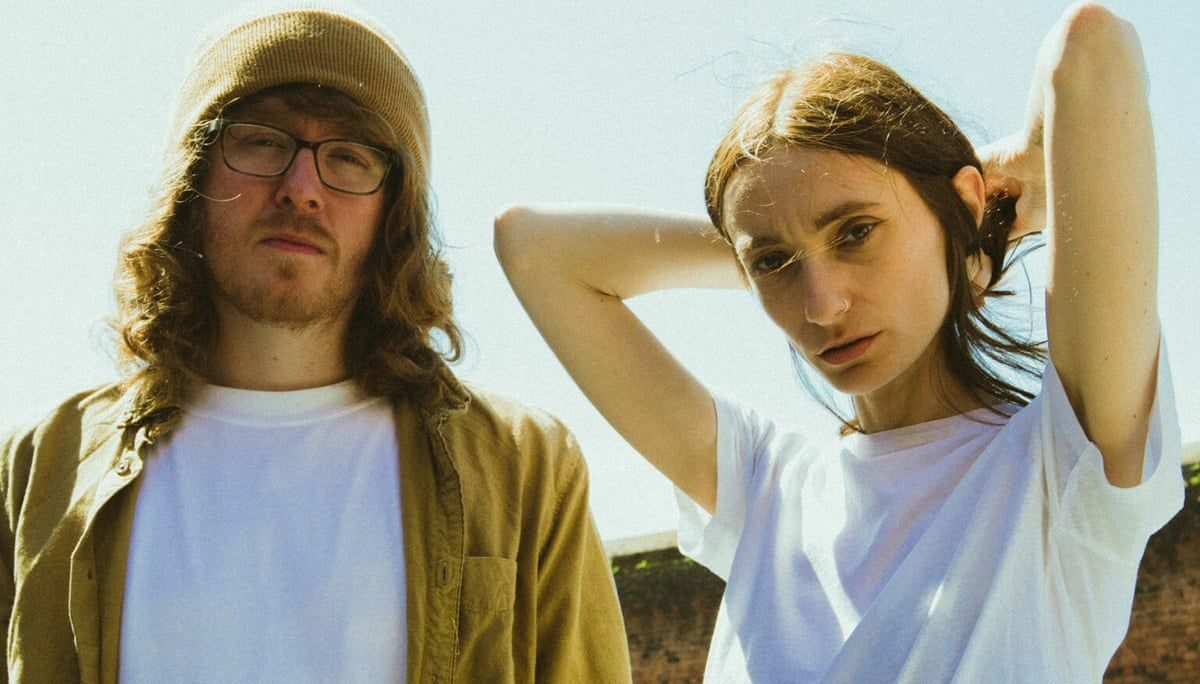 I have seen dozens of shows at Primavera so far, but King Hannah's set had more guitar solos in it than all of them combined. (Granted, I haven't gone to any of the King Gizzard and the Lizard Wizard shows.) The Liverpool duo are known for the swampy, ominous brand of alt-rock showcased on their captivating debut I'm Not Sorry, I Was Just Being Me, and though they could make an impact through mood alone, they put their focus is on dynamics – and that really made their songs explode at La (2) de Apolo on Tuesday night. At times, Craig Whittle's guitar sounded like a solar flare; at others, and often within the same song, it was more like the center of the sun. He's not the kind of guitarist who'll trust his gut and churn out a guitar solo just for fun; each one was delivered with almost pointillist precision.
That kind of attention to detail was impossible to ignore and seeped into every part of King Hannah's performance. Though Hannah Merrick's vocals rarely rose above a smoky whisper, they were mesmerizing and textured, each inflection studied but no less strange and evocative. She said no words except to greet the audience, and even that felt like breaking the fourth wall – anything more would probably ruin the experience. But, joined by a bassist who was full of energy and a drummer who effectively recreated the album's slow-burning grooves, King Hannah gave a riveting performance just being themselves.
Their sense of humour came through on the LP's title track, as did their natural chemistry, which was evident even though they barely made eye contact; when the desert echo of Whittle's guitar met Merrick's voice, the effect was spellbinding. The "hell yeah" refrain on 'Go-Kart Kid' led to the biggest release of the set, but closing with the heartfelt 'It's You and Me, Kid' and making it hit even harder was the right choice. King Hannah's music has been compared to PJ Harvey and Nick Cave, both of whom have headlined Primavera; watching them live, I couldn't help but imagine them one day taking the main stage, too.
Los Bitchos Throw a Fiesta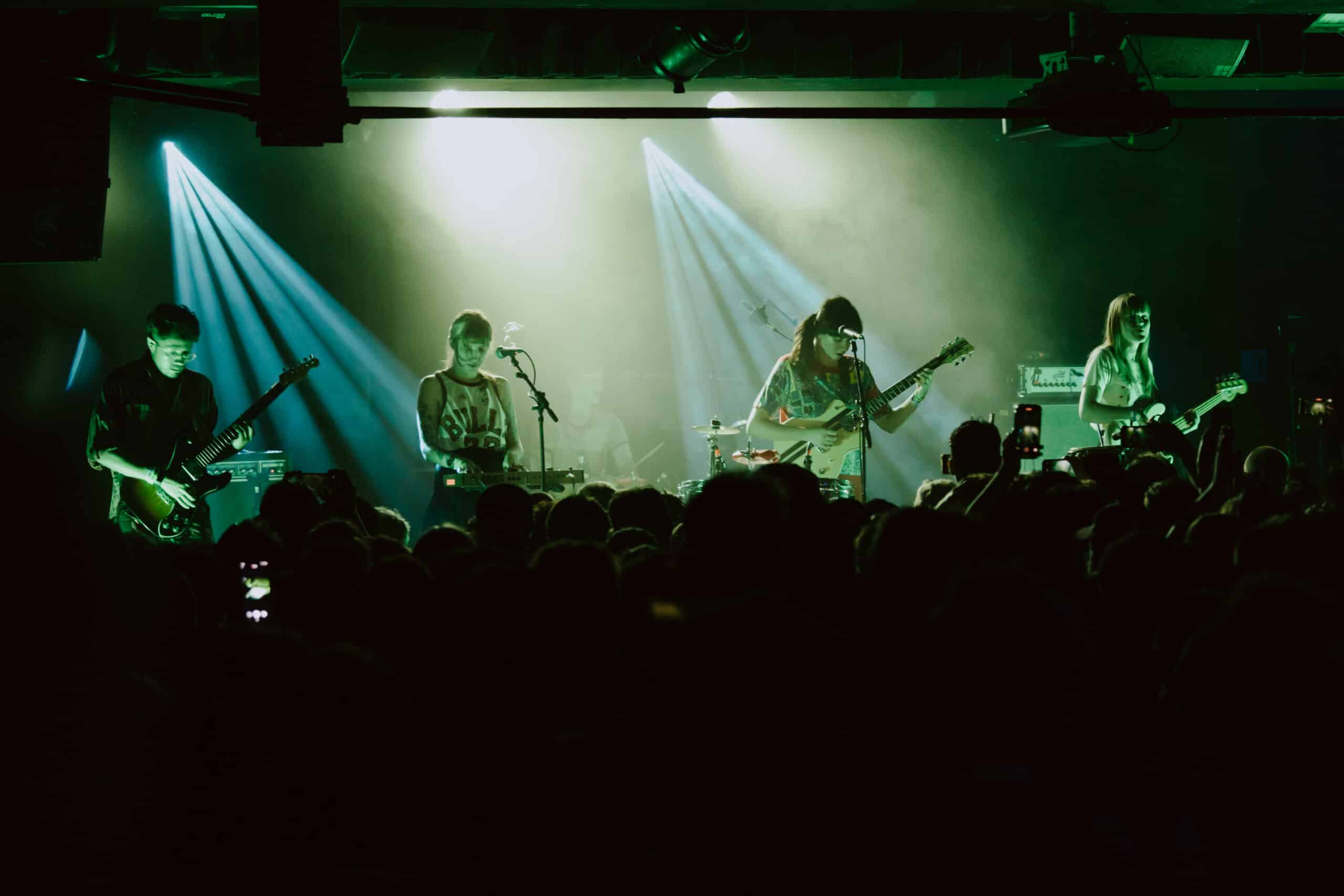 When Los Bitchos named their debut album Let the Festivities Begin!, they meant it in a pretty straightforward way. You could go on about how the London band's music is a unique blend of sounds from around the globe – Turkish psych, Latin American cumbia, Peruvian chicha – but at the end of the day, it's supposed to be fun. So of course people were excited when they came onto the stage, dancing and jumping around with every song and time signature shift – it's the kind of party where everyone's invited. While the album is festive but maintains a pretty laid-back, almost polished vibe, Los Bitchos really ramped up the energy for the live show, simply by kicking up the distortion, punching up the bass (which sounded especially sick), and running through each section at a slightly quicker pace. Serra Petale offered a bit of background on songs like 'Lindsey Goes to Mykonos' and 'I Enjoy It' – a song about a night out at a trap club in Uruguay, whose chorus became "Come to Primavera!" – but for the most part let the imagination run wild. Los Bitchos' mostly instrumental music is the kind you can set a movie to, but their show was an exuberant party all about the here and now.
Cheering for Pom Pom Squad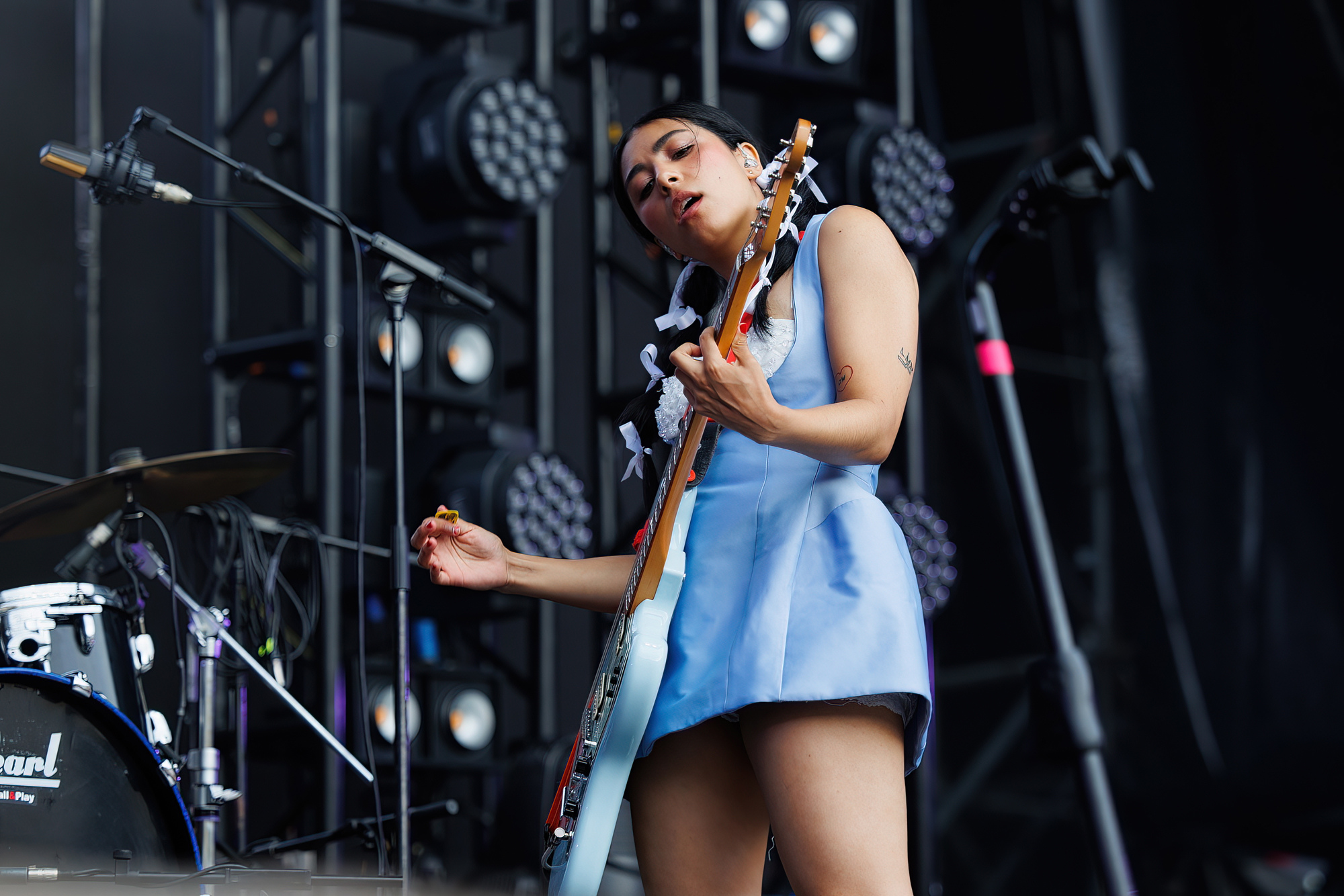 Pom Pom Squad could have opened their live show with the haunting, 'Mr. Sandman'-esque bell tones that open their debut album, but as the first act to play at Poble Espanyol on Wednesday, the band immediately charged into the brutally self-empowering 'Lux', both the punkiest and most compelling song on Death of a Cheerleader. It was a significant performance for Mia Berrin and her band; they were playing their biggest crowd yet. "Who's excited for Phoenix?" she said at one point. "I went to see them in how high school with my mom. And now I'm here."
That excitement infused every part of her performance, which maintained the playfulness and camp aesthetic that permeates the album while cutting back on its '60s pop stylings and cinematic presentation. At the same time, the band doubled down on the raw, infectious energy of their music, which shined through on highlights like 'Head Cheerleader' and 'Cake'. The vulnerability of Berrin's songwriting was amplified, too, particularly when she ran through some of her earlier songs, including Ow's crushing 'Heavy Heavy', which ended with an ear-piercing scream. When she introduced the final song by saying it's kind of a sing-along, I was fully expecting the dramatic 'Crying', the one single from the album they hadn't yet showcased. Instead, they delivered a powerful rendition of 'Until It Stops', which came out a few months after the LP. People might have been surprised to find themselves singing such morbid lines as "You're only laughing 'til you cry/ You're only living 'til you die" after being promised a party, but that's the Pom Pom Squad way – you cheer, you think about death, and then you cheer again.
Magdalena Bay Lose Control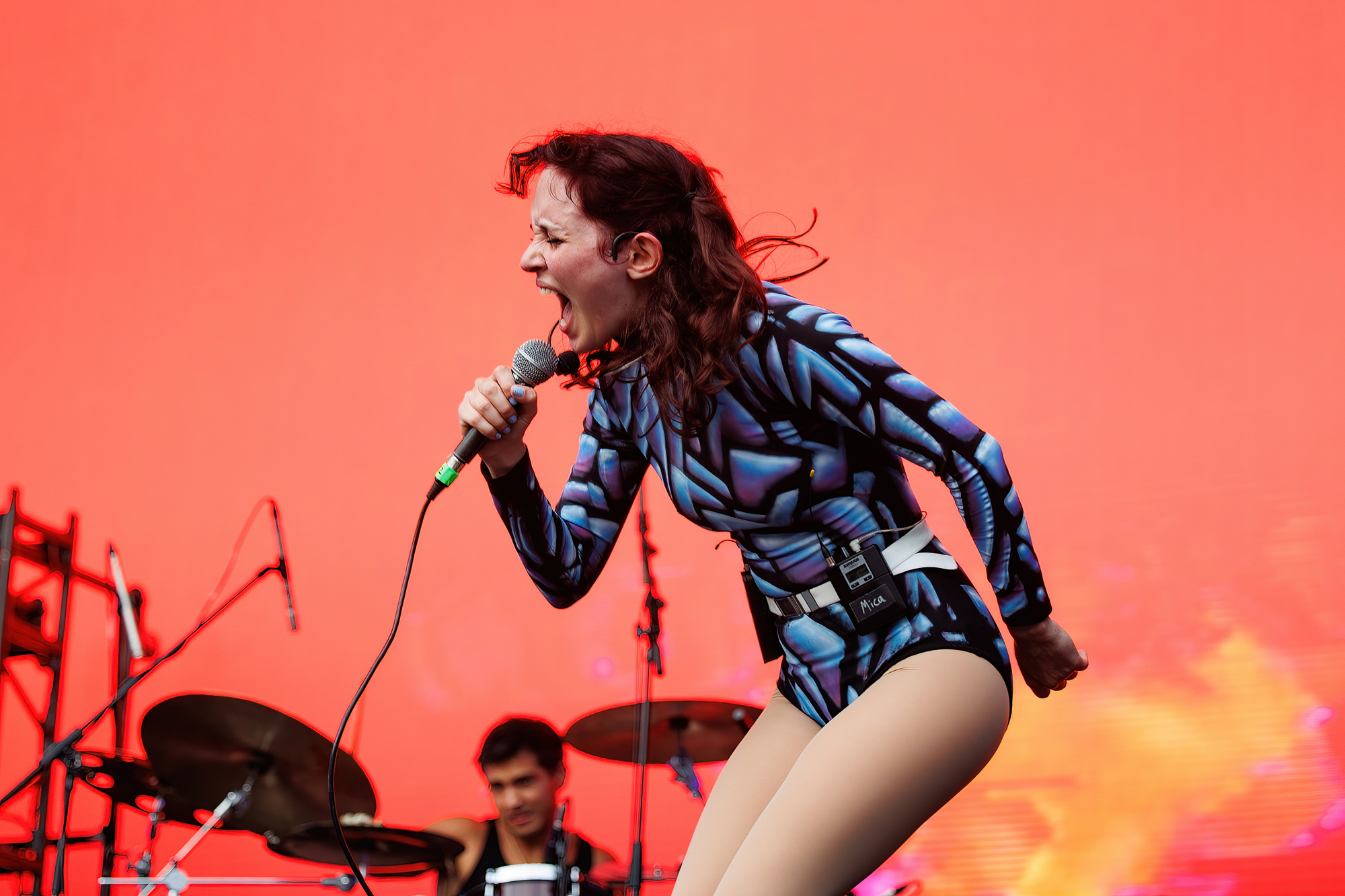 Given the conceptual nature of Magdalena Bay's debut album, Mercurial World, I assume a lot of theoretical questions came up when figuring out how to channel the duo's seemingly endless DIY world in a live setting. Perhaps the most obvious one: Where do we start? Or, How do go about communicating the incomprehensible nature of time in the span of 40 minutes? There are also, of course, many technical considerations that come into play, and that includes sound quality. This was an issue for them on Wednesday. When Mica Tenenbaum started singing 'Dawning of the Season' through her headset mic – clearly a nod to the 2000s pop star aesthetic – it didn't work, and neither did the microphone she then picked up from the stand. Not for a second, not for a verse, but for the entirety of the first song and most of 'Secrets (Your Fire)'. (The fans helped out with that one, because "everybody needs a little help from time to time.") It was frustrating. But when sound suddenly lept out of that mic, Tenenbaum and the whole audience beamed with joy, like a butterfly suddenly bursting from its cocoon. The surprise factor alone was enough to boost the energy of the performance.
It still didn't sound perfect. Tenenbaum's vocals were too low in the mix, and the bass was deafeningly loud. (This wasn't only a problem during their set.) Mercurial World is one of the most immaculately produced albums of 2021, and I have no doubt the group put great care and attention into their live show. If anything, the sound issues highlighted how immersive and interactive their Y2K-inspired visuals are – few acts even attempt anything close to that nowadays. Even if you couldn't hear her saturated vocals on 'Follow the Leader', the bunny headpiece Tenenbaum wore evoked the eerily robotic aesthetic in a way the song alone couldn't. With Magdalena Bay, it's always one foot in the past, one foot in the future.
'Chaeri' was the undeniable standout of the performance. Listening to the song on the way to the venue, I was reminded just how emotional it is. It's no surprise it resonated so much with the audience, who were singing along way before Tenenbaum guided them through the last part: "3, 4, down to the floor/ Lose control/ A little more." By this point, Magdalena Bay had almost fully regained control, and 'Chaeri' moved me like no other time. It might seem strange to pick their performance as one of the highlights of the night, given that more established acts like Khruangbin, Ride, and Phoenix all delivered solid sets that I'm sure left no fan unsatisfied. Of course they did – they've done this a hundred times before. But Magdalena Bay (like Pom Pom Squad before them) had something to prove, and they almost missed their shot. But at the end of the day – or maybe the beginning? – they really came alive.