Fantasia International Film Festival 2022 kicks off on 14 July 2022. Our Culture will be there as the Quebec-based festival returns for its 26th edition live and in-person at a range of venues across the city. As ever, it will feature an array of sensational new genre titles, reparatory screenings and special events. 
This year, the festival is casting its spotlight on Korean Animation and Queer Genre Cinema, and will celebrate the 10th anniversary of Kier-La Janisse's impactful House of Psychotic Women (2012) with a series of retrospective screenings lovingly restored by Severin Films.
Last year, Our Culture covered a number of films from Fantasia 2021, from Phil Tippett's deranged masterwork Mad God to Perry Blackshear's grimly relevant When I Consume You, via the madcap Japanese time travel adventure Beyond the Infinite Two Minutes.
Ahead of the festival's opening gala in the coming days, let us whet your appetite by highlighting some of the films we're looking forward to – from blockbuster hits to obscure indie horror via new restorations of beloved genre classics.
Employee of the Month
(Belgium, dir. Vér
onique Jadin)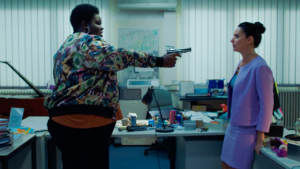 One of no less than four Belgian genre films showing at this year's Fantasia festival, Véronique Jadin's Employee of the Month fits into a larger international cycle of 'corporate horror' films. Along with the likes of Stalled (2013), Bloodsucking Bastards (2015), The Belko Experiment (2016), Mayhem (2017), Office Uprising (2018), Corporate Animals (2019) and Keeping Company (2021), it finds its horrors squarely in the ruthless world of capitalist enterprise.
But what's interesting about Employee of the Month – and the reason why we're so looking forward to it – is that it is a woman-led take on 'corporate horror' that not only takes satirical aim at the exploitation endemic to the modern workplace but does so through a (thus far) uniquely feminist perspective. This is a film that promises to combine a critique of contemporary work culture with scathing indictments of gender inequality, everyday sexism and the persistence of the 'glass ceiling.'
Employee of the Month screens on Sunday 17 July and Tuesday 19 July.
The Harbinger
(USA, dir. Andy Mitton)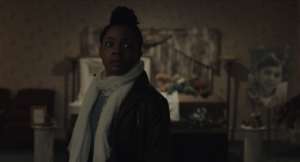 Andy Mitton's lo-fi genre films have been going down a storm on the genre festival circuit since 2016. His oddly life-affirming debut We Go On (2016) plays like a mumblecore take on The Sixth Sense (1999), in which the film's despondent protagonist offers $30,000 to anyone who can prove the existence of the afterlife and thus alleviate his unshakable fear of death. We Go On was followed by The Witch in the Window (2018), a terrifying twist on the haunted house narrative that ripped through international festivals before finding a wider audience on Shudder.
Mitton returns to this year's Fantasia with his pandemic horror The Harbinger. The film takes place during lockdown, and explores the existential horrors that have defined humanity since 2020; its title monster is an entity that uses 'viral nightmares' to ensnare its victims, feeding on the negative psychological energies created by the pandemic. Given its grim real-world relevance, The Harbinger is likely to be one of the more abjectly terrifying horror films at this year's Fantasia – a distillation of our collective trauma.
The Harbinger screens on Wednesday 20 July and Friday 22 July.
Shin Ultraman
(Japan, dir. Shinji Higuchi)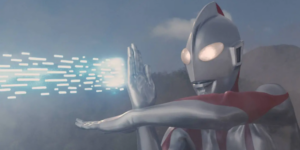 Undoubtedly one of the most high-profile films in this year's selection, Shin Ultraman is the spiritual successor to 2016's marvellous Shin Godzilla. Comparisons between the two are inevitable – and the film itself actively invites them – but Our Culture looks forward to what Shin Ultraman will achieve in its own right. 
The Ultraman franchise is long and expansive, featuring dozens of sequels, spin-offs, reboots, and more since 1966. But stretching through almost every series, film, and appearance is one theme: hope. The Ultra series is unabashedly positive, asserting easy messages of kindness and strength enjoyed by children and adults alike for generations. While Shin Ultraman takes many of its cues from Shin Godzilla, we're hopeful it'll still belong to that heritage of hope. With the myriad nods to the original 1966 series in just the trailer (not least the extra-textual knowledge that director Shinji Higuchi and writer Hideaki Anno are lifelong fans of the series), we have a good feeling about this one. 
Shin Ultraman screens on Thursday 21 July.
Space Monster Wangmagwi
(South Korea, dir.
Kwon Hyeok-jin)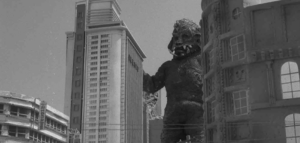 Seldom seen outside of South Korea, SRS Cinema brings this 1967 monster movie to Fantasia ahead of its eventual blu-ray release – slated for autumn this year. The film sees a giant monster unleashed by alien invaders to destroy Seoul. However, the monster (nicknamed "Wangmagwi", or "big devil") sets its sight on a young bride-to-be instead.
South Korea's other 1967 monster movie, Yongary, Monster from the Deep, was released to American television by American International Pictures in 1969 and has enjoyed a handful of home video releases since. Space Monster Wangmagwi, however, has not had quite the same history. SRS Cinema's upcoming blu-ray of Space Monster Wangmagwi marks the first time the film has been made widely available outside its home country. With fans glimpsing only bits and pieces online over the years, this presentation of the full film will be a real treat. 
Space Monster Wangmagwi screens on Saturday 23 July.
The Breach
(Canada, dir. Rodrigo Gudiño)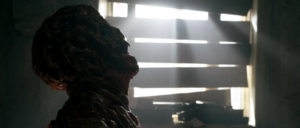 It has now been a full decade since Rodrigo Gudiño, Rue Morgue magazine's founder and president, released his excellent (and skin-crawlingly creepy) directorial debut: The Last Will and Testament of Rosalind Leigh (2012). A meditation on family ties and Catholic guilt, Rosalind Leigh is a quietly chilling tale focused on a traumatised son tasked with clearing out the sprawling home belonging to his recently deceased (and deeply religious) mother.
After ten years, Gudiño's sophomore feature plays at this year's Fantasia. The plot of The Breach is somewhat shrouded in mystery; a blend of horror, thriller and science fiction tropes, it follows a small-town cop tasked with solving a bizarre murder. His investigation leads him to a dilapidated house, where he finds a strange contraption that might hold the key to solving the case. Given that The Last Will and Testament of Rosalind Leigh was one of our favourite genre films of 2012, we're keen to see Gudiño's follow-up – especially after such a long wait.
The Breach screens on Monday 25 July.
The Deadly Spawn
(USA, dir. Douglas McKeown)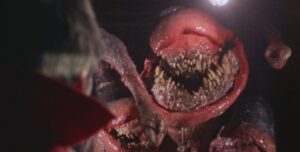 In 2021, boutique distributor Synapse Films presented their restoration of Tombs of the Blind Dead (1972) at Fantasia. It was fantastic (and this particular writer is very happy to have just picked up the subsequent Blu-ray), which is why we're excited to see their new 4K restoration of 1983's The Deadly Spawn – making its world premiere in Quebec. 
Alien creatures with more teeth than a dentist's coat pocket invade a young boy's home, growing in his basement to titanic proportions. If Joe Dante's films are the polished results of a '50s monster kid growing up to make movies, The Deadly Spawn is their independent, far-less-polished but deliciously grimy cousin. This is by no means a bad thing, for The Deadly Spawn delights in its bloody mayhem, beautiful practical effects, and overt love for monster movie history. We can't wait to see it again thanks to Synapse. 
The Deadly Spawn screens on Friday 29 July.
Words by Christopher Stewardson and Craig Ian Mann.