Johanna Warren has returned with news of her next album. Lessons for Mutants, her sixth LP and second for Wax Nine/Carpark, arrives on October 7. Lead single 'I'd Be Orange' comes witha music video directed by Warren and Richey Beckett. Check it out, along with the album cover, tracklist, and Warren's just-announced tour dates, below.
Warren began recording Lessons For Mutants back in 2018 in New York in tandem with the sessios for 2020's Chaotic Good, but finished the album in the UK "surrounded by sheep, cows and a forager's paradise of wild edible plants," according to a press release. "There's this unspoken rule in modern music – modern life, really- that everything needs to be Auto-Tuned and 'on the grid,'" Warren remarked in a statement. "This record is an act of resistance against that. There's beauty and power in our aberrations, if we can embrace them."
Of 'I'd Be Orange', she said: "The only thing we love more than building up an icon is watching them fall — and yet, as an aspiring icon, even when you know that, there's still this perverse desire to be one of the chosen ones who gets pinned to the cross and set ablaze."
Revisit our Artist Spotlight Q&A with Johanna Warren.
Lessons for Mutants Cover Artwork: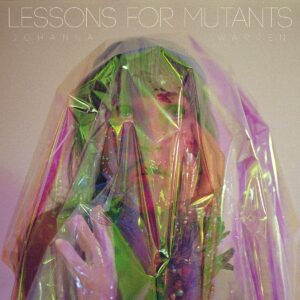 Lessons for Mutants Tracklist:
1. I'd Be Orange
2. Piscean Lover
3. Oaths
4. County Fair
5. Tooth for a Tooth
6. :/
7 Lessons for Mutants
8. Hi Res
9. Good Is Gone
10. Involvolus
Johanna Warren 2022 Tour Dates:
Nov 4 – Craufurd Arms, Milton Keynes
Nov 5 – Underground, Newcastle
Nov 6 – Oporto, Leeds
Nov 7 – YES, Manchester
Nov 9 – The Portland Arms, Cambridge
Nov 10 – Ramsgate Music Hall, Ramsgate
Nov 11 – Pitchfork London, London
Nov 13 – Sunflower Lounge, Birmingham
Nov 14 – TBA, Bath
Nov 15 – Joiners, Southampton
Nov 16 – Komedia, Brighton
Nov 17 – Clwb Ifor Bach, Cardiff
Nov 19 – Pitchfork Paris, Paris